Preserving U.S. Military Advantages in the Middle East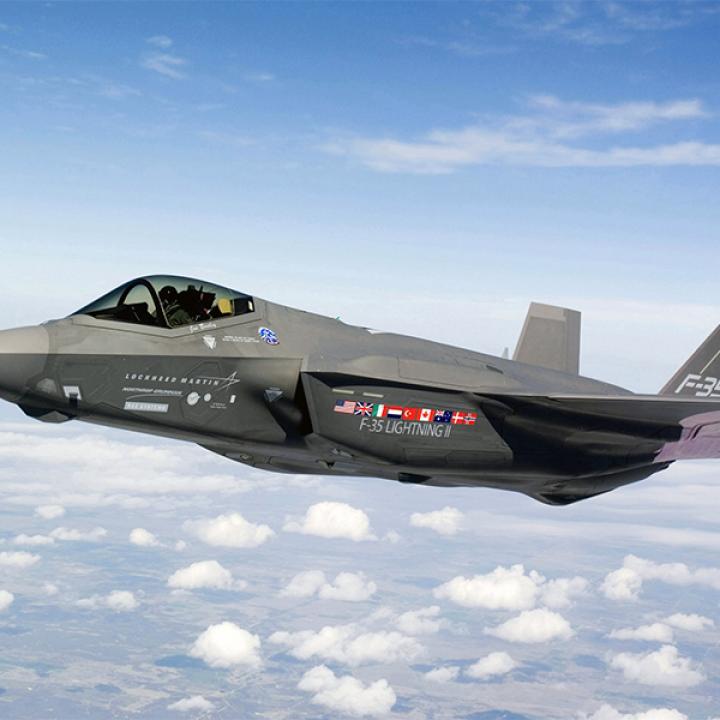 In areas such as basing, air superiority, high-tech weapons, and intelligence, America must act assertively to maintain its edge against competitors like Russia and China.
The 2022 National Defense Strategy (NDS) calls on the U.S. military to sustain enduring advantages and build new ones for the future fight. According to the NDS, building and maintaining advantages to advance U.S. national interests will allow the military to deter attacks against the United States and its allies and partners, while fostering a resilient military force and defense ecosystem. In the Middle East, this challenge is especially relevant. The United States has several enduring advantages that could eventually disappear if the U.S. government does not make significant changes in how it operates in this part of the world.
Access, Basing, and Overflight  
The biggest enduring U.S. military advantage in the Middle East involves its ability to obtain access, basing, and overflight. Today, the U.S. military has more than 34,000 personnel across the region engaged in security cooperation with regional partners. The large military presence has often ensured U.S. access to key military and civilian leaders and allowed the United States to preserve strategic relationships during times of diplomatic or economic tension with these partners. And it could be critical in a crisis or conflict with China, which—as of 2021—receives approximately 50 percent of its imported oil and 33 percent of its overall oil supply from the Middle East.
One way the United States advances its security partnerships—and thus its access, basing, and overflight privileges—is through large-scale exercises and training programs. Prime examples are the U.S.-led International Maritime Exercise 2022 and Cutlass Express 2022, which together included warships from sixty regional navies. America's rivals in Beijing and Moscow have long viewed the U.S. footprint in the region as a strategic advantage and have tried to counter it accordingly—albeit with much smaller exercises that underscore the limits in their power projection capabilities and the narrowness of their military partnerships. Although these efforts may soon pick up steam, the United States is still clearly the military exercise partner of choice, having carried out more than seventy naval exercises in the Middle East last year.
The relationships built through regional military activities provide the United States with an unmatched ability to obtain rapid access and overflight authorizations. In a prominent example, the Egyptian government has often provided the U.S. Navy with front-of-the-line access to the Suez Canal for expedited passage. This allows U.S. forces to conduct a wide range of missions in the region, often on short notice. 
The future of U.S. access, basing, and overflight in the region may depend on its success in dispelling doubts about America's continued commitment to the security of its partners. Specifically, the United States needs to do more to contain Iran's regional and nuclear activities and, when necessary, to help its partners respond in kind to acts of aggression—creating the type of true partnerships described in the Biden administration's National Security Strategy.
Air Superiority
The U.S. military's ability to gain and maintain air superiority over its adversaries has long been one of its core advantages. Advanced combat aircraft, weapon systems, and ground-based air defenses have made air superiority a fundamental component of the U.S. "way of war." Competitors are rapidly modernizing, however, making it more difficult for the United States to maintain this advantage. Strikingly, former U.S. Central Command (CENTCOM) head Gen. Kenneth F. McKenzie Jr. told Congress in spring 2022 that the United States is "operating without complete air superiority" for the first time since the Korean War because of the drone capabilities of Iran and its proxies.
The war in Ukraine has highlighted how difficult it is for a conventional air force to gain air superiority due to advanced air defense systems, drones, and cruise missiles. Through a variety of missile and gun systems, Ukraine claims to be shooting down approximately 80 percent of all incoming Russian drones and missiles, and Russia rarely sends crewed aircraft into Ukrainian airspace. Even so, the small number of drones and cruise missiles getting through Ukrainian air defenses have caused significant damage to critical infrastructure and housing. In preparation for future conflicts, U.S. adversaries are therefore likely to shift their efforts toward building more advanced air defenses and long-range drones and missiles to deny U.S. air superiority. 
The United States thus needs to develop innovative ways to counter adversary air denial efforts and to gain and preserve air superiority. To this end, the military must further explore multi-domain approaches to the suppression of enemy air defenses. Additionally, U.S. planners must develop air domain tactics that use a mix of crewed aircraft, drones, missiles, long-range rockets, and integrated air defenses in order to gain and maintain air superiority in future conflicts. 
High-Tech Arms and the Foreign Military Sales Conundrum
The U.S. defense industrial base is known for its innovative products. From stealth technology to unmanned aerial vehicles to precision-guided munitions, American firms have set the standard for high-tech arms, helping make the United States the single largest arms source in the region for more than two decades.  
Obtaining U.S. arms is not easy, however, and many customers complain about high prices, long delays in deliveries, and complicated bureaucratic requirements. In some cases, the congressional notification process for a sale can take years, and on average a sales contract takes eighteen months to award. From 2012 to 2021, the average time between contract award and delivery was four years for air defense systems, three and a half years for aircraft, and two and a half years for missiles. Israel is suffering through the process now and, following years of delays, expects delivery of KC-46 aircraft in 2025 and 2026, nearly four years after signing the contract.
As a result, some allies and partners are starting to look elsewhere for arms. Current CENTCOM commander Gen. Michael Kurilla recently reported, "During my trips to the region and calls with regional Chiefs of Defense, I routinely hear how much faster and easier China's foreign military sales program is than ours." America's defense industrial base offers an important advantage because it boosts the capabilities of key allies and partners and provides an avenue for the U.S. military to partner and train with militaries in the region—while defraying arms costs for the U.S. military thanks to economies of scale. 
The United States, in turn, needs to reform its Foreign Military Sales (FMS) program to preserve the advantage of high-tech American arms. As Undersecretary of Defense Colin Kahl remarked last September, "Our process is too slow." But he also noted that "one of the things that I think we've demonstrated with Ukraine is that when we really lean in, we can defy the laws of bureaucratic physics." Middle East allies and partners noticed the speed with which the United States assisted Ukraine, and questioned the double standard vis-á-vis helping defend them against Iranian aggression. Removing some administrative red tape from the congressional notification and contract award processes will shorten timelines and help the United States remain an attractive arms-sourcing option.
Regional and Global Intelligence Capabilities
The war in Ukraine has enabled the United States to demonstrate its unparalleled intelligence capabilities. By publicly disclosing Russian moves before they occur, America has successfully shaped the narrative regarding the war in Europe and elsewhere, and U.S. intelligence has provided Ukraine with a decisive advantage over Russia in targeting and operations. This enduring advantage comes largely from the quality and quantity of U.S. assets dedicated to gathering intelligence. The combination of worldwide sources, government and commercial satellites, improved ability to intercept communications, and open-source material has helped the United States paint a clear picture of the Russian invasion. Additionally, U.S. advances in cryptology and electronic-intercept technology have given it an advantage with which few countries can compete. The Middle East region itself benefits greatly from U.S. intelligence, which continues to help allies and partners locate and neutralize key members of the Islamic State. 
To maintain its intelligence edge, the United States needs to update its policy regarding classified information. Classified data breaches are becoming the norm and are causing frustration and confusion among U.S. allies and partners. Reducing the number of people with access to classified information is one place to start. The United States must do this to regain its credibility in the world and show its allies and partners that U.S.-held intelligence can be trusted and will not be shared or leaked to adversaries. At the same time, intentional disclosures have been invaluable in Ukraine in shaping the narrative and countering misinformation. The United States correspondingly needs to become more comfortable using intelligence to shape the battlefield, as ultimately the purpose of intelligence is to serve policy—whether by supporting military operations or by affecting the information environment.
Conclusion
The United States has consistently enjoyed the benefits of advantages in access, basing, and overflight; air superiority; high-tech arms and FMS; and intelligence. But these will not remain advantages forever unless America does what is necessary to preserve them. China and Russia are looking to advance their military engagement and influence in the Middle East and to counter or undermine these traditional U.S. strengths. The current era of great power competition therefore underscores the need for decisive, thoughtful U.S. steps to preserve these traditional advantages.
Lt. Col. Nathan Olsen (USAF) is a 2022–23 military fellow at The Washington Institute. The views expressed in this article represent the personal views of the author and are not necessarily the views of the Department of Defense, the Department of the Air Force, or Air University.