The No-State Solution
Also published in
Foreign Affairs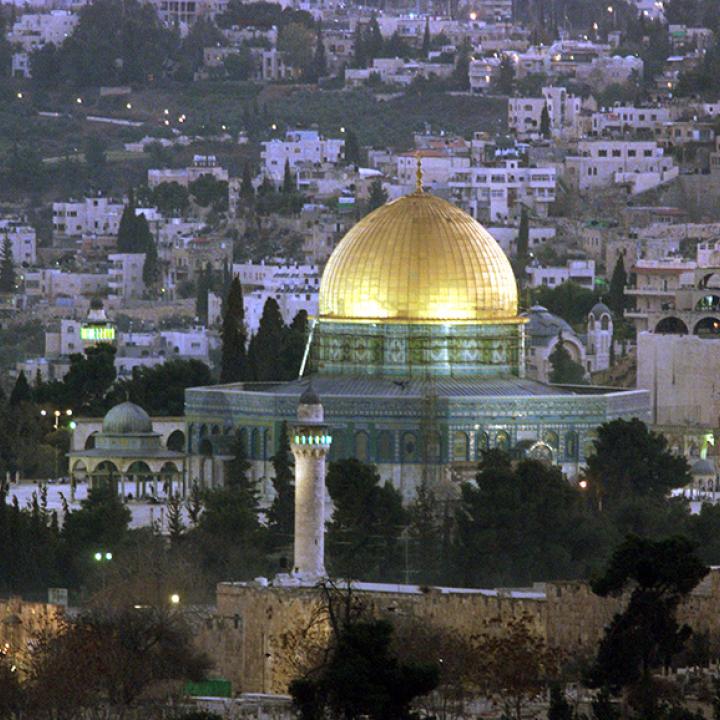 A recent essay touting a "one-state" approach to Israeli-Palestinian issues is more about eliminating the world's only Jewish state than offering real solutions to complex regional problems.
Last month, Foreign Affairs published an article titled "Israel's One-State Reality: It's Time to Give Up on the Two-State Solution" and asked several experts for their responses. Here is Robert Satloff's contribution, which just appeared in the new issue.
Foreign Affairs should be congratulated for publishing this breathtakingly tendentious essay by Michael Barnett, Nathan Brown, Marc Lynch, and Shibley Telhami because it exposes the authors' pseudo-academic argument as little more than political advocacy.
Why is this advocacy and not scholarship? Because in its eagerness to market the catchphrase "one-state reality," it neglects to mention the hard borders between Israel, Hamas-controlled Gaza, and the Palestinian Authority-controlled urban areas of the West Bank, which make it impossible for anyone—Israeli, Palestinian, or third-country national—to traverse the length and breadth of this supposedly single state and quite dangerous for anyone even to try. Because to make its case, it avoids inconvenient facts, such as the impressive advance of Arab Israelis within Israeli society in recent decades and the rejection of the "apartheid" label by many leading Arab figures on both sides of the Green Line, including the Knesset Member Mansour Abbas, the rights activist Bassem Eid, and the peace activist Mohammed Dajani. Because it disparages the state of Israel's democracy, which is older than those of about half the countries in the European Union, and makes only passing reference to the remarkable vitality of the country's civil society, underscored by the huge nationwide protests against proposed judicial reforms that began in early 2023. And because, without a single reference to Hezbollah missiles, Hamas rockets, or a potential Iranian nuclear bomb, it leaves the unsuspecting reader to wonder whether Israel's neighbors are Andorra, Lichtenstein, and Switzerland.
There is much in the essay about the regression of peace diplomacy since the failed Camp David summit in 2000, including the rightward turn of Israeli politics in response to the suicide bombings of the second Palestinian intifada, the expansion of Israeli settlements, and the apparent effect these developments have had on American attitudes toward Israel. But on closer inspection, the article is not really about the Palestinian issue at all. In the tall tale the authors tell, Palestinians make little more than cameo appearances, bearing responsibility for neither their decisions nor their fates.
The real point of this essay is to target Israel's existence as a Jewish state, a status established not just by events in British-controlled Palestine in the early decades of the twentieth century but also by a UN General Assembly resolution approved in November 1947 by a large majority of the world's independent countries, including the United States and the Soviet Union. "Israel's commitment to liberalism has always been shaky," the authors write in the article's most revealing passage. "As a Jewish state, it fosters a form of ethnic nationalism rather than a civic one." That argument flows easily into this policy advice: "A better U.S. policy would advocate for equality, citizenship, and human rights for all Jews and Palestinians living within the single state dominated by Israel."
Strip away the outrage at Israel's policy toward the Palestinians—about which there is plenty to critique—and the authors' goal becomes clear: to paint Israel itself as illegitimate, a country born in colonial sin and raised to maturity as an illiberal, ethnonationalist state that deserves not just to be condemned but also to be replaced. As much as the authors dress up their alternative with the language of human and civil rights, there is no getting around the perversity of advocating a solution that does away with the world's lone Jewish state.
Thankfully, the American people do not support the destruction of Israel and consistently elect presidents, senators, and representatives from both parties who support a thriving Jewish state. Indeed, the authors seem almost apoplectic that U.S. President Joe Biden, who is proud to call himself a Zionist, appears "fully committed to the status quo," which includes support for a strong Jewish state and an eventual negotiated solution to the Israeli-Palestinian conflict. It bears noting that "the deal of the century" put forward by his Republican predecessor—although flawed in many ways—still proposed the creation of a Palestinian state next to Israel on most of the territory occupied by Israel since 1967.
The fact that the authors' views were rejected by Washington and Moscow 75 years ago, were rejected by the once unthinkable number of Arab states now at peace with Israel, and would be rejected by both Biden and former U.S. President Donald Trump—two leaders who do not agree on much—says something about how far out on the fringe these views are. Yet they are still worrying. After all, the authors teach at major American universities.
They are right that Israel's current government includes some radicals with hateful ideas, that Israeli society is still grappling with fundamental issues of identity, and that Israelis (like Palestinians) suffer from a paucity of effective leadership. But as Americans well know, those last two issues are not unique to the Middle East, and solutions to them are likely to evolve over many years. As for the first issue, after 37 Israeli governments in 75 years, a version of Mark Twain's quip about New England weather seems apt: if you don't like Israel's coalition, wait a few months. But the authors have a very different diagnosis and a very different cure. In their view, the Jewish state itself is the problem, and getting rid of it is the answer. Let's call their proposal what it is: the No Israel Solution.
Robert Satloff is the Segal Executive Director and Howard P. Berkowitz Chair in U.S. Middle East Policy at The Washington Institute.