Niger Coup Threatens U.S. Strategy on Counterterrorism and Russia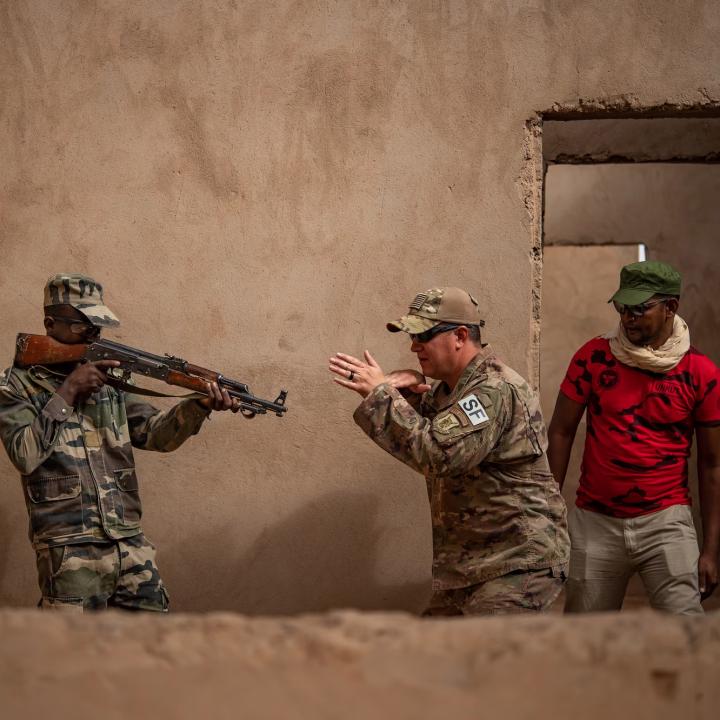 An entrenched military junta could jeopardize America's primary CT partner in West Africa, create ripple effects for security beyond the Sahel, and give Russia's Wagner Group a new opening on the continent.
On July 26, Nigerien president Mohamed Bazoum was detained by members of his special guard and put under house arrest, where he remains under harsh conditions. Gen. Abdourahmane Tchiani has since declared himself head of the so-called "National Council for the Safeguard of the Homeland" and appointed a twenty-one-person cabinet on August 8. The coup comes in the wake of military takeovers in Guinea, Burkina Faso, Mali, Chad, and Sudan over the past three years, demonstrating regional anti-democratic trends amid trans-regional instability.
Diplomatic efforts to quell the crisis have failed to date. U.S. secretary of state Antony Blinken has made repeated calls to Bazoum, reflecting a commitment to securing his release and returning to "constitutional order." Bazoum was a close American security partner prior to his arrest and was accorded a prominent role during the U.S.-Africa Leaders Summit in Washington last December. Blinken has also reached out to former president Mahamadou Issoufou, who has better personal ties to the junta; he was once an ally of Bazoum but had recently broken with his successor's anti-corruption initiatives. This call followed Acting Deputy Secretary Victoria Nuland's unsuccessful August 8 visit to Niamey, where she was prohibited from meeting with Bazoum or Tchiani. Instead, she spoke with Gen. Moussa Salaou Barmou, a longtime U.S. security partner who serves as the military's new chief of staff but would not offer so much as an assurance of Barzoum's safety, let alone his release or restoration.
With the junta rejecting all U.S. and regional diplomatic initiatives, the Economic Community of West African States (ECOWAS) has threatened military intervention. The alliance's leaders met on August 10 and agreed to deploy a standby force, though how quickly it can be assembled remains unclear.
In neighboring Algeria, President Abdelmadjid Tebboune strongly condemned the junta but said any military intervention in Niger would represent "a direct threat" to his country, declaring, "There will be no solution without us. We are the first people affected." In Libya—another neighbor keenly attuned to Niger's stability given persistent smuggling—the Government of National Unity condemned the junta, while the eastern-based warlord Khalifa Haftar condemned the threats by ECOWAS. Elsewhere, Egypt has remained largely silent about the crisis, while Saudi Arabia and the United Arab Emirates quickly denounced the coup and called for Bazoum's restoration (in part because he is Niger's first Arab president). The UAE also sent some military vehicles to neighboring Chad, providing additional border security and signaling their growing bilateral relationship.
CT Partner of Choice
Another key facet of the coup is its potential effect on jihadist activity in Niger, which has been mostly a sideshow to the main insurgencies next door in Mali, Nigeria, and Burkina Faso. The first signs of jihadist reach in Niger emerged when al-Qaeda in the Islamic Maghreb (AQIM) kidnapped two Canadian diplomats in December 2008. The group would continue this tactic in subsequent years, including a failed kidnapping attempt against U.S. embassy personnel in November 2009.
Renamed Jamaat Nusrat al-Islam wal-Muslimin (JNIM) in 2017, the group has conducted disparate attacks against the Nigerien army ever since, with three such incidents occurring this year. Although JNIM members have used Niger mainly as a logistics and facilitation hub, the country became more of an attack zone after 2015, when the Islamic State (IS) began operating in West Africa and the Sahel. Most prominently, an October 2017 IS ambush killed four U.S. Special Forces soldiers and four Nigerien personnel near the border with Mali, sparking an extensive review of U.S. procedures and deployments as well as several hundred million dollars in extra funding for the Nigerien military.
In the southeast part of Niger, jihadists representing the Islamic State's so-called "West Africa Province" (ISWAP) have conducted at least fifty attacks from across the border in Nigeria. In the southwest, jihadist attacks have mainly stemmed from insurgencies in Mali and Burkina Faso led by the organization's "Sahel Province," which has claimed up to ten attacks in Niger this year—more than in 2022 (eleven attacks) but far fewer than in 2021 (forty-three attacks that killed 225 people).
Yet Niger's new situation could transform it from a limited jihadist theater into something resembling the three insurgencies next door. For example, JNIM's most recent attack there occurred on August 9. This risk would be magnified if U.S. forces leave the arena and units from Russia's Wagner Group replace them (see below), especially given the company's penchant for exacerbating insurgencies and perpetrating civilian massacres. Niger could also become another arena of violent competition between IS and JNIM, leading to even more civilian hardship and casualties.
To stem these regional trends, the United States has relied on Niger for key basing and counterterrorism cooperation from West Africa to Libya. The country hosts over 1,000 American troops involved in training, regional security operations, and protection for the two air bases where U.S. personnel are located. Approximately 1,500 troops from France are also deployed in Niger as part of their regional realignment after leaving Mali.
Base 201 in remote northern Niger is particularly important. It is the only dedicated facility in this part of the continent to fly drones that provide critical intelligence, reconnaissance, surveillance, and strike capabilities, including high-profile operations against IS in Libya in September 2019 and against AQIM/JNIM two months later. Without those assets, the United States would be largely blind to a range of jihadist threats from IS, JNIM, and other groups throughout the region, including potential IS plots against Americans and the U.S. homeland. The worst-case scenario would be if the two so-called IS "provinces" on Niger's southwest and southeast frontiers somehow link up and create new territorial control for the group, leaving the United States with limited response options if it loses basing access.
An Opening for Wagner
Wagner forces are already entrenched in Mali and Burkina Faso to Niger's west and the Central African Republic and Sudan to the east. The group also uses Libya as a transit hub for its Africa operations, providing protective services to local governments in exchange for the right to extract resources from otherwise poor countries. Access to Niger would fit this pattern given its rich uranium deposits, which comprise 5 percent of the world's supply and make it a main provider to Europe.
Moving into Niger would also entrench Wagner's presence in Africa at a time when group leader Yevgeny Prigozhin is looking for new opportunities after his failed uprising against Moscow. Indeed, he praised the Niger coup as the people's uprising against their "colonizers" and expressed "joy" at Nuland's unsuccessful diplomatic effort.
For its part, the Kremlin has publicly criticized both the coup and the prospect of military intervention. Yet Russia would clearly gain from a decrease in U.S. influence in Niger. According to Washington, there is no evidence that Moscow or Wagner directly supported the coup, but their propaganda arms likely spread disinformation targeting Bazoum. After the junta took power, one prominent Russian propagandist stated, "Based on the results of what we [Russia] started in Ukraine, people around the whole world are indeed looking at us as the leaders of an anti-colonial revolution, as those who took a risk and are succeeding."
So far, reports on a potential Wagner deployment to Niger are thin. Representatives of the junta may have met with the group in Mali to request support against a potential ECOWAS intervention, while other unconfirmed reports suggest that Wagner representatives have already been to Niamey. Yet Prigozhin's interests in Niger do not necessarily align with those of Vladimir Putin, who demonstrated his desire to maintain positive relations on the continent when he hosted the Russia-Africa Summit in St. Petersburg last month.
Policy Recommendations
The United States has a clear interest in the coup's defeat, ideally through a diplomatic solution. It also has an interest in preventing the Kremlin from leveraging another conflict to its advantage. Washington has already paused its non-humanitarian aid, which will have the side effect of inhibiting counterterrorism cooperation and the activities of unique assets stationed in Niger. If the Biden administration officially declares Bazoum's overthrow a coup, the temporary pause in assistance will become permanent, dealing a massive blow to America's CT posture in various parts of Africa.
In this sense, the coup has once again highlighted the need for reviewing the U.S. approach to the Sahel. For example, the Trans-Sahara Counterterrorism Partnership—a fund established in 2005 to support CT efforts throughout the area, including the Sahel—still receives just $35 million per year, a relatively small sum given the scope of the mission. And instead of the originally envisioned boost to regional cooperation, there are now fewer opportunities to cooperate with local governments than when the fund was created.
The threat of Wagner's expansion looms larger today as well. The United States should therefore consider further pressure against the group in Libya, since that arena enables its wider African operations. To date, Washington has urged Haftar to sever ties with Wagner and promoted national elections in the hope that a new government would ask the group to leave the country. Neither approach has worked, however, so officials should consider a more aggressive approach, working with U.S. partners to deny Wagner access to the airports it currently operates.
In Niger, the best approach for now may be to push intensively for a diplomatic resolution while using the threat of complete isolation to encourage some cooperation from the junta. An unconventional partner like Algeria may be helpful given its opposition to the coup and military intervention, not to mention its interests in preventing a jihadist surge.
Ben Fishman is a senior fellow at The Washington Institute and former director for North Africa on the National Security Council. Anna Borshchevskaya is a senior fellow in the Institute's Diane and Guilford Glazer Foundation Program on Great Power Competition and the Middle East. Aaron Zelin is the Institute's Richard Borow Fellow and founder of Jihadology.net.