Wagner vs. Russia's Defense Ministry in the Middle East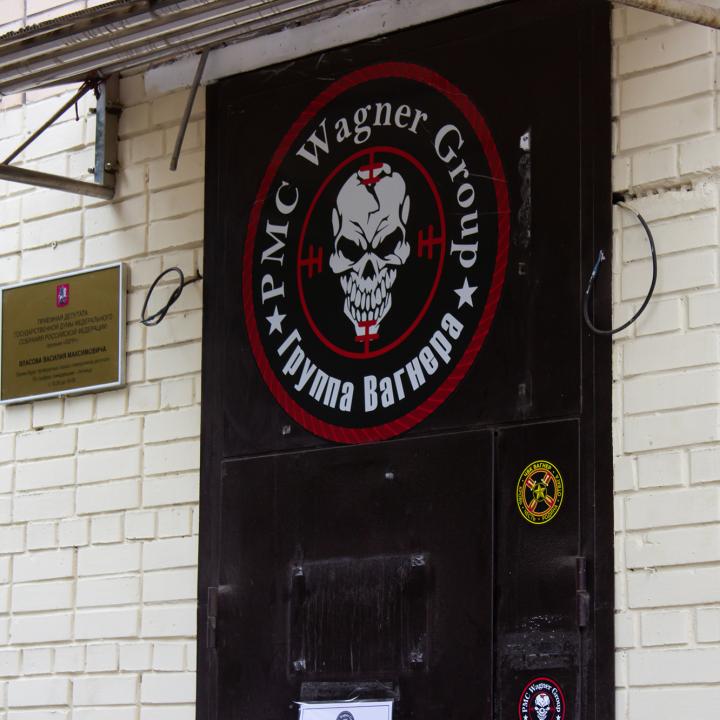 Russia's domestic military crisis could hold significant consequences for its regional operations, from heightening the risk of clashes with U.S. forces in Syria to putting a public face on its destabilizing activities in Libya.
As the dust settles from the showdown between Russian president Vladimir Putin and Wagner Group leader Yevgeny Prigozhin, many observers are wondering whether it will lead to new arrangements between the Ministry of Defense (MOD) and the private military company's forces deployed worldwide. In the Middle East, Russian deployments seem largely unaffected so far. Yet the crisis seems to have tipped military operational control toward the MOD, complicating or substantially hindering Russia's plausible deniability in regional conflict zones such as Syria and Libya. This could make confrontations between U.S. and Russian forces more likely in the months to come.
Wagner's Middle East Role
Starting in 2012, Moscow accelerated the growth of private military and security companies—opaque organizations with direct ties to the Russian state. At the time, Putin stated that he saw these groups as a "tool for realizing national interests" without state participation. One such organization was the Slavonic Corps, which was set up by a Russian corporate entity called the Moran Security Group and reportedly sent to Syria in 2013. Meanwhile, the Wagner Group—led by Prigozhin, a former convict and close associate of Putin—emerged as the most well-known private military company after it helped secure Russia's 2014 annexation of Crimea.
Since then, such groups have spread throughout the Middle East and Africa, giving the Kremlin an important tool for securing foreign influence. Wagner forces first appeared in Syria around 2017, replacing the Slavonic Corps. It has also operated in Libya, the Central African Republic, Burkina Faso, Mali, and Madagascar. Most recently, it played a key role in Sudan, where the Russian navy has worked to secure port access for its vessels and an agreement to establish a future base of its own. Earlier this year, Wagner forces actively supported Gen. Mohamed Hamdan "Hemedti" Dagalo in his violent power struggle with Gen. Abdel Fattah al-Burhan—even as Prigozhin simultaneously offered mediation to both sides.
Although Wagner's primary source of funding appears to be the Russian state, it has also used various means to establish its own financing networks abroad, such as forming ties with local warlords and seizing control of natural resources. In Libya, reports indicate that Wagner received funds from the United Arab Emirates until approximately 2021.
Last year, long-brewing tensions between Wagner and the MOD began to intensify and become more public amid Russia's invasion of Ukraine. In addition to feuding over access to resources, both sides have sought to claim credit for wartime wins and deflect responsibility for losses. Putin's tactic of encouraging internal rivalries may have aggravated the feud.
Implications for Syria
The crisis is already having ripple effects in Syria, with multiple reports of tensions and confrontations between Wagner and MOD personnel. Russian forces have arrested some Wagner commanders and raided the group's offices in various parts of Syria. Meanwhile, Russian deputy foreign minister Sergey Vershinin met with Syrian president Bashar al-Assad on June 26 and reportedly urged him to prevent the group's forces from leaving the country without the MOD's consent. Some Wagner personnel have apparently been withdrawn to the Russian operations center at Hmeimim Air Base in western Syria.
The overall situation remains calm, however, and Wagner is still deployed in resource-rich areas where Assad's forces are nominally in control but rely on help from Russian military and police units. These include Syria's largest natural gas and oil fields (Shaer, al-Mahr, Jazal, and Hayan), where some reports indicate that Wagner has used a shell company called Evro Polis to receive up to a quarter of the production profits. The Assad regime apparently granted Wagner this cut because the group recaptured the fields from the Islamic State and has continued to guard them against opposition raids. Any changes in this arrangement would reveal much about the balance of Russian control in Syria.
Serious questions also surround the fate of Wagner's heavy weapons in Syria, which include tanks, other armored vehicles, and rocket launchers. In 2018, Wagner used such weapons in an attempt to capture the Conoco gas plant near Deir al-Zour, an area that serves as a military base for the Syrian Democratic Forces and their U.S. partners. Although the attack was repelled through ferocious U.S. airstrikes, it raised eyebrows about Wagner's outsize capabilities in parts of Syria where the Assad regime had tenuous control at best.
If the Wagner crisis tips Russia's local military posture more definitively toward MOD forces, it may further complicate recent U.S. efforts to manage aggressive flyovers and mock raids by Russian forces throughout eastern Syria, potentially increasing the risk of direct confrontations. According to Lt. Gen. Alexus Grynkewich, head of the combined forces air component at U.S. Central Command, Russian aircraft have violated U.S. airspace in Syria as many as "three or four times" in a single day. Twenty-five such incidents were reported in March alone, up from zero the previous month. On June 14, U.S. officials announced that F-22 Raptors would be surged to CENTCOM's area of operations in light of "increasingly unsafe and unprofessional behavior by Russian aircraft in the region." This week, however, Russian jets unleashed another attack in northwest Syria—the deadliest of 2023—even as Prigozhin's mutiny unfolded.
Wagner's Libyan Hub
If Wagner's overseas operations change, Libyan warlord Khalifa Haftar would be directly affected. The eastern-based general receives personal protection from Wagner forces, as exhibited when they shot down an American MQ-9 drone in his vicinity last August (the drone was conducting surveillance ahead of a planned visit by the U.S. special envoy). The group also helps Haftar maintain control over Libya's primary oil region, where his political allies are once again threatening a blockade as leverage against the Tripoli-based Government of National Unity. Additionally, Wagner occupies the strategic al-Jufrah air base in central Libya, using it as a logistical hub for its African operations (e.g., sending weapons and fuel to Hemedti in Sudan).
Russia's courtship of Haftar began around 2014, soon after he emerged as a key player in the Benghazi area. In 2017, he was invited to meet with military officials aboard a Russian aircraft carrier off Libya's coast; he has also visited Moscow several times. Wagner came to his aid most prominently in 2019-20, when his forces attempted to capture Tripoli. The group's snipers and Pantsir antiaircraft systems gave him drone superiority that nearly overwhelmed the capital until Turkey intervened in early 2020. During Haftar's subsequent retreat, Wagner forces planted many improvised explosive devices in the area deliberately targeting civilians, causing dozens of children to be maimed and deeply affecting the Libyan population's view of the mercenaries.
Conclusion
The immediate aftermath of Prigozhin's rebellion has left more questions than answers. Surprisingly, Putin allowed Wagner personnel to escape prosecution and Prigozhin to go into exile in Belarus. He has since told members of the force that they can sign contracts "with the Defense Ministry or other law enforcement or security agency or return home. Those who want to are free to go to Belarus." This suggests that Wagner may be permitted to continue operating outside of Russia—though the scope of this freedom is uncertain.
Regardless of what happens to Wagner's structure and operations, the Kremlin still has a strong strategic interest in maintaining a presence in Syria and Libya in order to project power in the Middle East and Africa. Russia remains the indispensable player in Syria, where propping up Assad has enabled Moscow to obtain minerals and other resources, play Iran and Israel off one another, and remain a mediator for international efforts to reach a political settlement. If this week's crisis means that Wagner's capabilities in Syria will be folded into the MOD's operations, U.S. officials should keep a close watch for how this might affect Russia's local deployments and force posture.
In Libya, Russia cannot maintain a presence without deftly managing the political space. If it integrates Wagner forces into the MOD, however, it will no longer be able to deny operating in Libya. Deploying official MOD forces to Libya would not only have international ramifications, it would also inflame popular opposition in Libya, since Russian personnel are rarely visible there today.
Either way, Washington has an opportunity to counter Russia's destabilizing activities in Libya in several ways: by encouraging local voices to address the harm that Wagner and other Russian entities have done to their country; by considering steps to limit Russian access to al-Jufrah air base, such as working with regional partners and the Government of National Unity to close its airspace; and by reinvigorating a realistic approach to promoting fair elections. By extension, these measures could affect Moscow's activities in other parts of Africa as well.
Yet even though Putin, the MOD, and Prigozhin all appear weakened by this week's crisis, there has been no discernible change in Russia's posture in the Middle East and Africa so far, and none may be forthcoming. Moscow invested heavily in Wagner for years, and simply replacing its presence abroad would be difficult in the short term; more likely, Wagner and other Russian private military companies will evolve rather than disappear.
Even so, U.S. policymakers can still take advantage of the current disarray and look for ways to limit Wagner's foreign influence. These efforts should extend beyond existing sanctions, which have had only limited effects on the group's criminal and destabilizing activities.
Anna Borshchevskaya is a senior fellow in The Washington Institute's Diane and Guilford Glazer Foundation Program on Great Power Competition and the Middle East. Ben Fishman is a senior fellow at the Institute and former director for North Africa on the National Security Council. Andrew Tabler is the Institute's Martin J. Gross Senior Fellow and former director for Syria on the National Security Council.