Is a New Israel-Hezbollah War Looming?
Also published in
Al Majalla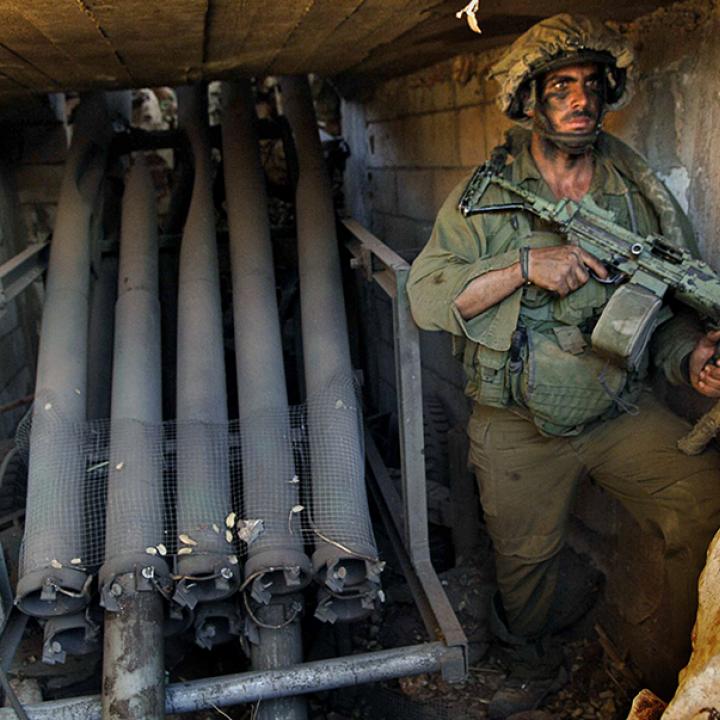 After many years serving as Iran's mercenaries in regional wars, Hezbollah leaders now feel compelled to resume their aggressive approach to Israel.
Last month, Special Presidential Coordinator for Global Infrastructure and Energy Security Amos Hochstein travelled to Beirut to look into the possibility of starting negotiations to delineate the disputed land frontier between Lebanon and Israel. The visit occurred nearly a year after he mediated an improbable agreement on the maritime border between the two states.
When that deal was signed in October 2022, it was accompanied by a lot of hype from the Biden administration. Secretary of State Antony Blinken predicted it would "usher in a new era of prosperity and stability" in the region; Hochstein said the agreement would provide Israel with "total security."
It's too soon to assess the economic benefits of the maritime agreement. A TotalEnergies drilling rig arrived just weeks ago in previously contested Lebanese territorial waters to commence exploration for natural gas.
A year on, though, it is clear that the promised security advantages have not materialised. Indeed, Lebanon-Israel tensions are currently spiking, raising concerns of another war.
The last conflagration between Israel and the Iran-backed Shiite Lebanese terrorist organisation Hezbollah in 2006 lasted 34 days. Over the course of the conflict, Hezbollah launched over 100 rockets a day into Israel, but the damage done to Lebanon was severe—especially in areas populated by the militia's constituents. Estimates of postwar reconstruction costs for Lebanon ranged from $3bn to $7bn.
Years of relative quiet followed the hostilities. Israeli officials claimed the calm was attributable to the fact that Hezbollah had perhaps been sufficiently deterred, but the militia was also busy with other business.
Initially, Hezbollah was focused on its efforts to quietly replenish and upgrade its depleted arsenal. Then, for the better part of the last decade, the organisation was preoccupied with deploying forces abroad in the service of Iran, to conflicts in Syria, Yemen, and reportedly Iraq.
Aggression Against Israel Resumes
Lately, however, Hezbollah has resumed its more aggressive approach to Israel. Several factors may have led to this shift.
First, after so many years serving as Iran's mercenaries in regional wars killing those that stood in its way, Hezbollah felt compelled—for reputational reasons—to once again engage in so-called "resistance." It also appears that, over time, Israeli deterrence vis-a-vis the militia has eroded.
For example, Israel described Hezbollah's precision guided munitions (PGM) rocket upgrade project five years ago as a "red line." Yet, the IDF has taken no sustained kinetic military action to limit its progress. Likewise, in recent years, Israeli responses to Hezbollah provocations have been carefully calibrated to avoid escalation, suggesting that Israel, too, is concerned, if not deterred by the prospect of another round of fighting.
As Israeli deterrence has waned, Hezbollah has become increasingly emboldened. In this regard, the 2022 maritime agreement with Lebanon was a watershed moment. During the negotiations, Hezbollah threatened to attack a floating production system rig in Israel's offshore Karish natural gas field if Israel started pumping before a deal was reached.
Israel had announced earlier that it would begin extracting in September, regardless of the status of the negotiations. Under threat of attack, however, Israel delayed pumping for two months until the deal was signed. Putting aside the advantageous terms of the agreement for Lebanon, Israel's capitulation on Karish vindicated Hezbollah's approach.
Domestic Turmoil in Israel Emboldens Hezbollah
Hezbollah has also been emboldened in recent months by the ongoing turmoil in Israel. Indeed, the militia has interpreted the enormous protests in Tel Aviv and Jerusalem against the government's judicial reform initiative as evidence of the demise of a once cohesive Israeli polity. 
The organisation has no doubt also been encouraged by reports that hundreds of Israeli Air Force reserve pilots are refusing to serve—potentially undermining IDF readiness. In short, Hezbollah sees Israel at a vulnerable juncture.
Long List of Provocations
Whatever the rationale, over the past year or so, Hezbollah has changed its posture, dramatically increasing tensions along the border. While the militia has long maintained a significant presence in South Lebanon, historically, it did not flaunt its military operations that violate United Nations Security Council Resolutions.
But this is no longer the case. Today, Hezbollah maintains military bases and watchtowers on the border, as well as active live-fire shooting ranges, and conducts overt military exercises, including by the group's elite "Radwan" unit, in the south.
The list of Hezbollah provocations over the past half year alone is staggering. Palestinian groups fired missiles into Israel from Hezbollah-controlled areas in south Lebanon; Hezbollah launched drones into Israel and shot an anti-tank missile across the frontier; the militia set up a two-tent military outpost on Israeli territory; Hezbollah operatives attempted to compromise the border fence; and the group detonated a roadside bomb in the Israeli town of Megiddo, 64 kilometres south of Lebanon.
Hezbollah Faces Little Repercussions for Provocations
Israeli responses to all of these incidents were proportional, measured, and non-lethal. Understandably, Israel's priority focus is Iran, which is progressing apace on its nuclear weapons programme. Hezbollah, while important, is currently a second-tier, non-existential threat, relatively speaking.
Still, Hezbollah has paid little, if any, cost for its recent transgressions, effectively pushing the envelope further on the kind of operations it can undertake without consequence. Meanwhile, in the absence of a clearly established understanding of Israel's limits, the chances for renewed hostilities increase. After the 2006 war, Hezbollah leader Hassan Nasrallah famously said "Had I known...that the operation (to kidnap three Israeli soldiers) would lead to such a war, would I do it? I say no, absolutely not."
The fact was, at the time, Israeli reactions to Hezbollah provocations were, like today, indecisive. Given the precedent, Nasrallah had no reason to suspect the kidnapping operation would elicit such a ferocious response. Regrettably, like 2006, the chances now for miscalculation are considerable.
This renewed threat of hostilities likely provided the impetus for Hochstein's August trial balloon offer to mediate land-border negotiations between Israel and Lebanon. While the motive may be noble, the initiative is ill-advised. Amidst a crippling economic crisis in Lebanon, Hezbollah could no longer oppose the demarcation of the maritime border, which would allow Beirut to start exploiting prospective natural gas resources in the Mediterranean.
But the militia has no interest in resolving the land border, an outcome that would end claims of Israeli occupation and the need for Iranian-backed "resistance" forces on Lebanese territory. And should Israel make concessions—like it did on the maritime deal—under Hezbollah pressure, that would further undermine deterrence.
Concurrent with floating this trial balloon, last month the Biden administration succeeded during the mandate renewal debate for the United Nations Interim Force in Lebanon (UNIFIL) in maintaining language allowing the force to conduct patrols without coordinating with the Lebanese army. The passage was important because the LAF has colluded with Hezbollah in denying UNIFIL access to militia-controlled areas in the south. Even with this language in the mandate, however, it is doubtful that UNIFIL will expand its patrols to include so-called "private property," i.e., Hezbollah military bases.
The onus is on Israel to change the dynamic with Hezbollah. Recent understandings between Tehran and Riyadh mitigating toward regional de-escalation do not involve this Iranian proxy or theatre of operations.
In fact, all the talk about a potential Saudi-Israel normalisation agreement may, in part, be driving Hezbollah's latest hostile activities. At the end of the day, to defer—if not prevent—the next war with Hezbollah, Israel is going to have to re-establish deterrence. 
Given the current trajectory and Israel's ongoing domestic distractions, it won't be easy. Restoring deterrence could itself risk an escalation, but, absent a more robust Israeli approach to Hezbollah provocations, the next war seems inevitable.
David Schenker is the Taube Senior Fellow at The Washington Institute and director of its Rubin Program on Arab Politics. This article was originally published on Al Majalla's website.