New Iranian Warship Signals Longer Maritime Reach, More Aggressive Strategy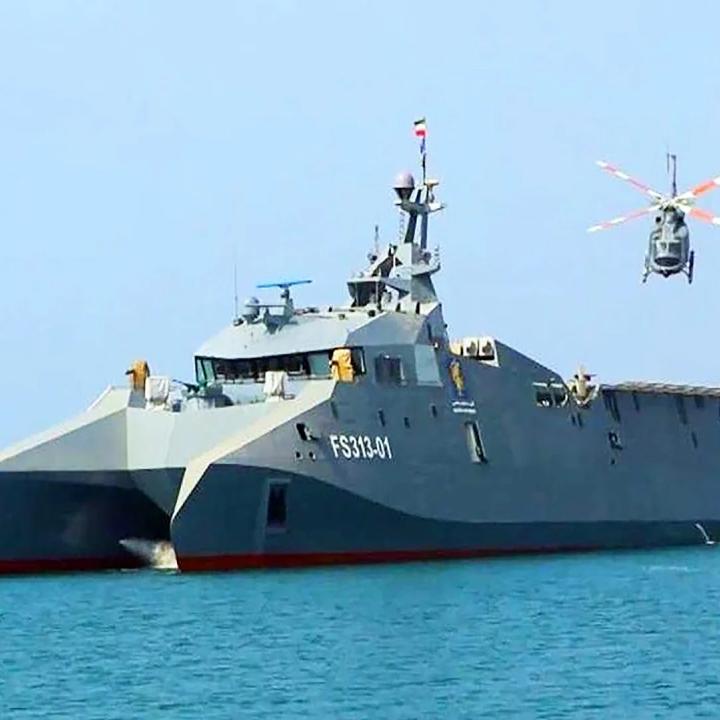 Although Tehran tends to exaggerate its naval achievements and blue-water capabilities, the heavy investments it has made in this sector are yielding regionally significant progress.
On September 5, the Islamic Revolutionary Guard Corps Navy launched the Shahid Soleimani, its first of at least three new catamaran missile corvettes with potential stealth features. According to IRGCN chief Adm. Alireza Tangsiri, the vessels will increase the navy's operational reach beyond the Persian Gulf to as far away as 9,000 km, which would cover the entire Indian Ocean down to Cape Town. The IRGCN has long aspired to send warships to waters near the United States as a propaganda achievement and show of defiance, but it has not been very successful with long-range naval operations thus far—notwithstanding the July 2021 voyage in which the Islamic Republic of Iran Navy (IRIN) deployed the converted supertanker Makran and another vessel to St. Petersburg, Russia, using a circuitous route that circled Africa and crossed in and out of the Mediterranean Sea.    
During the launch ceremony for the Shahid Soleimani (FS313-01), IRGC chief Maj. Gen. Hossein Salami called the aluminum warship a new high point in Iran's strategic competition as a world-class power bent on establishing regional hegemony over its adversaries. According to him, the country's "national security domain and radius go as far as where our interests rest"—including faraway seas if so determined by the Armed Forces General Staff.
The New Ship's Capabilities
Similar in length (65 meters) and capability to Taiwan's Tuo Chiang-class missile corvette launched in 2014, the Shahid Soleimani is designed to support and provide protective fires for high-speed armed boats far from Iranian waters. This includes the three boats it can carry itself. The Taiwanese class is designed to counter Chinese naval vessels via hit-and-run tactics and has been dubbed a "carrier killer." The same nickname has been applied to the smaller Chinese Type 22 catamaran missile boat, which Iran reportedly tried to buy in past years before producing its own class (Beijing refused to sell). The IRGCN also claims that the Shahid Soleimani is a "stealth" vessel with the radar cross-section of a small boat, though its actual capabilities in this regard are uncertain.
Regarding weapon systems, the new vessel is the first Iranian warship equipped with vertical launchers that can fire antiaircraft missiles up to a claimed range of 150 km. It can also use six box launchers to fire antiship missiles such as the Nasir, Ghader, and Ghadir, with ranges of 35 to 300 km. Taken together, these capabilities led Iranian officials to claim that Shahid Soleimani has a "lethal range" in excess of 750 km. To be sure, Iran already has other weapon systems that meet or exceed that range, such as the Abu Mahdi antiship and land-attack cruise missile unveiled in 2020, which can reportedly reach 700-1,000 km. Yet the Shahid Soleimani could greatly extend its reach (albeit with less destructive punch) by launching suicide drones such as the Shahed-131 or 136, which can strike targets up to 1,000 km away (or even 2,200 km according to some unconfirmed sources). The vessel may also be able to launch the Quds-1/2 cruise missile and "Article 385" loitering antiaircraft cruise missile that Iran previously provided to Houthi forces in Yemen.
As for electronic warfare capabilities, the ship is reportedly able to carry extensive equipment of this type, including advanced decoy launchers. In its current configuration, however, Shahid Soleimani has minimal electronic equipment installed.
Catamarans are generally faster and more maneuverable than conventional ships and offer better stability and seakeeping at rougher seas thanks to their twin hull design. This also makes them harder to sink—though aluminum ship hulls tend to melt quickly if set afire by a sea mine, missile, or other projectile (as seen when a catamaran operated by the United Arab Emirates was wrecked by a single Houthi missile in October 2016 while transiting the Bab al-Mandab Strait).
A Naval Industry in the Making
More missile corvettes of the same type as Shahid Soleimani are currently being built at shipyards in Bandar Abbas, Qeshm Island, and Bushehr, and the IRGCN claims it will roll them out at a rate of one per year, indicating an expedited delivery schedule. The prime contractor for this program is the IRGCN's Shahid Mahalati Naval Industries, with the Defense Ministry firms Shahid Darvishi and Shahid Mahboobi working as subcontractors.
In November 2018, Iran's parliament passed a law merging all Defense Ministry marine factories and industrial groups into one entity, the "Marine Industries Organization of the Armed Forces." Collectively, these firms produce everything from small speedboats to frigate-size warships, medium submarines, Aframax tankers, diesel engines, waterjets, gearboxes, and so forth, with the aim of making Iran's domestic naval production fully self-sufficient. This goal may be facilitated by the fact that Iran's marine industries are believed to be less affected by U.S. sanctions than its aviation and missile industries.
Strategic Implications
Iran vehemently objects to the U.S. naval presence in Middle East waters, with IRGCN officials noting that they work daily to prepare and expand their arsenal toward the goal of repelling U.S. forces. Another key mission has emerged over the past couple years: deterring Israel from expanding its maritime reach to waters near Iran following Jerusalem's normalization of relations with the UAE and Bahrain. Tehran has also been expanding its supposed "maritime security" presence in the Red Sea after a slew of strikes against Iranian ships there, culminating in the April 2021 attack on the floating armory/spy ship Saviz.
In addition, IRGCN officials note that Supreme Leader Ali Khamenei has called on them to expand their reach to "far seas," framing this mission as a supplement to IRIN's "strategic blue-water responsibility" but looking more like direct competition with it. In any case, once the Shahid Soleimani completes its protracted sea trial period, the new vessel class may give the IRGCN significant new capabilities—namely, longer-range deployment of missile boats, antiship/antiaircraft missiles, and drones. Coupled with the converted mothership/replenishment vessels Shahid Roudaki (L110-1) and Shahid Mahdavi (110-3), the new corvettes will likely enable sustained IRGCN operations farther into the Indian Ocean and perhaps beyond, including support for smaller and more covert speedboat missions.
Of course, the IRGCN has made a habit of exaggerating its accomplishments in the past, and its overall capabilities remain a far cry from America's both quantitatively and qualitatively. Yet its modest progress toward sustained blue-water operations is undeniable, and there are a number of scenarios in which it could pose a considerable threat to U.S. Navy assets and facilities, not to mention international freedom of commerce and navigation. Going forward, IRGCN assets can be expected to cause trouble farther down the Indian Ocean, both to divert attention and resources from the Persian Gulf and to disrupt regional maritime security initiatives. Iran might also seek to project naval power in the East Mediterranean and escort cargo ships carrying weapons to Syrian ports, especially now that Israel is increasingly pressuring its air-land logistical hubs deeper inside Syria.
Accordingly, the United States and its partners should closely scrutinize the IRGCN's evolving role and development of new systems. This is especially true today because Iran's domestic industrial base is gradually beginning to catch up and deliver suitable platforms and associated subsystems, whether by building them from the ground up or converting and repurposing merchant ships.
Farzin Nadimi is an associate fellow with The Washington Institute, specializing in security and defense in Iran and the Gulf region.