Iran's Atlantic Voyage: Implications of Naval Deployments to Venezuela or Syria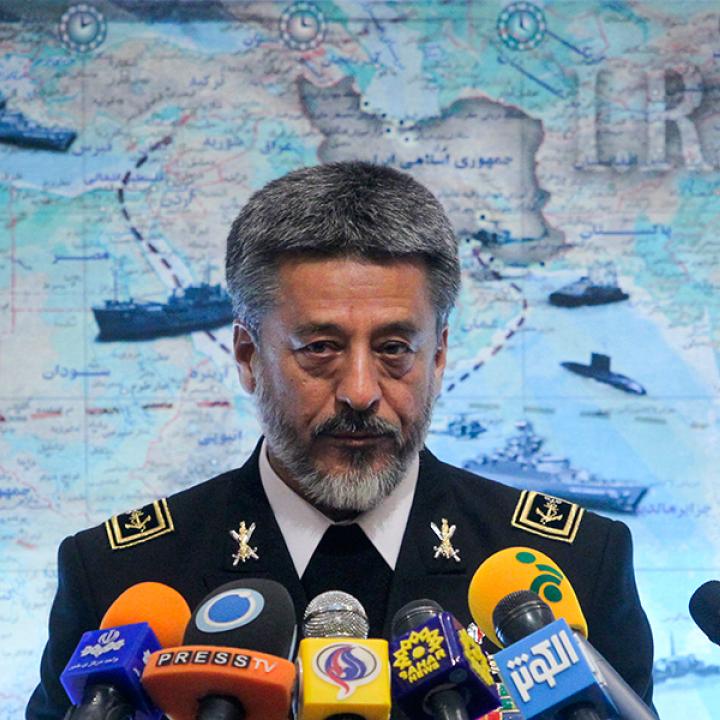 The maiden voyage may just be a token political and training mission to boost morale—or the first step in sending long-range missiles, drones, fast-attack boats, and other materiel to Tehran's allies in the Caribbean or Mediterranean.
As international nuclear negotiations enter a crucial phase, the Islamic Republic of Iran Navy (IRIN) has sent a pair of naval vessels on a long journey around the Cape of Good Hope, potentially bound for either Venezuela or Syria according to various assessments. First deployed on May 10 and currently somewhere in the South Atlantic under the watchful eyes of U.S. intelligence, the pair consist of IRIN's largest vessel—the seabase ship Makran (pennant number 441)—and the missile frigate Sahand (74). Among other goals, their mission likely includes testing U.S. and allied commitment to the Joint Comprehensive Plan of Action and UN Security Council Resolution 2231, under whose terms Iran is now permitted to export military equipment—though Syria is barred from receiving it while under international sanctions, and Venezuelan deliveries could entail significant legal complications as well.
A Long-Awaited Voyage
Iran has talked about sending naval task groups to the Atlantic since at least 2011, and it raised the prospect again in February 2014 just as a new round of nuclear talks was set to take place in Vienna. In that case, an Iranian admiral claimed that a flotilla would be deployed close to U.S. waters; the Obama administration (correctly) reacted with skepticism. In November 2016, Tehran made a real attempt by sending the auxiliary ship Bushehr and the frigate Alvand (71) toward the Atlantic, but that effort ended in failure when Bushehr reportedly struck a drifting container and had to make an emergency port call at Durban, South Africa, for several months before repairs could be undertaken. In 2018, another naval commander spoke of a plan to send two or three warships to Venezuela for a five-month mission as a tit-for-tat response to the U.S. Navy carrier presence near Iranian waters.
Now that Iranian vessels have actually entered the Atlantic, Washington views the deployment with increasing concern. This is largely because the enormous Makran—a converted tanker—can hold substantial quantities of weapons and/or fuel for transfer to Venezuela's military or Syria's Assad regime.
Before Makran was commissioned this January, Iran had only three support vessels capable of accompanying warships that far. The largest and most capable of these was the Kharg, which has served as IRIN's flagship since 1984 and participated in numerous long-range anti-piracy, training, and intelligence missions starting in 2009. Between 2013 and 2018, it underwent a complex overhaul that kept it off the seas, and for unknown reasons, it was never sent to the Atlantic upon returning to service. Then, earlier this month, it sank after an explosion apparently originating from its domestically rebuilt boilers. The other two support ships—Bushehr and Bandar Abbas—are smaller and older than Kharg.
This time, Iran is using the brand-new 228-meter-long, 121,000-ton Makran, accompanied by one of its newest homegrown frigates. The Sahand is only moderately armed by modern standards, but it has been designed for longer missions of up to 150 days in rough seas like the Atlantic. Both ships are reportedly fitted with electronic surveillance capabilities.
Potential Arms on Board
Commissioned partly in response to the port restrictions that emerged from the COVID-19 pandemic, the Makran is lightly equipped but can reportedly carry enough fuel and supplies to stay at sea for as long as three years, offering a suitable maritime launch platform for helicopters, boats, drones, submersibles, and large missiles, among other missions (e.g., special operations). IRIN previously lacked this type of launch capability.
The ship's spacious deck currently boasts a large helicopter landing pad (which has limited utility due to its lack of a hangar) and multiple speed boats. Two of its standard 40-foot (12.2-meter) containers have been placed in a conspicuous position on deck, which suggests they contain special cargo such as antiship cruise missiles with launchers. One candidate missile is the Abu Mahdi, a longer-range version of the Soumar/Hoveizeh boasting an active radar seeker head and a claimed range over 1,000 km. The containers are also large enough to hold three other missile types ranging from 8.9 to 10 meters long (the Fateh-110, the Zolfaqar, or the Dezful, with ranges between 250 and 1,000 km), or the smaller Raad-500 (500 km range and ready for launch). In addition, Makran can hold a hidden cargo of ballistic/semi-ballistic missiles, suicide drones, and/or parts.
What If the Ships Head for Venezuela?
In the Caribbean, Venezuela is the only logical destination for such systems—it is one of just two Iranian allies in the region, and even Tehran presumably realizes that trying to deliver arms to the other ally (Cuba) would be a nonstarter. Venezuela's ability to legally receive arms from Iran is complicated by a web of U.S. sanctions, but in August 2020, President Nicolas Maduro praised the idea of buying Iranian missiles and air defense systems, with sources reporting that the two governments signed an arms contract.    
As for timing, Makran can sail between Cape Town and Venezuela's Puerto de Hierro naval base in about nineteen days at its maximum speed of 15 knots. If it transports the aforementioned missile systems there, some of them would have sufficient range to reach Puerto Rico or the Panama Canal (around 700 km), and all of them could reach Colombia in its entirety. This would bring several U.S. military targets into range, including Southern Command forces at Tolemaida Air Base and Bajo Cauca as well as SOUTHCOM warships operating in the Caribbean.
If Iran decides to expand its kinetic footprint in the Caribbean, it could proliferate even longer-range missiles. For example, the Haj Qasem (1,400 km claimed range) could reach Puerto Rico and the Panama Canal if launched from northwest Venezuela. To hit the mainland United States (e.g., Miami), missiles or drones with ranges over 1,850 km would be needed (e.g., the Shahab-3, Ghadr, or Imad). Yet even without additional shipments of longer-range systems, the Abu Mahdi alone would pose a formidable threat to all of Colombia, the Panama Canal, and most of the Caribbean. Likewise, any sales of smart sea mines, waterborne improvised explosive devices (suicide boats), or high-performance armed and reconnaissance drones (e.g., Shahed-129, Shahed-149/Gaza, Shahed-171/191) could alter the balance of power in the Caribbean and cause significant challenges for SOUTHCOM on par with those already posed against CENTCOM.
As for the seven camouflaged Zolfaqar speedboats visible on the deck of Makran, they are a standard part of the Islamic Revolutionary Guard Corps Navy (IRGCN) fleet but were not previously known to have entered IRIN's service. These boats are capable of carrying Kowsar/Zafar, Nasr, or Nasir antiship missiles (25, 35, and 130 km range, respectively) along with a 12.7 mm machine gun. Although delivery of these boats would not alter Washington's strategic calculus substantially, the prospect of Venezuela engaging in longer-term asymmetric naval cooperation with the IRGC is worrisome.
What If the Ships Head for Syria?
To reach the Syrian ports of Tartus or Latakia, Makran would need slightly longer than the estimated nineteen days required to reach Venezuela. Once in the Mediterranean, the vessel and its cargo could pose numerous security problems.
For example, the Zolfaqar fast-attack boats could be used to equip a special IRGC or Hezbollah naval unit responsible for protecting Iranian oil tankers headed for Baniyas. The Syrian Navy already has an earlier version of the Zolfaqar in service, armed with C-802/Noor missiles.
The missiles potentially onboard Makran would be even more of a threat if successfully delivered to Syria. For example, the Dezful would be able to reach Saudi Arabia's capital and all of Israel, though it would fall short of Europe.
Conclusion
The maiden Atlantic voyage of Makran and its escort frigate creates a precedent that will likely be repeated in the future, and probably followed at some point by IRGCN oceangoing missile-armed vessels and converted cargo ships. Besides political messaging and naval experimentation, such missions give Tehran a perfect opportunity to create logistical bridges to Venezuela and/or Syria while testing arms embargos and otherwise exerting counter-pressure against the West. Of course, foreign naval vessels are free to navigate international waters just as American ships do in the Persian Gulf. Yet Washington must keep a close eye on the fine line between ignoring legitimate activities and resolutely confronting those intended to evade embargos, undermine Caribbean/Mediterranean security, or humiliate the United States.
Indeed, the Iranian regime is well versed in eroding regional security and U.S. authority using asymmetric and gray-zone methods, so it should not be permitted to extend these methods to the East Mediterranean. And if the Makran voyage is an attempt at running accurate missiles or heavily armed fast-attack craft to America's backyard, Washington should view it as a serious, intolerable threat—one that may be easier to forestall before it takes hold than after.
Farzin Nadimi is an associate fellow with The Washington Institute, specializing in the security and defense affairs of Iran and the Gulf region.