Iranian Seizures Raise Questions About Unmanned Maritime Operations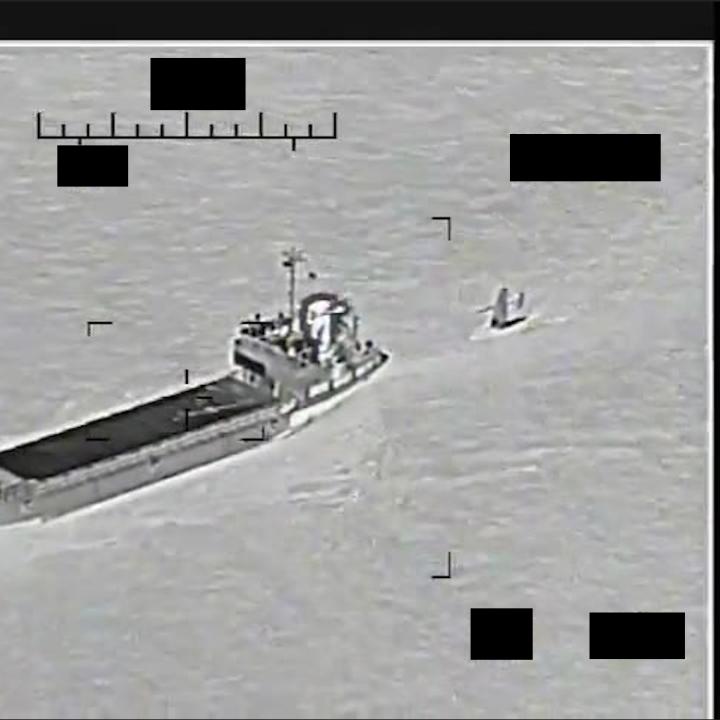 More trouble may await U.S. vessels unless officials work resolutely to protect them and establish effective guidelines for their safe operation.
Late on the night between August 29 and August 30, the U.S. Navy reportedly thwarted an attempt by the Islamic Revolutionary Guard Corps Navy (IRGCN) to hijack and tow an unarmed Saildrone Explorer maritime autonomous vehicle (MAV) belonging to the U.S. Navy's Task Force 59. This episode happened in the central Persian Gulf, probably not far from Farsi Island, traditionally an IRGCN hotspot. Three days later, the Islamic Republic of Iran Navy frigate Jamaran, part of a "counterterrorism" task force in the Red Sea, withheld two similar U.S. Saildrone Explorers for eighteen hours, a seizure Iran initially denied, before U.S. warships intervened and negotiated their release. Iran accused the U.S. Navy of endangering international shipping by conducting unsafe MAV operations. The released MAVs, meanwhile, were missing their full-aspect cameras and satellite communication gear, possibly indicating Iranian sailors or others had stripped them, rendering the drones virtually inoperable.
Whereas U.S. Central Command characterized the Iranian actions as "illegal" and "unprofessional," Iran played down the incidents and denied engaging in foul play, claiming that the earlier American drone needed to be towed because it had "drifted" into a busy shipping lane and its "navigation links" with operators had been severed. Iran claimed further that it had only agreed to release the MAV after briefing U.S. patrol boat personnel "about proper safety measures."   
On September 4, Maj. Gen. Abdolrahim Mousavi, the supreme commander of Iran's national armed forces (Artesh)—referring to the second encounter—condemned the U.S. Navy's "unsafe practice of using unmanned vessels in busy shipping routes" but also dismissed any Iranian interest in confiscating such vehicles permanently. The same day, Maj. Gen. Mohammad Bagheri, who chairs Iran's Armed Forces General Staff, warned that Iranian naval vessels had been ordered not to "tolerate" foreign unmanned surface vehicles in their path. More broadly, Iran has made clear it would not tolerate the expansion of threatening unmanned "spying operations" in the region.
The Iranian claim of a "drifting" Saildrone Explorer cut off from its operators is highly improbable given that Saildrone MAVs are designed for long-endurance autonomous navigation over the high seas. In 2019, a Saildrone successfully completed a 22,000-kilometer journey around Antarctica in 196 days amid extremely rough seas, freezing temperatures, fifty-foot waves, and an iceberg collision. Moreover, Saildrone Explorers are data-linked to company headquarters in Alameda, California, and the U.S. Navy's Fifth Fleet headquarters in Bahrain, but they usually navigate autonomously at slow speeds. Raising further suspicions in reference to the first hijacking is that the Iranian vessel involved in the incident—the Shahid Baziar—is not a typical support-and-supply vessel but rather a spy ship named after an IRGCN military intelligence pioneer, Kazem Baziar, who was involved in targeting international shipping during the Tanker War portion of the conflict with Iraq; he was killed on Farsi Island in 1987 following an encounter with U.S. Special Operations helicopters.
Maritime Domain Awareness
The recent incidents show why U.S. Naval Forces Central Command (NAVCENT) must maintain complete domain awareness through Task Force 59 and other resources. Alongside addressing Iran's covert moves to achieve its antiaccess/area-denial objectives, long-endurance, unmanned platforms can help disrupt illicit activities carried out by the Islamic Republic and others, such as narcotics and human trafficking. For example, on August 30, naval units from CTF-150—one of four task forces under the multinational Combined Maritime Forces—interdicted about three tons of narcotics in a fishing dhow in the Gulf of Oman. 
One cause of increased MAV interest for the Middle East involves NAVCENT's huge area of responsibility—6.5 million square kilometers, including 8,000 kilometers of shoreline and the strategic Strait of Hormuz, Bab al-Mandab Strait, and Suez Canal—and the shifting of U.S. assets elsewhere. A second is the region's extreme heat, which can hover at 115 degrees Fahrenheit, accompanied by high humidity—making unmanned patrols attractive.
Since 2021, Operation Sentinel, under the International Maritime Security Construct, and other U.S. regional partners have successfully tested such unmanned platforms, and the U.S. Navy intends to field as many as one hundred drone boats in the NAVCENT area of operations by summer 2023 as part of a "digital ocean" initiative incorporating interconnected sensors, drones, and satellites. But this surge will undoubtedly increase tense maritime encounters with Iran, which seeks its own de facto regional maritime dominance.
The wind- and solar-powered Saildrone Explorer has gained wide use in part because it can navigate autonomously for up to 365 days, without returning to port for maintenance or refueling, and can surveil its surroundings for suspicious activities using a 360-degree high-resolution camera, automatic identification system, and acoustic and other sensors. Real-time processing of data is performed using artificial intelligence and machine learning technologies that significantly shorten the detection-to-decision time in response to a particular threat. According to NAVCENT, all technologies used in the Saildrone Explorer are commercially sourced and therefore not considered sensitive.
Legal Gray Area
The above developments highlight the need to establish clear legal frameworks for safe MAV use. In the past decade, AI-related technologies have advanced rapidly and enhanced surveillance capabilities, but their scope remains limited and the extent of necessary human involvement should be clearly articulated. Interestingly, in the recent cases, the U.S. Navy promptly demanded the immediate release of the hijacked MAV, characterizing it as a sovereign "U.S. vessel" (not a "device") exercising freedom of navigation according to international law. Whereas MAV operations inherently involve lower stakes because they lack human cargo, a debate has emerged over whether and when MAVs should be classified as warships and enjoy the associated legal immunities, even if this potentially threatens human lives amid a decision to protect them more forcefully. Such difficult questions call for clear rules of engagement should one side refuse to cede its prize, cause damage to it, ban MAV operations outright near its waters, or ban them to exercise authority over maritime scientific research or military activities in its exclusive economic zone (EEZ).
Iran may see a precedent in the 2016 incident wherein China seized a U.S. underwater MAV in the Philippines' EEZ, claiming it was acting to protect the safety of navigation and crews of passing vessels. In the August 29 incident, Iran indeed argued that the deployment of MAVs disregarded safe navigation requirements, thereby justifying the seizure. Iran might further argue that U.S. and coalition military MAV operations prejudice the peace, good order, or security of Iran as a Persian Gulf and Gulf of Oman coastal state under the UN Convention on the Law of the Sea. They might also block a future MAV on the pretense that the passage of a sail drone is not "continuous or expeditious" under the transit or innocent passage regimes, hence a reference to the MAV's "navigational failure" in the recent two cases.
Furthermore, owing to the automated nature of unmanned vessels, the "normal mode" of MAV operation might be interpreted by coastal states as largely overlapping their military—and potentially hostile—activities. The United States should reserve the right to take action against Iran's own growing unmanned and eventually AI-driven platforms if the Iranian regime keeps insisting on carrying out its disruptive activities and interdicting Task Force 59's peacetime MAV operations.
Conclusion
In the CENTCOM theater, unmanned operations are considered the wave of the future, especially in light of the reduced U.S. presence in the region. Unmanned assets can likewise serve as important deterrents, expanding U.S. maritime awareness and depriving American adversaries of plausible deniability. Given the likelihood that Iran will attempt more brazen challenges in this area, as recent incidents show, U.S. leaders must now figure out how to effectively protect unmanned assets, whether or not they use sensitive equipment. Furthermore, the United States should settle on an appropriate form of messaging to deter and respond to attempted disruptions of its MAV operations. Failure to do so will mean danger for this promising operational concept in particular and U.S. credibility in general.
Farzin Nadimi is an associate fellow with The Washington Institute, specializing in security and defense in Iran and the Gulf region.