Netanyahu's Sudden Coalition Shift: Early Implications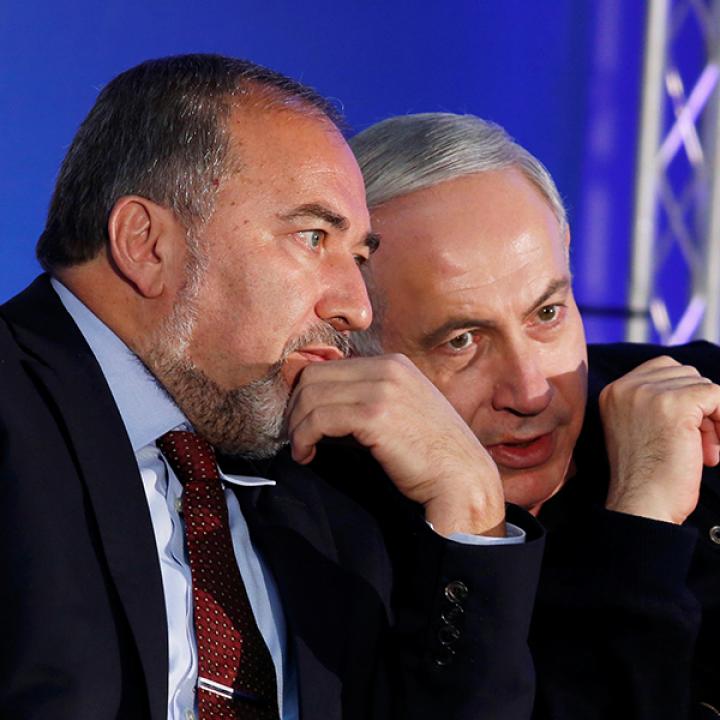 The prime minister has made a seemingly bitter tradeoff: although he is gaining six seats to ensure his political survival, he has saddled himself with a fierce rival, potentially alienated a loyal, experienced defense minister, and left the door open to unfavorable international initiatives.
In a stunning turnaround this week, Israeli prime minister Binyamin Netanyahu suddenly ended months of quiet talks to bring the Labor Party into his coalition government. Instead, he ousted Defense Minister Moshe Yaalon and replaced him with longtime political rival Avigdor Liberman, gaining the right-wing Yisrael Beitenu Party's six seats in the process.
ODD BEDFELLOWS CURB A CENTRIST TURN
Netanyahu's move is likely the product of forces on the left and right edge of Israeli politics inadvertently making common cause against efforts to bolster the center. On May 17, his talks with Labor leader Isaac Herzog seemed to be on the verge of finalization. The next day, however, Netanyahu reversed course. Apparently, young coalition members Yariv Levin, Zeev Elkin, and Justice Minister Ayelet Shaked were unhappy with some of the prime minister's policy pledges to Herzog, such as placing limitations on settlement activities, reviving Palestinian-related diplomatic moves, and pressing for a regional peace conference. Yesterday, Herzog enumerated the pledges Netanyahu had made to him, noting, "I demanded to have all the agreements in writing. The prime minister refused." Thus far, Netanyahu has neither confirmed nor denied Herzog's account.
Meanwhile, Egyptian president Abdul Fattah al-Sisi urged all Israeli factions earlier this week to work together for peace. According to various reports, he spoke at the encouragement of longtime envoy Tony Blair, who was acting as an informal back-channel mediator with Jerusalem. Cairo was even apparently willing to host the proposed regional peace conference. As Herzog noted, "There were messages that got to me and to Netanyahu from senior regional and international officials who are saying 'There is a significant regional opportunity to restart the [peace] process, don't miss that opportunity'...Al-Sisi's remarks were significant. These things were not coordinated in advance but they fell on sympathetic ears, as Bibi has been telling the region he wants to move forward but that he has been politically restricted. For the first time in many years, an Arab president is saying things so clearly."
At the same time, Herzog excoriated former Labor head Shelly Yachimovich for trashing every effort to find common ground with Netanyahu and broaden the government, calling her the "radical left." Indeed, many Labor legislators have been attacking Herzog lately, accusing him of "crawling" into the government without even waiting to see what policy modifications he could extract from Netanyahu. Then, in domino-like fashion, half of Herzog's faction made clear that they would not go with him if he joined the government, making his unity bid even less attractive to others.
Taken together, these developments suggest that the prime minister may now be more beholden to Liberman and Naftali Bennett, head of another key right-wing faction, Jewish Home. The hard right is unlikely to trust Netanyahu at the moment given the concessions he was willing to make to Herzog, and he has burned his bridges with the Labor leader in light of the sudden turnaround.
Netanyahu will also face a much steeper uphill battle on upcoming diplomatic challenges, such as a planned two-part French peace parley, a new Quartet report about Israeli settlement activities, and the prospect that the UN Security Council will seek to impose an Israeli-Palestinian solution toward year's end. Coincidentally or not, the French proposal was on hold as political developments played out in Israel, but now a date has been set for June 3. It was just announced today that Secretary of State John Kerry would attend. Previously, he had held off committing to any such conference -- if this reticence was his way of giving space for a Netanyahu-Herzog government to take measures of its own, the latest move seems to have spurred him to finalize. France has certainly made Kerry's participation a priority. More broadly, the takeaway message for diplomats watching Israeli developments unfolding this week is that Netanyahu is politically incapable of making midcourse coalition adjustments that could preempt diplomatic challenges.
THE LIBERMAN DIMENSION
This week's shift raises many questions about how Liberman will work with Netanyahu as defense minister and what impact he might have on Israeli foreign policy. An immigrant from Moldova, Liberman began his political career as director-general of the Prime Minister's Office during Netanyahu's first term in 1996. Although he was initially helpful in attracting Russian immigrant support for Netanyahu, the two had a falling out and Liberman started his own immigrant party. He has since made no secret of his desire to lead the Israeli right, becoming a bitter critic of the prime minister. Last year, he shocked the country when he decided to stay out of the current government, alleging that Netanyahu was too cozy with ultraorthodox parties that have questioned the Jewish lineage of some immigrants from the former Soviet Union. He has also accused the prime minister of radiating "weakness" on terrorism; just two weeks ago he called on Netanyahu to resign for this reason.
Indeed, Liberman takes glee in issuing very provocative statements. During the Gaza war of 2014, he was the only cabinet minister to publicly call for full Israeli reoccupation of that territory. At other times, he has called for Israel to bomb the Aswan Dam and said that former Egyptian president Hosni Mubarak should "go to hell" if he did not want to visit Israel. As foreign minister from 2009 to 2015, however, he demonstrated greater pragmatism, publicly noting that Israel has to initiate its own peace ideas or else others will take action of their own.
Nevertheless, given his statements about Gaza, his appointment as defense minister will make some wonder whether another war with Hamas is in the offing. Previously, Netanyahu had named former senior generals as defense minister: Yitzhak Mordechai in 1996, Ehud Barak in 2009, and Yaalon in 2013. In contrast, Liberman has never held a senior position in the Israel Defense Forces, and it is far from clear how he will get along with top IDF brass. Since peace talks collapsed in 2014, the military leadership has sought to play a stabilizing role in the Israeli-Palestinian arena, particularly over the past few months -- an approach seemingly vindicated by a recent decrease in the wave of stabbing attacks (see "The Israeli Defense Forces Fill the Void"). For his part, Liberman is publicly identified with calls for a major crackdown in the West Bank. He also visited the courtroom of IDF soldier Elor Azaria, who is on trial for manslaughter after shooting a Palestinian stabber in Hebron who was lying motionless on the ground. Liberman has called for mandatory death sentences on terrorists so that they cannot be released in prisoner exchanges, which some Israelis believe would deepen the spiral of retaliation. It is far from clear that Israel's Supreme Court would approve such a measure.
Interestingly, Liberman may try to use his new post to reach out to Mohammad Dahlan, a rival of Palestinian Authority president Mahmoud Abbas who is currently living in Abu Dhabi. Liberman reportedly has significant contacts with him; both men are withering critics of Abbas, and Dahlan sees himself as a potential successor to the eighty-one-year-old leader.
Apart from policy issues, it will be interesting to see if Liberman seeks to rejoin Netanyahu's Likud Party. He may view the Likud as a better political launchpad for a succession struggle than his own party, which is based on a Russian immigration wave that occurred twenty-five years ago.
YAALON'S FUTURE
It is unclear whether Netanyahu will offer to make Yaalon foreign minister and, if so, whether he would even accept. Netanyahu has yet to explain why he ousted the general, and the whole situation must grate on Yaalon.
In all likelihood, the move was purely a political maneuver to broaden the coalition. Liberman had made no secret of his desire to be defense minister as part of his longer-term plan to become prime minister in the future. At the same time, Yaalon has offered full-throated backing for IDF statements about the importance of maintaining the military's Western values -- not just on the Azaria case, but in terms of enhancing economic opportunities for Palestinians and speaking out against any Israelis who support discrimination. This suggests that he was at increasing odds with some of the young guard in the coalition; Netanyahu likely believed that he could not allow such an impression to take hold, and his continued silence will be seen as endorsing this narrative.
CONCLUSION
It is possible that Netanyahu genuinely wanted Herzog to join his government but was unwilling or unable to stand up to those who opposed the move. Whatever the case, he has now made a difficult tradeoff: although he gained six seats to ensure his political survival, he brought in a fierce rival who has made no bones about his low regard for the prime minister and his desire to succeed him. In the process, he is losing a loyal, experienced, and cooperative defense minister. Netanyahu also seems to be closing the door on a policy shift that could have blunted a string of international initiatives that are definitely not to his liking. Instead, he now has a harder uphill climb at home and abroad, and it is difficult to see how he has come out ahead.
David Makovsky is the Ziegler Distinguished Fellow and director of the Project on the Middle East Peace Process at The Washington Institute.