Netanyahu's New Settlements Policy: Advantages and Limitations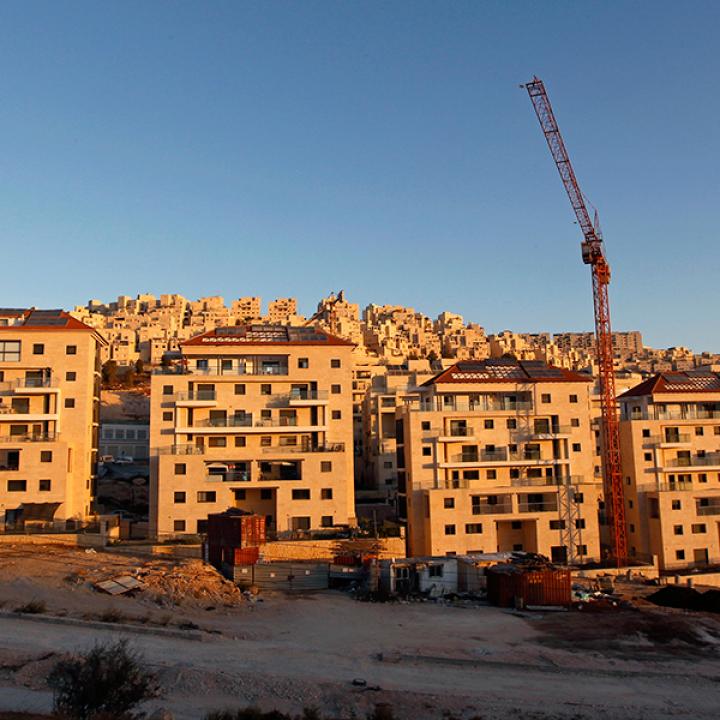 The prime minister's recent policy adjustment comes across as 'Bush letter minus,' though it may represent the first of several reciprocal steps still required to preserve the two-state solution.
On March 30, Prime Minister Binyamin Netanyahu told members of his security cabinet that Israel will act with restraint when it comes to further settlement activity. The decision followed a February 15 joint White House press conference in which President Trump asked him to "hold back on settlements for a little bit" in the West Bank. It also came on the heels of White House envoy Jason Greenblatt's trip to Israel, and on the eve of Washington visits by Egyptian president Abdul Fatah al-Sisi and Jordan's King Abdullah. While Netanyahu said the policy shift was solely an Israeli decision, a subsequent White House statement welcoming the move suggests there was a modicum of coordination with Washington. The prime minister and Greenblatt held around eight hours of discussions in Jerusalem, apparently at least in no small measure focused on the settlement issue. Netanyahu subsequently told the cabinet that no verbal bilateral understandings on the matter had been reached, but speculation persists.
DEFINING RESTRAINT
The settlements issue is so sensitive to Netanyahu's governing right-wing coalition that he has yet to release a formal statement about the March 30 announcements. Likewise, his aides waited until very late that day to brief reporters on the matter, after the weekend newspapers had gone to press, leading some to believe the delay was not coincidental. He has still not posted the decision on any official website.
According to the official backgrounder, the new restraint policy includes the following provisions:
No new outposts. By definition, settlement "outposts" (as opposed to full-fledged settlements) are constructed by a few dozen families without government authorization, and Netanyahu agreed to prohibit that practice under the new policy. Yet Israel had already committed as far back as 2003 to dismantle all existing outposts, not just forbid new ones. In February, however, the Knesset passed the Regularization Law, which legalized even outposts built on private Palestinian land (after providing compensation to the owners). In an extraordinary step, Attorney-General Avichai Mandelblit announced that he would not defend the law before Israel's Supreme Court, apparently believing that the justices would inevitably strike it down.
No new settlements except Amona. The lone exception stems from Netanyahu's commitment at the end of the Obama administration to build a new settlement for the forty-one families recently evicted from the Amona outpost. The Supreme Court ordered their removal because they were illegally living on private Palestinian land. Although Netanyahu previously insisted that no new settlements had been built in recent years, Obama administration officials disputed this claim, noting that nineteen outposts were legalized during the period in question. They also questioned whether gaps between construction constitute new settlements.
Limits on existing settlements. Netanyahu reportedly told the cabinet that Israel would expand existing settlements only "within previously developed areas." The terms typically used in this context are "built-up areas" or "the construction line," so it is unclear if he had a different meaning in mind. Whatever the case, he qualified this limitation significantly. First, he noted that if no room for expansion was available within a developed area, Israel would pursue construction adjacent to it. Second, in cases "where neither of these criteria are met due to legal, security, or topographical constraints, Israel will allow construction on the closest land possible to developed areas," according to Haaretz. Israel appeared to reach a similar agreement in principle with the Bush administration in 2003-2004, implicitly limiting construction to built-up areas of settlements and, where needed, adjacent areas. Although this was not codified as a public agreement, the two governments did establish an enforcement mechanism to ensure compliance at the time, though it eventually broke down. No such mechanism is mentioned in Netanyahu's latest decision, raising questions about how to ensure compliance in the future and avert loopholes.
No annexation. The new policy will curb any demands by Netanyahu's recalcitrant coalition partners for annexing some settlements to Israel.
Fewer planning meetings. The planning committee of the Israel Defense Forces' Civil Administration in the West Bank, the body that approves construction plans for settlements, will now reportedly meet only once every three months.
AVOIDING A BLOCS-ONLY APPROACH
When Netanyahu addressed the Knesset in May 2011, he stated that he would focus on retaining Israel's settlement blocs when discussing the Palestinian peace process with U.S. officials, referring to the cluster of large settlements inside the West Bank security barrier. An estimated 76-85 percent of the settlers live in these blocs, which comprise around 8 percent of West Bank territory and are largely adjacent to Israeli urban areas inside the pre-1967 boundary, with notable exceptions. This view is consistent with President Bush's April 2004 letter to Prime Minister Ariel Sharon, which stated that any final peace deal with the Palestinians would probably involve Israel retaining control of "existing major Israeli population centers" -- diplomatic code for the blocs. While the letter did not discuss Israeli construction in these areas prior to a final deal, Israel interpreted it as an implicit green light for such activity.
Many speculate that Netanyahu secretly does not want to build outside the blocs because he fears it would enmesh Israel in a binational reality and undercut its identity as a Jewish state. Yet he does not talk about blocs today the same way he did in the past. His current coalition is more right-wing than previous ones, so he likely believes he lacks the domestic political capital to ask Trump for an endorsement of Bush's 2004 letter -- despite complaining when the Obama administration did not endorse it in 2009. If he focused on the blocs alone today, he would risk offending the approximately 90,000 settlers who live outside the security barrier, along with their political patrons in the coalition, the Jewish Home Party and a vocal wing of his own Likud Party.
Therefore, one could call Netanyahu's new approach "Bush letter minus." Whether he provided a private pledge to Trump via Greenblatt is unknown, but publicly barring all non-bloc construction would ostensibly confer diplomatic advantages for the U.S.-Israel relationship even if it would incur the anger of non-bloc settlers. By pledging not to build in the isolated settlements outside the barrier, Israel could signal its potential readiness to at least consider giving up 92 percent of the West Bank down the road, thus maintaining the viability of a two-state solution. At the same time, Netanyahu could show his right-wing constituents that he is committed to increasing development in the 8 percent of the West Bank where most settlers live.
Yet his current approach is much more modest, seemingly designed to demonstrate just enough restraint to the Trump administration without causing coalition headaches back home. Under the new policy, he is essentially telling his settler supporters the following:
They can continue building outside the blocs and enlarging the footprint of their settlements where needed.
There will be no limitations on construction in Jewish neighborhoods over the Green Line in Jerusalem, an approach that has wide support in Israel.
The Amona residents will be given a new settlement along a road southeast of Ariel en route to the Jordan Valley. The settlements clustered in this area (e.g., Eli, Shiloh, Shvut Rachel) have never been considered part of the blocs, but the settlers clearly want to change that status. Taken together, the cluster will now be home to nearly 10,000 people.
Some 2,000 new housing units are already slated to be built in bloc areas largely adjacent to the pre-1967 boundary (Netanyahu pointed out that this plan was in the pipeline before Trump came to office).
TRUMP, ARAB STATES, AND THE SETTLEMENTS
Both Trump and Netanyahu have publicly voiced hope that the commonality of threats such as Iran and militant Islamist groups have created a strategic convergence between Israel and various Arab states. They have also touted this as an "outside-in" approach to the two-state solution, whereby Israel makes peace with the Arab world alongside reaching terms with the Palestinians. The implicit assumption is that Arab states would then use their influence with the Palestinians to yield concessions in a way they have never done in the past to facilitate agreement with Israel.
Yet any such approach is predicated on Israel making moves on the ground that justify active Arab diplomatic engagement. In other words, Israeli actions are necessary to woo the Arabs into greater involvement. Accordingly, the Trump administration seemed to nudge Netanyahu in recent weeks toward signaling a new settlements policy before Sisi and Abdullah came to Washington, perhaps to set the stage for a multilateral peace meeting later this year. But Arab leaders are unlikely to view the "Bush letter minus" approach unveiled last week as true restraint.
To enable a broader set of diplomatic moves, more reciprocal steps need to be taken. This includes Palestinian efforts to curb incitement, various moves by Arab states, and further Israeli steps on settlement restraint. In theory, each of these steps should open political space for other parties to act. Yet such choreography is never easy in a messy Middle East due to domestic political constraints -- including in Israel, where the settlers seem to hold the balance of power. If Arab states respond by agreeing to reciprocal incremental steps (with Israel making larger subsequent moves on settlements), Netanyahu could be caught between them and his coalition at home. It is difficult to see how he would be able to square this circle.
David Makovsky is the Ziegler Distinguished Fellow and director of the Project on the Middle East Peace Process at The Washington Institute.