Navigating China's Security Presence in the Middle East and North Africa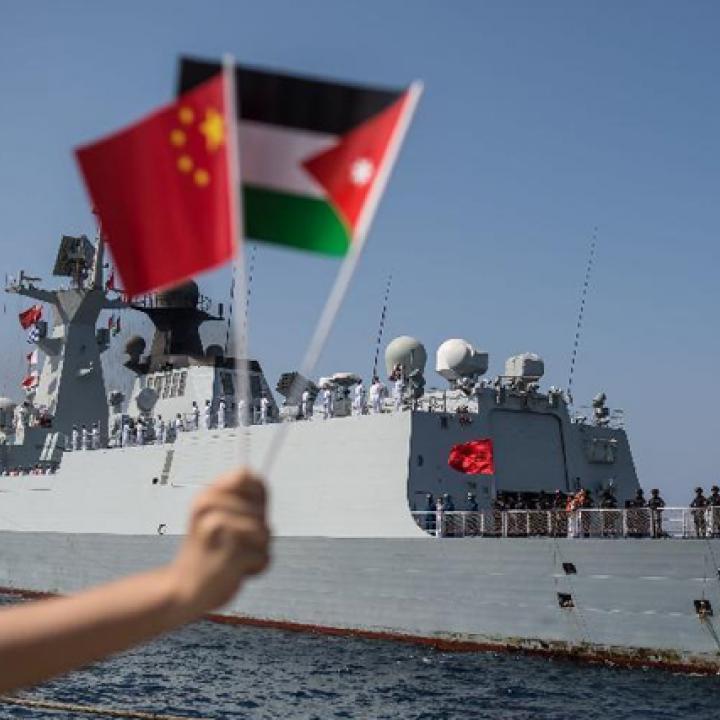 Regional governments will continue to balance between Beijing and Washington, so policymakers should focus on tipping the scale in America's favor, countering the narrative of U.S. withdrawal, and avoiding unnecessary escalation with China.
As U.S.-China competition intensifies globally, aspects of this competition have already reached the Middle East and North Africa, where China looks increasingly unwilling to exclusively rely on the U.S. security umbrella in the region. This unwillingness is manifest in a small but growing security presence. In a recent study, we laid out the ways in which this presence protects China's interests in the region, and what the U.S. might consider doing in response.
Some of China's interests in the region are in harmony with U.S. interests. China seeks a stable market in order to preserve its economic access to the region and promote the free flow of commerce. In pursuit of these objectives, for instance, China has deployed anti-piracy naval task forces to international waters. But China also seeks to advance its own image as a global power and has shown an increased willingness to project its military might beyond its borders. In the Middle East and North Africa, this has manifested itself in a myriad network of investments in ports and industrial parks, which—though made with a commercial interest first—can also service Chinese military assets down the road, given the blurred lines between industry and the military. It has also included a modest, but growing, effort to sell military platforms in niche markets in the region. Together, these three efforts—military deployments, investments in critical infrastructure, and arms sales—represent the crux of China's security presence in the region.
China's first traditional military deployment beyond its near seas was an anti-piracy task force dispatched to the Gulf of Aden in 2008. The task force, which still operates today, is considered a resounding success in Beijing. In June 2022, Chinese state media claimed that the task force had deployed more than 100 ships and 30,000 service members to escort over 7,000 'merchant ships of China and foreign countries' since its creation. Since then, Chinese forces in the region have supported evacuations from Libya and Yemen and the removal of chemical weapons from Syria. Sustaining its operations was a key factor in China's 2017 decision to establish its first overseas base in nearby Djibouti. Additionally, Chinese military forces have conducted joint exercises with Iran, Saudi Arabia and Egypt, and its navy has made port calls to Iran, Egypt, Israel, and every GCC country since 2010.
Critical infrastructure investments play a key role in boosting China's security presence. China requires that state-controlled enterprises in specific sectors have the capacity to service Chinese military assets, blurring the line between its commercial and military presence abroad. This blending of state-controlled commercial enterprises with military development, commonly referred to as 'military-civil fusion,' creates a conundrum in the Middle East: Chinese investment in ports and industrial parks—though designed to grow commerce—can also support Chinese naval assets and aid China in expanding its building out a military presence in the region. China has invested in ports and industrial parks throughout the Middle East and North Africa, including in Israel, Egypt, Saudi Arabia, and the UAE, often causing great strain to the host country's relationship with the U.S. Notably, China's activities at the al-Khalifa port in the UAE contributed to the collapse of negotiations to acquire the F-35 from the U.S.
Arms sales are another feature of China's security inroads in the region. Beijing has successfully targeted a niche market in the region: armed unmanned aerial vehicles (UAVs), which it has sold to the UAE, Iraq, Jordan, Saudi Arabia, Egypt, and Morocco, among others. The U.S. has long been wary of selling armed UAVs to partners in the region. Indeed, Jordan purchased Chinese UAVs after its request to purchase UAVs from the U.S. was denied. China is also more willing to share sensitive military technology and cooperate on research and development with regional partners: China and Saudi Arabia announced plans to jointly produce UAVs and reports in 2021 indicated Saudi Arabia was producing ballistic missiles with Chinese technological support.
China's growing security presence in the region poses a dilemma for the U.S. and its partners. Not all of China's Middle East relationships or ambitions threaten U.S. interests and relationships, but several present serious challenges. To navigate these challenges, the U.S. must accurately assess the type of Chinese security presence in a given country and the associated risks to its own interests in order to respond proportionately. Distinguishing between a country with a primarily economic relationship with China, and a country with both an economic and military relationship with China, will add nuance to the U.S. approach to China and avoid undue turbulence with regional partners.
Ultimately, countries in the Middle East will seek to balance their relations with the U.S. and China. How the U.S. affects that balance in its favour depends on what it is willing to offer partners with long-standing needs. U.S. officials must clearly establish and communicate what it sees as acceptable parameters of a country's security relationship with China. The U.S. must also be more willing to offer select military platforms and the means for co-production to bolster partner defences and industries. And the U.S. must also be cognisant of the narrative of U.S. withdrawal in the region, and make every effort to counter this narrative by increasing its diplomatic presence on the ground, coordinating high-level visits, and prioritising its partners' security needs. In doing so, the U.S. can avoid unnecessary escalation with China, maintain its regional network of defence partnerships, and find a way towards a sustainable long-term presence in the Middle East and North Africa.