Nagorno-Karabakh's Perpetual Conflict Shows Soviet Union Still Crumbling
Also published in
Al Majalla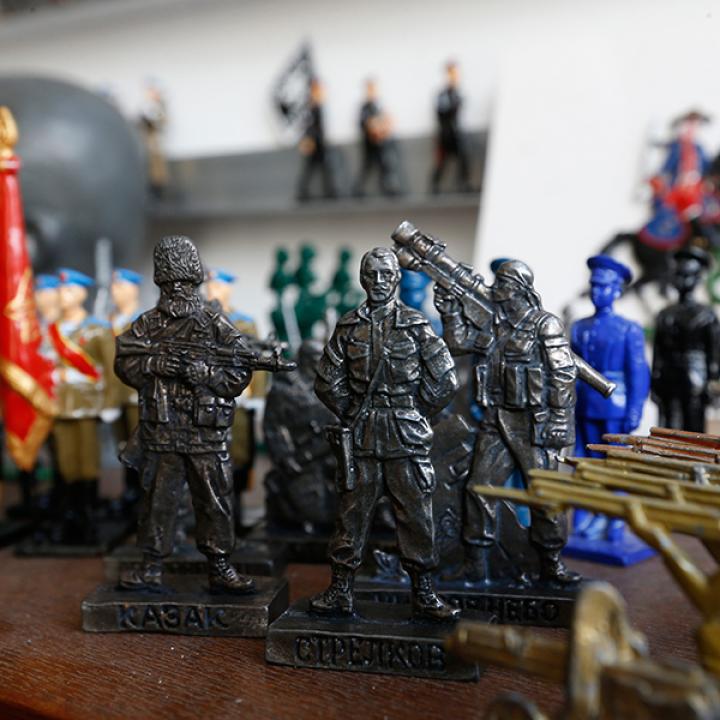 The conflict over Karabakh had been the longest-running in the post-Soviet space, with major implications for Moscow's strategic mindset in Ukraine and other regions.
On 19 September, Azerbaijan's defence ministry launched what it described as an "anti-terrorist" operation in the disputed separatist Armenian region of Nagorno-Karabakh. It demanded "the complete withdrawal of ethnic Armenian troops and the dissolution of the government in Stepanakert."
After daylong fighting, Karabakh forces agreed to a ceasefire outlined by Azerbaijan and the Russian defence ministry, which will allow Baku to regain control of the territory. Armenian Prime Minister Nikol Pashinyan said Armenia was not involved in preparing the ceasefire agreement.
While details about this story will take more time to come to light, it is clear that Azerbaijan has now gained the upper hand in its conflict with Armenia, which has spanned over three decades. Specifically, Azerbaijan had achieved a political objective of regaining territory through force.
Karabakh is internationally recognised as part of Azerbaijan, but the country has had an ongoing dispute with Armenia over its control for over three decades.
The latest military action comes after months of growing tensions. Both sides had accused each other of a military build-up, while Azerbaijani troops had blockaded the Lachin corridor—the only road that connects Karabakh to Armenia—which led to a humanitarian crisis.
Baku's official line was that Karabakh officials refused to accept aid from Azerbaijan.
Now, after the ceasefire agreement, talks have commenced on the reintegration of Karabakh into Azerbaijan.
Over the last year, US State Secretary Anthony Blinken has been involved in efforts to broker a peace agreement between Armenia and Azerbaijan in what appeared to be the most promising effort to reach a genuine breakthrough in years.
Blinken earlier had called on Baku to end its "egregious" military actions in Karabakh.
Still, the bigger question is, what do these latest events mean for a future peace treaty between Armenia and Azerbaijan?
How We Got Here
The roots of the modern-day conflict over Nagorno-Karabakh originate with the break-up of the Soviet Union but historians trace it to Joseph Stalin (himself from the South Caucasus) who, as the commissar of nationalities in the1920s, oversaw the drawings of administrative boundaries that purposely divided ethnic groups to reduce their political influence and potential nationalist aspirations.
In 1923, Stalin incorporated the predominantly ethnic Armenian Nagorno-Karabakh Autonomous Oblast into the Azerbaijani Soviet Socialist Republic. (Prior to this, Karabakh had been the subject of disputes, for example, after the collapse of the Russian empire in 1917, Armenia and Azerbaijan fought brief wars over Karabakh, and at one point, it was governed by a self-declared independent administration). 
As the Soviet Union began imploding, longstanding tensions came to the fore and led to the first war between Armenia and Azerbaijan as they regained independence.
A Russia-brokered ceasefire ended the war in 1994 with Armenia's military victory. Over a million people became refugees on both sides. Armenian forces gained control of Karabakh and several large surrounding areas.
The region had been primarily governed by a separatist, ethnic Armenian self-declared republic and backed by the Armenian government. Karabakh (or Artsakh as Armenians call it) remained internationally recognised as part of Azerbaijan, but the dispute over this region had continued to simmer for years with intermittent fighting on both sides.
Most notably, fighting broke out in April 2016, which led to hundreds of deaths on both sides and eventually to a second full-scale war in September-October 2020—the deadliest fighting this region had seen in years.
The war ended after Russia brokered a ceasefire, bringing Azerbaijan closer to reversing the losses of the first Armenia-Azerbaijan war.
As part of the agreement, Baku regained control of seven districts adjacent to Nagono-Karabakh and a substantial part of Karabakh itself, except the northern region of Nagorno-Karabakh, which connected to Armenia via the Lachin corridor.
Obstacles to Peace
Since 1992, the Organisation for Security and Cooperation in Europe Minsk Group, co-chaired by the US, Russia and France, had served as the primary mediation forum for a peace settlement between Armenia and Azerbaijan, but in practice, made little progress as both countries' governments over the years pursued maximalist positions that the other refused to accept.
In 2009, the group updated the Madrid Principles (also known as the basic principles) on settling the conflict; senior Armenian and Azerbaijani officials agreed on some of the proposed principles, but little progress has been made since.
Further complicating the matter is that low-level conflict served Moscow's interests, and it had little desire to address its underlying causes. At the same time, the West had not seen the South Caucasus as a priority. 
The Karabakh conflict emerged as one of several "frozen conflicts" in the post-Soviet space, which kept the region destabilised and reliant on Russia, rather than allowing for better ties with the West.
Landlocked Armenia, for its part, stayed isolated since the break-up of the Soviet Union. It maintained a closed border with Turkey and remained reliant on Russia as a treaty ally and security guarantor (and to a lesser extent, as compared to Russia, on an overall good relationship with Iran). Still, Moscow maintained diplomatic and trade ties with Azerbaijan and supplied weaponry to both Armenia and Azerbaijan.
Over the years, Azerbaijan—with its vast energy resources and a more diversified foreign policy—had also emerged as a bigger prize for Moscow. In addition, Moscow was unpleasantly surprised in 2018 by the peaceful anti-corruption Velvet Revolution in Armenia, which brought the current prime minister to power.
Nikol Pashinyan took a pro-Western orientation and had, over the years, taken a more conciliatory approach towards reaching a peace settlement with Azerbaijan.
Over the years, pursuing a more conciliatory approach towards reaching an agreement with Azerbaijan had been risky for Armenian leadership. Levon Ter-Petrosyan, Armenia's president from 1991 to 1998, now the leader of the opposition Armenian National Congress Alliance, had believed there were reasons to recognise Azerbaijan's territorial integrity, but subsequent Armenian administrations had taken a less conciliatory approach.
In a recent interview, Zhirayr Liparityan, a veteran Armenian diplomat and adviser to Ter-Petrosyan, said, "Our administration bet on peace. And the next administrations—especially the last one (i.e. Pashinyan's cabinet)—bet on war."
In October 1999, a terrorist murder of Prime Minister Vazgen Sargsian, parliament speaker Karen Demirchian, and several other leading politicians in Armenia's parliament derailed the earlier ongoing peace process efforts.
More recently, after the 2020 war, Pashinyan faced domestic protests and internal pressure over signing the 2020 peace deal with Azerbaijan. In November 2020, an angry mob assaulted Armenia's parliament speaker, Ararat Mirzoyan, after Pashinyan announced a peace deal with Azerbaijan and Russia.
What's Next?
Reportedly, Baku informed Moscow ahead of time of its military action in Karabakh this month. Still, Moscow failed to act partly because it wanted to see Pashinyan ousted from power.
Thousands are now protesting in Armenia, calling for Pashinyan's resignation for perceived failure to support Karabakh separatists. It is too soon to tell how serious these protests are, but Pashinyan's ouster will likely be the primary reason for peace talks to take several steps back.
On the one hand, Russia's distraction in the war on Ukraine appears to have weakened Moscow's leverage in the South Caucasus. That very weakening has likely brought the region to an inflexion point in the first place and created an opportunity for the US to take a more leading role in advancing peace efforts.
Indeed, Armenia's relationship with Russia has grown increasingly strained in the last year.
On the other hand, however, if reports about Moscow's inaction or tacit approval of Baku's military operation as an attempt to create regime change in Armenia are accurate, Moscow still has some cards left to play, as the Kremlin would not want to see a genuine peace between Armenia and Azerbaijan, especially one brokered by the United States.
Another issue to watch for is whether the US will halt security aid to Azerbaijan by refusing to grant a waiver to section 907 of the Emerging Eurasian Democracies and Open Markets Act, or the FREEDOM Support Act and how that could impact Azerbaijan's position toward peace talks. Most recently, draft legislation was introduced in Congress to revoke the president's authority to waive section 907.
Much like Russia's invasion of Ukraine, the collapse of the Soviet Union reshaped the world overnight, but it has also been an ongoing process that unfolds to this day.
The conflict over Karabakh had been the longest-running in the post-Soviet space, marked by periodic flare-ups, moments of optimism, and a return to the status quo. A peace treaty between Armenia and Azerbaijan would end this cycle.
That this conflict remains unresolved shows that the Soviet Union is still crumbling.
Anna Borshchevskaya is a senior fellow in The Washington Institute's Diane and Guilford Glazer Foundation Program on Great Power Competition and the Middle East. This article was originally published on Al Majalla's website.