Militias Welcome Killing of LGBTQ Celebrity: Coordination Framework Pushes to Make Homosexuality Illegal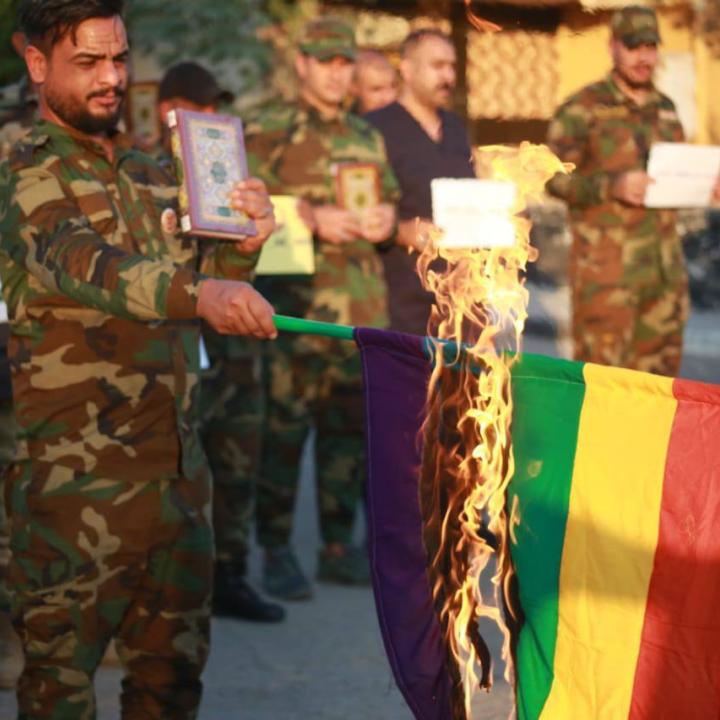 Iran-backed militias within the Coordination Framework are leading the call to criminalize alternative lifestyles and celebrating the murder of a queer Iraqi through their social media platforms.
On September 25, popular Iraqi TikToker Mohammed Noor al-Saffar, known as Noor BM, was shot dead in broad daylight in Baghdad's al-Mansour neighborhood. Described by the Iraqi LGBTQ+ organization IraQueer as a "queer Iraqi vlogger," Noor BM was just twenty-three years old. 
Although it is not clear if the killer is affiliated with Iraq's muqawama (resistance) militias, their social media channels celebrated the news. For example, the Telegram channel al-Hashd al-Electroni posted CCTV footage of the murder and added the hashtag #سلمت_يمينك (bless your hand) in reference to the killer (Figure 1). The same sentiment was expressed by other muqawama channels such as Shaajab News.
Iran-Backed Militias Attack LGBTQ+
The brazen murder happened after months of muqawama pressure on the government to pass a law punishing homosexuality with capital punishment or life imprisonment. In a July 1 tweet, Qais al-Khazali, leader of the muqawama group Asaib Ahl al-Haq (AAH) declared: "After all that we have said about the danger of the malicious American projects, which target the values and traditions of our society, it has become necessary for all honorable members in the parliament to pass a law criminalizing homosexuality...to guarantee immunity and adequate protection for the authentic values, beliefs, and morals of Iraqi society" (Figure 2).
A few days later, Saud al-Saedi, head of Kataib Hezbollah's Hoquq bloc, told AAH's al-Ahd TV that parliamentarians had submitted a request to speaker Mohammed al-Halbousi to include criminalization of homosexuality in the penal code (Figure 3). (Interestingly, Saedi is the same Hoquq parliamentarian who pushed to nullify the 2013 Iraq-Kuwait agreement on the Khor Abdullah waterway this May, in a case that the Federal Supreme Court adjudicated on September 4.)
Other muqawama militias such as Harakat Hezbollah al-Nujaba (HaN) also strongly supported these efforts. In one lengthy tweet, HaN spokesman Nasr al-Shammari urged parliament to criminalize homosexuality and its promotion. He also launched a stinging attack accusing the West of spreading homosexuality by muddling the concept of gender (Figure 4). Similarly, Nouri al-Maliki's State of Law Alliance has pressured Speaker Halbousi to expedite the process of passing an anti-homosexuality law (Figure 5).
Coordination Framework Media and Militias Pushing Halbousi
On August 15, Hassan Salim, the leader of AAH's parliamentary bloc al-Sadiqoun, submitted a proposal to amend the Combating Prostitution Law of 1988 by adding articles criminalizing homosexuality and a wide range of "misdemeanors," including cross-dressing. (Notably, Noor BM described himself as a cross-dresser in past interviews.) The proposed law would punish anyone engaging in homosexuality with life imprisonment or death, and jail individuals who promote homosexuality for a minimum of seven years. The measure was supported by 106 members of parliament, most of them from the CF. 
Although Halbousi reportedly sent the bill to the parliament's legal committee, he is still facing huge pressure from muqawama media networks, who accuse him of withdrawing or delaying the measure with administrative steps. Sebyan al-Safara (Lads of the Embassy), an influential group specializing in smear campaigns against those deemed unfriendly to the muqawama, ran a story about Halbousi linking his purported obstruction of the bill with his purported efforts to normalize Iraqi relations with Israel (Figure 6). This report was widely reposted on muqawama social media, including Sabereen News.
Broad Coordination Framework Attack on Human Rights
These trends fit into the broader pattern of persecution that is accelerating under the government installed by the Coordination Framework in October 2022. One pillar of this effort, the Iraqi Communications and Media Commission (CMC), is reportedly preparing to remove content related to LGBTQ+ issues from Iraqi social media sites. In the disturbing draft regulations under consideration by the CMC, homosexuality-related material is judged slightly less objectionable than human trafficking but worse than radioactive contamination. On August 9, the CMC banned public use of the terms "homosexuality, homosexual, and gender" as incompatible with Iraqi society. It asked citizens to use the term "sexual deviancy" instead. International NGOs and other organizations condemned the decision, but they are under pressure as well; in February 2023, for example, German media network DW was driven out of Iraq for covering LGBTQ+ material.