Militia Journalist to Head New Prime Minister's Communications Team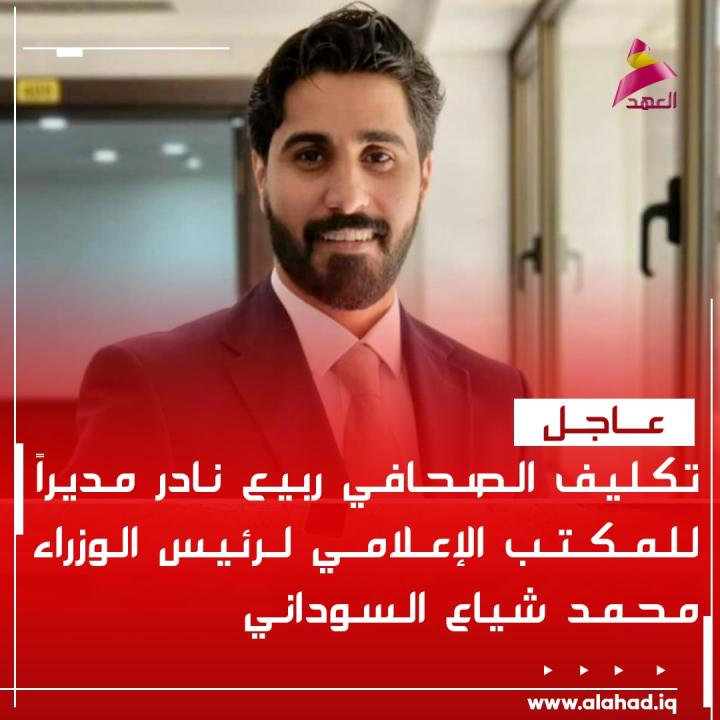 Rabee Nader has a long history of working with U.S.-designated terrorist groups Kataib Hezbollah and Asaib Ahl al-Haq, so appointing him could place Prime Minister Sudani's office at risk of potential sanctions.
On October 31, Iraqi media reported that Mohammed Shia al-Sudani's new government has appointed journalist Rabee Nader as head of communications in the Office of the Prime Minister (PMO). Nader is a young but experienced journalist with links to multiple Iran-backed Shia militias. Based on an infographic published by al-Rabiaa TV—which has close ties to Nouri al-Maliki, the former prime minister who heads the State of Law Alliance—Nader worked at various militia news outlets, most notably al-Etejah TV, which belongs to U.S.-designated terrorist group Kataib Hezbollah (KH), and al-Ahd TV, run by U.S.-designated terrorist group Asaib Ahl al-Haq (AAH) (Figure 1).
Nader's most senior private-sector position was head of news and current affairs at al-Ahd. In October 2019, during the premiership of Adil Abdulmahdi, he joined the PMO communications department (with some media outlets incorrectly announcing at the time that he had been named the department's head). He remained with the department throughout Abdulmahdi's tenure but was later sidelined when Prime Minister Mustafa al-Kadhimi took office.
Upon his 2019 appointment to the PMO, Nader posted a social media message thanking Sanad al-Hamdani, a senior AAH figure who served as general manager of al-Ahd TV. The message read, "My work at al-Ahd channel as the head of news and current affairs has ended...My thanks go to my friend Sanad al-Hamdani (the general manager) for the real support he offered me" (Figure 2).
Nader's initial appointment occurred at a time when AAH and other militias were infiltrating state institutions en masse under Abdulmahdi's rule. Yet both AAH's ambitions and Nader's advancement were curbed by the national protest movement that erupted around the same time and eventually forced Abdulmahdi's resignation. Accordingly, Nader remained dormant within the PMO, waiting for another prime minister more friendly to AAH and other muqawama (resistance) groups so he could assume his intended role.
Flash forward to this week, and Nader is now heading the department and receiving full support from senior muqawama figures and media outlets. For example, Ahmad al-Thawwaq, an influential muqawama strategist and member of KH's Hadaf Center for Strategic Studies, led a social media campaign to promote Nader, posting several messages explaining why he fully supports the appointment. In one post, he included a screenshot of an old message by Nader memorializing the funeral of U.S.-designated militia leader Abu Mahdi al-Muhandis. Thawwaq then comments on the screenshot, writing that the reason he likes Nader is because he is "a son of the great mentor...al-Shayeb [an epithet referring to Muhandis]" (Figure 3).
If the Sudani government is looking to quickly develop a slick communications capability, one might argue that it makes sense to draw on highly effective muqawama propagandists such as Nader, who have long received training from U.S.-designated terrorist organizations such as Iran's Islamic Revolutionary Guard Corps (IRGC) and Lebanese Hezbollah. Yet Western governments should not be deceived into accepting that content managers at KH and AAH channels are just media technocrats doing their jobs. Employees at al-Etejah and al-Ahd are subject to personal security vetting by the IRGC and muqawama, and they are generally chosen on the basis of professed ideological affinity with these organizations. The placement of an inner-circle militia propagandist at the top of Prime Minister Sudani's communications department should therefore be viewed with alarm—and considered a form of material support that may render the PMO itself sanctionable.