Making Sense of the Saudi Rumors: A Guide to Royal Family Politics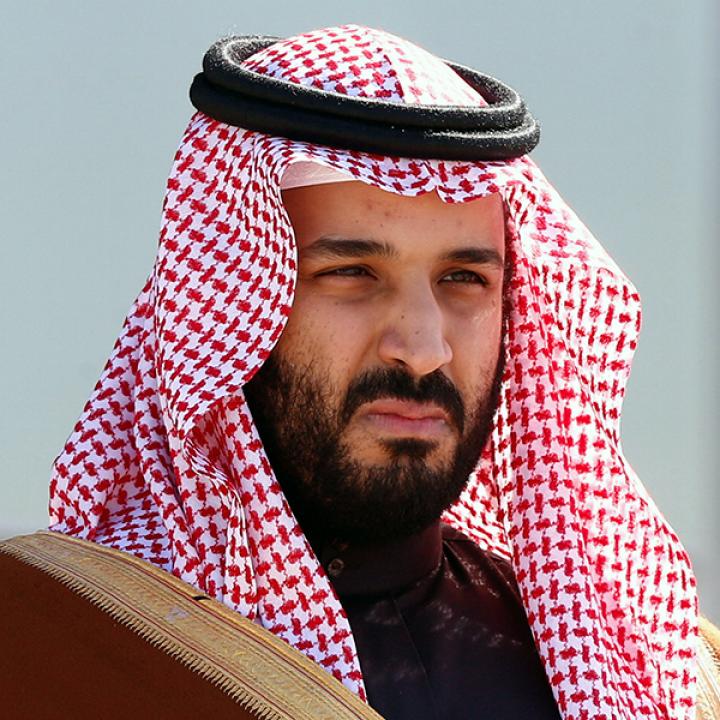 Reports of royal arrests, a possible coup plot, and a brewing oil price war suggest that the kingdom is facing another period of considerable political tension.
Since King Salman succeeded the late King Abdullah in 2015, the House of Saud's main internal challenge has been determining how and when power will be transferred to his son and intended heir, Crown Prince Muhammad bin Salman (aka MbS). On March 6, the prince reportedly moved against perceived rivals who may have been plotting to thwart his progress toward the throne, though some of the facts remain uncertain and the events in question have yet to surface in the Saudi media.
Historically, Saudi succession has been based on age seniority and royal family consensus. But the thirty-four-year-old crown prince clearly does not qualify on the first and apparently cares little about second, having sidelined many princes and temporarily incarcerated various royals and businessmen in the Riyadh Ritz-Carlton in 2017, accusing them of corruption and holding them until they agreed to pay massive financial penalties. The latest crisis has involved additional arrests and interrogations, raising questions about the crown prince's intentions, his father's health, and other domestic factors.
WHO HAS BEEN DETAINED?
The two most significant of the arrested princes were Ahmad bin Abdulaziz, the king's younger full brother, and Muhammad bin Nayef (aka MbN), the former crown prince who gained many friends in the U.S. intelligence and security establishment during his time as interior minister. Additionally, one of Prince Ahmad's sons was detained, and at least two other princes were summoned for questioning by the Royal Court: Interior Minister Abdulaziz bin Saud bin Nayef and his father, Saud bin Nayef, governor of the oil-rich Eastern Province. Some reports say that more than a dozen princes were interrogated.
The potential role that some of these figures stand to play in the royal succession drama stems from their relationship with the late Prince Nayef, an older full brother of King Salman who would have become king had he not passed away in 2012. In that scenario, he probably would have designated MbN as his successor, while Salman and MbS would have been relegated to lesser roles—a fact that is not lost on any of the main players.
HOW REALISTIC IS THE COUP TALK?
There is little doubt that some, possibly many, members of the House of Saud do not want MbS to become king, deeming him too intemperate and potentially hazardous to their family's future rule. Some may also disapprove of certain economic and social liberalization initiatives he has championed, though this is less obvious.
Talk of an actual coup has faded since MbS pushed MbN to the side in summer 2017. The ruthless manner of that maneuver—he reportedly took away MbN's cellphones and diabetes medication—probably scared his princely cousins. MbN has been under house arrest ever since and rarely seen in public; his latest detention will surely reinforce the message.
WHO ARE THE OTHER PRINCES TO WATCH?
Surprisingly, none of the reports have mentioned one of MbN's closest royal allies, Mitab bin Abdullah, the senior son of the previous king and former head of the Saudi Arabian National Guard, a force that once played a key internal security role. A 2017 Ritz-Carlton detainee, he is still believed to be in the kingdom, but four of his closest male relatives reportedly live in exile in Paris. To the extent that possible anti-MbS plots are still discussed, the narrative has revolved around MbN, Mitab, and their immediate circle.
The crown prince's closest royal ally is his younger brother Khalid, former ambassador to Washington and now deputy defense minister. Other allies include Khalid al-Faisal, the governor of Mecca province who is often seen at King Salman's side, and his brother Turki al-Faisal, a former intelligence chief and ambassador in Washington who remains close to his American contacts.
MbS has also nurtured a new generation of royals by giving them plum jobs, possibly to keep their fathers on his side. This seemingly did not work in some cases (e.g., naming Saud bin Nayef's son as interior minister) but may have borne fruit in others (e.g., naming Turki al-Faisal's son sports minister last month). He also promoted the children of Bandar bin Sultan, the former ambassador to Washington who long served as a formidable political operator at home and abroad. His daughter Reema is the current U.S. ambassador, while his son Khalid is ambassador in London.
WHAT IS THE KING'S HEALTH STATUS?
Even before Salman became king at the age of seventy-nine, there were doubts about his physical and mental health. Two of his sons had already died of heart attacks, and ambassadors who met him said he had limited energy and could not engage in a meaningful conversation longer than fifteen minutes, even when prompted via a computer screen discreetly hidden in a flower arrangement on his desk. His physical deterioration is even more apparent today. (Western intelligence officials have also privately expressed concerns about the frenetic pace of the crown prince's lifestyle, which they believe could lead to health problems.)
The king's popularity is not at stake—his standing as monarch puts him outside public debate. Instead, the arrests may have been what the Wall Street Journal described as a "pointed warning to maintain support for [the] Crown Prince." The king still commands respect and support in many quarters despite his uncertain faculties; perhaps crucially, this sentiment does not extend automatically to MbS.
WHAT OTHER DOMESTIC FACTORS BEAR WATCHING?
The crown prince's Vision 2030 project is already experiencing delays, symbolized by the limited, underperforming initial public offering for the state oil company Saudi. Last week's arrests coincided with the collapse of talks between OPEC and non-OPEC oil producers to agree on production cuts. The result is that producers will expand their volumes beginning April 1, a decision that is already causing global oil prices to plummet. The kingdom currently produces 9.7 million barrels per day, and officials have mentioned going over 11 million with substantial price discounts. This would likely take market share from Russian producers, who may not be able to afford operating at such low prices (officials in Moscow were quick to criticize Riyadh's decision and issue public warnings).
The coronavirus outbreak is also of immense concern, especially given the added twist that infected Saudis had recently traveled to archrival Iran. On March 8, Saudi authorities announced that Qatif, the kingdom's main Shia region, had been placed under quarantine—a move that will likely antagonize local inhabitants and impede the oil facilities in which many of them were employed.
WHAT ARE THE CROWN PRINCE'S OPTIONS?
If King Salman dies in the immediate future, MbS will probably succeed him whether some family members like it or not, since the opposition seems to lack numbers and unity of purpose. The difficulties would emerge if Salman does not die but becomes incapable of appearing in public. A notional Allegiance Council exists to debate such issues, but MbS would probably circumvent it.
Abdication is not an option given residual bad memories from King Saud's forcible removal for incompetence in 1964. Alternatively, Salman could give up some of his titles, such as prime minister. A greater challenge is what to do with his title as "Custodian of the Two Holy Places"—the government recently ordered the partial closure of Mecca's Grand Mosque in order to cope with the coronavirus, but if such measures continue, how will they affect the kingdom's responsibility to facilitate entry for foreign pilgrims?
REMEMBERING U.S. INTERESTS
Riyadh is a longstanding U.S. partner based on oil and security cooperation, but selling that relationship to Congress and the wider American public has been a challenge over the years. Concerns about active Saudi material support for militant Islam have greatly abated, and counterterrorism cooperation is supposedly good—both major pluses. Yet relations have been put under strain by human rights abuses such as the murder of dissident journalist Jamal Khashoggi and the continued detention of women's rights activist Loujain al-Hathloul. Now the prospect of Riyadh forcing down oil prices could have catastrophic consequences for the U.S. shale oil sector, potentially making the bilateral relationship a contentious political issue in this year's heated presidential election.
The crown prince's moves against family rivals are a reminder that his priorities only partially overlap with America's. But a stable Saudi Arabia remains important to U.S. interests, suggesting that a low-profile, nuanced response to the ongoing turmoil is in order.
Simon Henderson is the Baker Fellow and director of the Bernstein Program on Gulf and Energy Policy at The Washington Institute, and author of its 2019 paper "A Fifty-Year Reign? MbS and the Future of Saudi Arabia."