Libya on the Brink After Militia Violence in Tripoli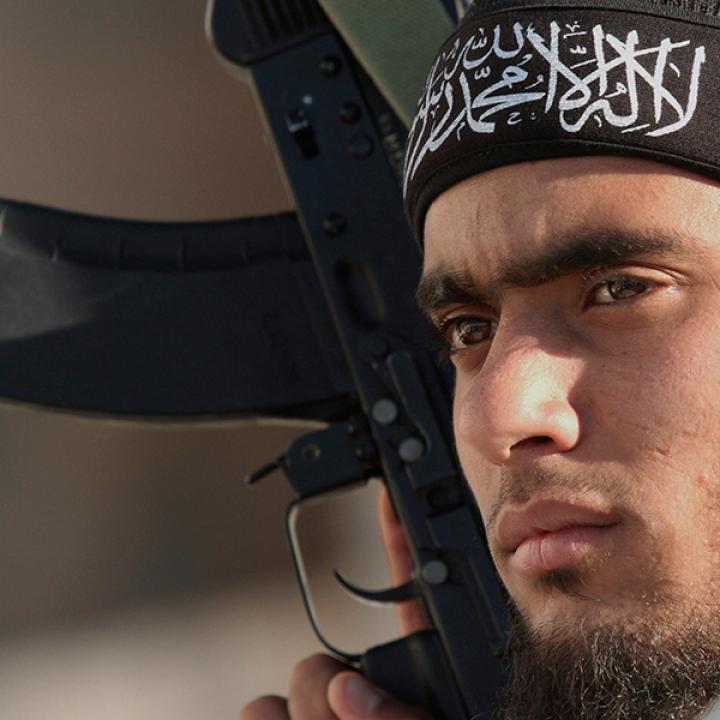 Violence between protesters and militias, the bloodiest since the 2011 revolution, has put Libya on the brink of renewed internal warfare.
On November 15, armed groups from Misratah, Libya, fired on protestors who had taken to the streets of Tripoli to demand that provincial militias leave the capital. According to Human Rights Watch, the clash in the Gharghour district left 43 people dead and 560 wounded -- a toll that continued to climb after further militia skirmishes over the weekend. The crisis underscores the need for national reconciliation as Libya attempts to demobilize rebels and compose its first post-Qadhafi constitution.
A COUNTRY RULED BY MILITIAS
Rebels who rose up during the 2011 revolution became Libya's de facto rulers once the Qadhafi regime fell. As weak transitional authorities sought to curb violence and increase their legitimacy, they contracted militias to help secure the country, establishing two semiofficial forces: the Libya Shield (LS), under the Ministry of Defense, and the Supreme Security Committee (SSC), under the Ministry of Interior. Relying on militias -- including many from Misratah -- was intended as an interim step while the state built up the army and police (read an in-depth study of the postwar militia situation).
Yet the state remains weak today -- a situation underscored by the brief October 10 abduction of Prime Minister Ali Zidan in Tripoli by members of the Islamist-leaning Libyan Revolutionaries Operations Room (LROR), the SSC, and another semiofficial militia. Such incidents highlight the political rivalries that continue to divide the country. For example, the LROR was tasked with securing the capital by the head of the General National Congress, Nuri Abu Sahmain, who has contested Zidan for executive and military power.
In early September, Zidan remarked that 19,000 policemen and "a few thousand" soldiers in the national army had been trained but lacked effectiveness. On November 5, Defense Minister Abdullah al-Thini acknowledged that over 170,000 personnel were receiving wages despite a significant number of them failing to report for duty. He also admitted that many military units existed only on paper. The same day, army chief of staff Maj. Gen. Salem al-Obeidi told the pan-Arab daily al-Sharq al-Awsat that "an enormous amount of money has been spent on these phantom units."
Meanwhile, the state has sought to fulfill its security needs by relying on approximately 225,000 rebels registered with numerous militias. A recent Bureau of Statistics and Census report listed Libya's population as 5,172,231 in 2012, meaning that over 4 percent of the country is in a militia. The Warriors Affairs Commission for Rehabilitation and Development has been tasked with disarmament, demobilization, and reintegration (DDR) of these fighters; 213,702 have been registered thus far, though actual demobilization is proceeding much more slowly.
LATEST CLASHES
The latest incident in Tripoli is tragically reminiscent of the bloody June 8 clash in Benghazi, in which dozens of protestors were killed while demanding the dissolution of the LS 1st Brigade. On November 7-8, clashes involving rogue Misratah rebels erupted in the Fashloum, Suq al-Juma, and Zawiyat al-Dahmani districts of the capital, significantly escalating tensions and spurring locals to describe the militiamen as "insurgents" and "criminals." In response, the Tripoli Local Council (TLC) endorsed calls for mass protests, as did various civil society organizations, local rebel leaders, and Libya's Grand Mufti, Sheikh Sadiq al-Gharyani. The Interior Ministry then authorized a demonstration for November 15. Yet when protestors entered the Gharghour district that day, they were targeted by automatic weapons and antiaircraft guns. LS-Misratah eventually took control of the situation, sending protesters away before transferring the neighborhood to the national army's 161st Brigade.
Afterward, LS-Misratah leader Taher Basha Agha angrily told Libya TV that the Gharghour clash was a war in which "civilians with automatic weapons" had fired upon rebels. He also alleged that certain political forces -- likely referring to the National Forces Alliance, the largest bloc in parliament -- had "exploited" old women and children, presumably by sending them to the protest.
The situation continued to deteriorate when a militia based in Tajura, twenty kilometers east of Gharghour on the road to Misratah, stopped a thirty-vehicle Misratah convoy en route to Tripoli. Although the convoy initially agreed not to proceed, it later raided a local army base, skirmished with the Tajura militia, and made off with vehicles, weapons, and ammunition. The fighting left several combatants dead and wounded.
ESCALATION, THEN ENTENTE?
Bitter sentiments permeate Tripoli and Misratah in the wake of the Gharghour clash. TLC head Sadat al-Badri warned the BBC that Tripoli could soon descend into armed warfare, while Atiya al-Dreni, deputy head of the Misratah Local Council (MLC), accused Badri of instigating the violence. Meanwhile, one angry group of locals gathered near the al-Quds roundabout after the clash pledged to Libya TV that they "will liberate the capital" from its militias. A bewildered Agha rhetorically asked the same network, "Did you not greet us with flowers when we liberated you?"
Despite initial signs of escalation, the MLC and Misratah Military Council acceded to calls for militias to vacate the capital, including LS-Misratah. On November 17, they announced that withdrawal would occur within seventy-two hours, and by the end of November 18, armed columns were departing Tripoli for Misratah. The army then deployed throughout the capital under the aegis of the Tripoli Military Zone.
Yet the Misratah withdrawal alone will not defuse tensions in Tripoli. The militias in question only left under pressure, and no moves have been made to demobilize them, lending ominous weight to Agha's November 15 warning that "war has not begun in Tripoli, but it is coming." More important, other powerful militias remain in the capital, including Zintani militias in western Tripoli (e.g., al-Qaaqaa) and the Nawasi Brigade in eastern Tripoli. In addition, more protests are planned for November 22; as one eyewitness to the November 15 clash told Libya TV, Gharghour "was just the beginning."
More broadly, while the government's renewed security presence in Tripoli is encouraging, the army's efficacy remains lacking. For example, the deployment of the al-Saiqa Special Forces and infantry to Benghazi has not remedied instability there (though that city admittedly faces a different set of challenges).
THE NEED FOR NATIONAL RECONCILIATION
On November 17, Admiral William McRaven, head of U.S. Special Operations Command, noted that the United States will train 5,000 to 7,000 conventional Libyan troops and counterterrorism forces. Yet such efforts, while encouraging, are insufficient. One of the greatest problems in reconstituting the Libyan army has been forming units that cut across regional, tribal, and ideological lines.
There is considerable animosity between an army that is top-heavy with Qadhafi-era colonels, and new or potential recruits that fought in the revolution. The head of the LS-Southern Region, Ahmed al-Hasnawi, illustrated this tension on November 18 when he questioned the army's loyalties and rhetorically asked Aljazeera, "To whom should we deliver our weapons?"
To ensure that DDR efforts succeed, and that U.S. training efforts help create an army for all of Libya, a nationwide reconciliation process is needed. Otherwise, American assistance may simply foster a feckless organization in smart uniforms or, worse, another armed faction. Reconciliation would also contribute to the constitution-writing process, which has been controversial since it began.
Local reconciliation efforts have proceeded throughout Libya with some positive results. In the southeast, reconciliation between the warring Arab Zwai and Tabu tribes in Kufra greatly reduced violence. And in the northwest, Zintani leaders have overseen a steady process of reconciliation with western tribes, albeit out of their own regional interests.
To secure U.S. policy objectives in post-Qadhafi Libya, Washington should contribute monetary support and specialists to the UN Support Mission in Libya. It could also team with the EU Neighbourhood Policy, which is tasked with supporting reconciliation processes in Libya.
Andrew Engel, a former research assistant at The Washington Institute, is a master's candidate in security studies at Georgetown University and a private consultant on Libya. He traveled across Libya after its official liberation.