Lebanon's Bumpy Road to an IMF Deal:
Implications for U.S. Policy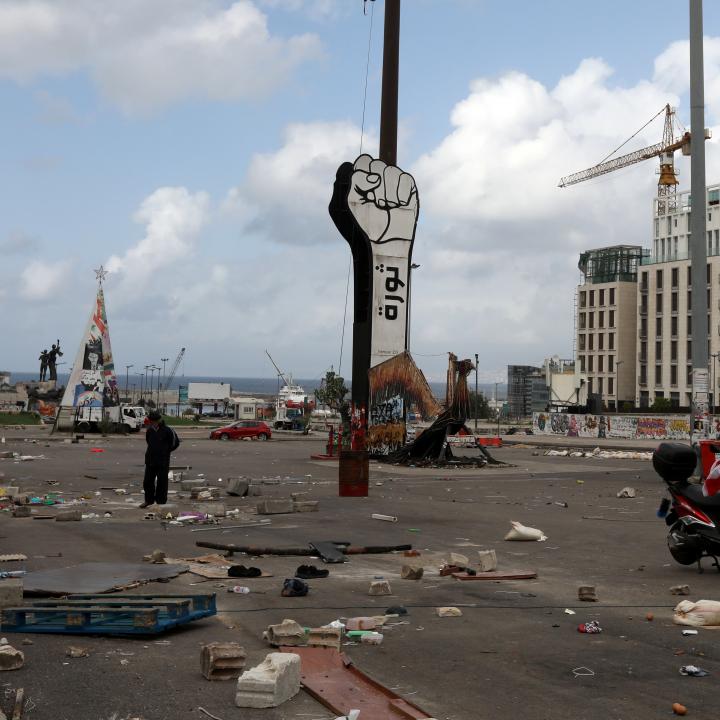 A former senior Lebanese official joins two experts to discuss the country's growing financial crisis and the deep institutional problems it must address in order to meet IMF reform requirements.
On June 4, The Washington Institute held a virtual Policy Forum with Maroun Hitti, Jessica Obeid, and Sami Nader. Hitti served until recently as special defense and military advisor to the president of Lebanon's Council of Ministers. Obeid is a policy consultant focusing on electricity and energy transition in the Middle East. Nader is the director of the Levant Institute for Strategic Affairs and a former advisor to Lebanon's minister of labor. The following is a rapporteur's summary of their remarks.
BRIG. GEN. MAROUN HITTI
The current financial crisis has had a terrible impact on the quality of life for the average soldier in the Lebanese Armed Forces. Although today's situation differs from that faced by the LAF in the mid-1980s, history could repeat itself if the current crisis is not properly addressed. When their purchasing power dramatically declined during the Lebanese civil war, soldiers asked for more leave because they had families to feed.
The LAF is both a national force and a sample of Lebanese society. Its commander-in-chief has stated that the LAF will protect those demonstrating against various issues while at the same time ensuring that other citizens have freedom of movement and expression. The force has thus far been able to maintain a balanced approach. The dynamic between Hezbollah and the LAF is best described as a case-by-case, interest-based deconfliction. It is neither coordination nor cooperation.
It cannot be stated enough how far the LAF has come as a national security institution and as an international partner for other armies. Since 2005, successive generations of LAF leadership have grown more confident, emboldened by the idea that the LAF can play the main role in Lebanon's national security. Today is a turning point that marks a shift from acquisition and force buildup to sustainment and force consolidation. The United States and other donor partners must maintain their current levels of military assistance to the LAF. U.S. officials have been raising serious questions about the scale of that funding, but leaving a void in assistance to the LAF would be perceived as a defeat for Lebanon. The United States has never officially placed conditions on providing these funds to Lebanon.
JESSICA OBEID
Lebanon's power sector is at the heart of the country's economic and fiscal crisis. The sector causes an average annual fiscal deficit of around $1.6 billion, depending on oil prices, which has led to a total contribution of 43 percent to the public debt (equivalent to almost $40 billion). Lebanon buys more than it needs, and its power grid is weak. There are high technical losses but also high non-technical losses, as well as substantial shortages in electricity. Lebanon's newest power plant was built twenty years ago.
To address these problems, the country needs to add power-generation capacity, enhance its distribution and transmission networks, switch to natural gas for power generation, and drastically cut down on illegal connections. Its billing and collection systems also need to be fixed, and renewables need to be added to the energy mix. Despite the necessity of these efforts, none of them have been implemented in almost three decades, and the country's political system is to blame. Indeed, the system has hindered any kind of economic growth or sectoral reforms, a fact that is most evident in the power sector, whose technical and financial problems are deeply rooted in governance and structural flaws within the country's institutions.
Given the possibility that Lebanon may receive an IMF funding package, the simplest approach would be to institute certain technical and financial reforms—for example, the IMF would look to see if Beirut can reduce the fiscal deficit. However, such reforms would not by themselves solve Lebanon's underlying institutional problems. The domestic cost of electricity is very high, so even if national subsidies were reduced to an affordable level, debt would persist. Moreover, any reforms will face major obstacles because the Lebanese government is still acting in a "business as usual" mode, especially where the power sector is concerned. Thus, in the absence of transparency and accountability, the government is unlikely to get public buy-in on electricity reform. After three decades of perceived high production, it is unlikely that the private sector and investors will commit any capital investment to rectify the current financial crisis.
Even so, there are some major lessons to be learned from power sector reforms in developing countries. For example, support could be offered to Lebanon's power sector on condition that the government adopt a sustainable plan with a least-cost strategy. Beirut also needs to be more transparent on these issues; this includes appointing an independent regulator who is able to bypass political influence. In addition, both the country and the power sector must be able to attract investments—a common obstacle when a developing nation is implementing reforms. Currently, Beirut is using its financial problems as an excuse to conduct direct, non-transparent negotiations on these matters, a strategy that could backfire.
SAMI NADER
COVID-19 has helped the current Lebanese government in one sense—by keeping protestors off the streets—but it has also amplified the preexisting economic crisis. The government has made no reforms to stop this economic collapse, even though such measures are critical to meeting the conditions of an IMF deal. There have been attempts to nominate new officials for the judicial system and central bank, but both efforts have stalled. A capital control measure was also proposed, though it was withdrawn when it failed to pass parliament. One condition of the IMF package is reform in the electricity sector; thus far, however, the government has limited itself to considering a third electricity plan without attempting deeper change.
The current situation is different from when the protests began in October. As a whole, the Lebanese people are poor. The Lebanese pound has lost almost 200 percent of its value, and U.S. dollars that used to trade at 1,500 are now trading at 4,000. Dollars cannot even be found on the market. The country's payment deficit has reached an alarming level, and Lebanon will soon lack the funds to finance basic needs such as wheat, medicine, oil, and gas. The level of anger among protestors is also higher today because they are frustrated with the current government and the fact that the necessary economic reforms are not being carried out. But the biggest impediments to reform are the country's traditional political forces. Hezbollah and its allies are the decisionmakers for every issue. There is concern that continued economic misery will divide the protestors, allowing Hezbollah and other parties to exploit the fragmentation.
The international community can help the IMF's efforts to push for reform in Lebanon. The conditions set by the IMF package are more important than its financial aspect. Lebanon's political system divides the country's economic sectors among various parties. The Free Patriotic Movement controls the electricity sector, Hezbollah controls customs and the borders, Amal controls the Finance Ministry, and yet another party controls the telecom sector. From 2008 to 2012, political parties were funded by external regional powers. Sanctions and low oil prices have since made such a funding structure impossible, so Lebanon's parties have turned to economic sectors as an alternative funding source. Reform thus starts with barring political parties from financing themselves with public funds.
International actors need to prioritize three points when it comes to Lebanon. First, they need to push the country on reforms, and the best way to achieve this is to encourage the formation of a truly independent Lebanese government. Second, they need to protect the protestors and their freedom of expression. Recent executions of protestors are unacceptable. Third, they must help Lebanon work toward an independent judiciary, a low-cost but high-return effort.
This summary was prepared by Kevin Mathieson. The Policy Forum series is made possible through the generosity of the Florence and Robert Kaufman Family.