Kataib Hezbollah's Role in the August 15 al-Tanf Attack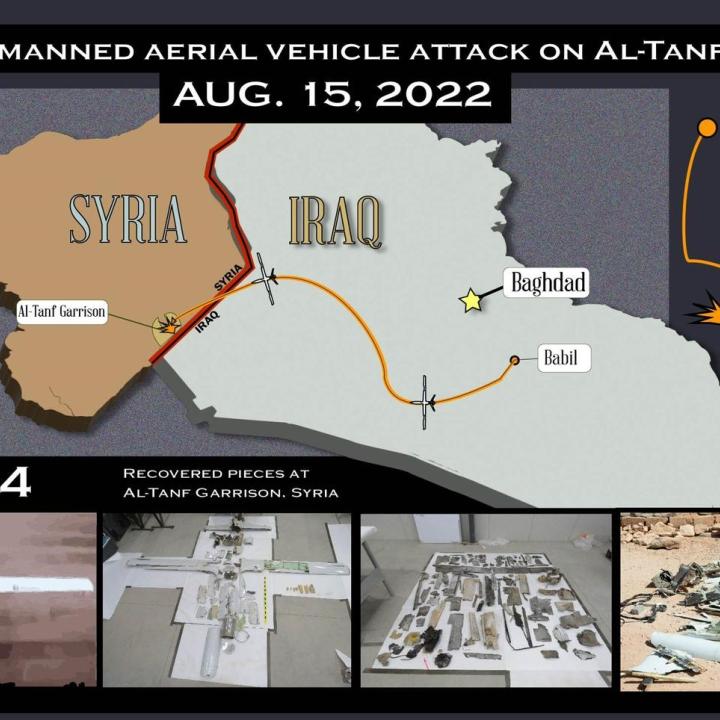 The Syria strike was launched from the militia's bastion in Iraq and used Iranian-provided KAS-04 explosive drones.
On August 15, the U.S. base at al-Tanf, Syria, was reportedly struck with two KAS-04 drones, the U.S. nomenclature for Iranian-produced fixed-wing explosive-warhead drones of the Sammad family. Militia Spotlight has previously noted the presence of KAS-04s (under the Iraqi nomenclature Sahab) in Popular Mobilization Forces (PMF) parades as part of the Jazira Operations Command, run by the senior Iran-backed militia Kataib Hezbollah (KH). KAS-04s have also been used in past attacks against U.S. facilities at Erbil International Airport, Harir, and al-Asad Air Base.
In the case of the August 15 strike, U.S. Central Command confirmed that KAS-04s flew toward al-Tanf from a launch site in Iraq's Babil province (Figure 1). Mention of this province is significant because it is often shorthand in U.S. circles for the Jurf al-Sakhar complex operated by KH, a U.S.-designated terrorist group. Jurf al-Sakhar is a closed-off military zone where KH denies full access even to federal Iraqi government personnel. On March 13, 2020, the area was peppered with U.S. airstrikes that damaged a range of manufacturing, storage, and testing facilities for KH munitions—an operation launched in response to the militia's killing of one American and one Briton at Taji base on March 11.  
Soon after the August 15 incident, an Iranian-built Qasef-2K fixed-wing explosive-warhead drone reportedly crashed in Iraq's southern Dhi Qar province on August 23 (Figure 2), though it is unclear whether the craft was launched from Iran or Iraq. One potential target for that abortive strike was Kuwait's Ali al-Salem Air Base, which hosts the largest U.S. garrison in proximity to Iraq and Iran. On August 12, an Iraqi militia Telegram channel calling itself al-Warithuun (The Inheritors) claimed to have launched a drone attack on that base, though the U.S. Air Force detected no strike during that time period. (The al-Warithuun group name was first revealed in the Militia Spotlight team's October 2020 report in West Point's CTC Sentinel.)
Whatever the provenance of the Dhi Qar drone, U.S. military confirmation of the Babil-launched KAS-04 is already another brick in the wall of known facts connecting KH's control of Jurf al-Sakhar to Iranian-supported international drone strikes. The preponderance of evidence suggests that this Iraqi zone was the launchpad for previous operations against Saudi Arabia and the United Arab Emirates by the KH-linked facade group Alwiyat al-Waad al-Haq (True Pledge Brigades). Jurf al-Sakhar is home to KH command, intelligence, and secure communications centers where drone target coordinates are received from Iran's Islamic Revolutionary Guard Corps (IRGC) and programmed into mission planners for upload to Iranian-provided drones such as the KAS-04.
Although the United States currently prefers to strike back against KH and the IRGC inside Syria, numerous Jurf al-Sakhar command-and-control targets could be effectively hit in response to continued provocations by both parties. These include targets untouched by long-past U.S. operations such as the March 2020 airstrike campaign.