Kadhimi's Rolling Reshuffle (Part 1): Military Command Changes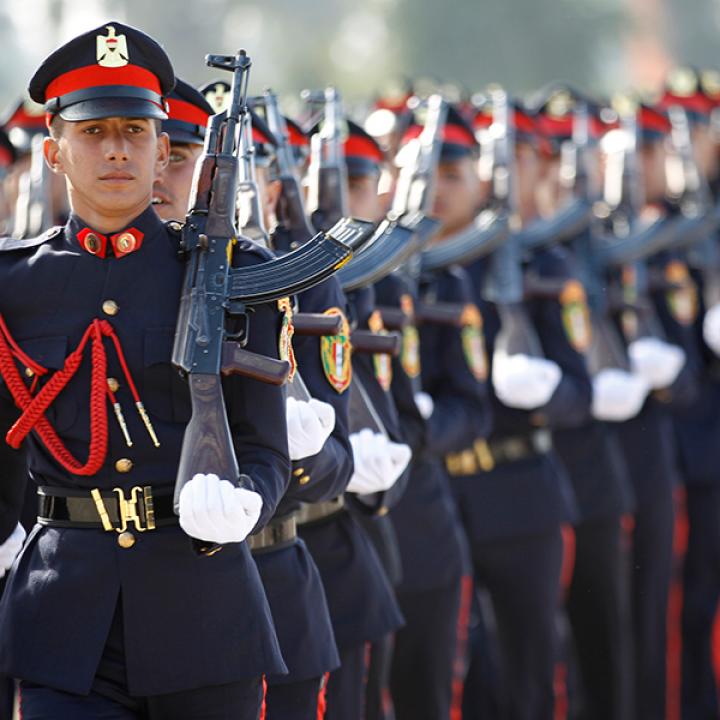 To strengthen Iraq's capacity for resisting militia and foreign influence, Washington should keep supporting the campaign to remake the military one commander at a time.
On September 13, Iraqi Shia leader Grand Ayatollah Ali al-Sistani issued a statement calling on the government to ensure fair elections in 2021, secure the country's borders, establish state control over all armed forces, arrest individuals suspected of corruption, and prosecute all militia members who have killed protestors and civil society campaigners. Released via UN special representative Jeanine Hennis-Plasschaert, the statement was echoed by Prime Minister Mustafa al-Kadhimi as well as the president and speaker of parliament.
Complementing this announcement, the Kadhimi government has spent the past few months quietly building a machine capable of carrying out these actions, based on the proven concept that setting examples of good conduct and professionalism among the civilian and military leadership is the quickest way to facilitate urgent reforms. A digest of recent changes in Iraq's military structure gives cause for optimism that Baghdad can meet the security portion of these demands. (See Part 2 of this PolicyWatch for discussion of new appointments related to border, corruption, and economic issues.)
SENIOR COMMAND APPOINTMENTS
In the first month after Kadhimi's government formed on May 6, it filled many senior security posts with highly capable leaders, including Gen. Othman al-Ghanimi, the retired former chief of the defense staff (CHOD) as interior minister, Lt. Gen. Juma Saadoun al-Jubouri (Ret.) as defense minister, Lt. Gen. Abdul-Wahab al-Saadi as head of the Counter Terrorism Service (CTS), and Lt. Gen. Abdul-Amir Yarallah as the new CHOD, the country's most senior uniformed officer. Since then, the changes have kept coming:
National Security Advisor. On July 4, former interior minister Qasim al-Araji replaced militia leader Faleh al-Fayyad as national security advisor. Araji's appointment may not seem like much of an improvement given his membership in the Iran-aligned Badr Organization and the two years he spent in U.S. custody for past militant activity. Yet he has worked very effectively with U.S. officials as interior minister and has signaled a willingness to keep cooperating. Moreover, he was not Badr's preferred candidate for the role, so his appointment exacerbated strains within the pro-Iran bloc.
National Security Service (NSS). Also on July 4, Lt. Gen. Abdul Ghani al-Asadi (Ret.)—former head of the Counter Terrorism Command, which is subordinate to the CTS—replaced Fayyad as director of the NSS. A political chameleon, Asadi was closer to militias than any other CTS commander, but Iraqis also view him as someone who backed demonstrators and courted support from Shia leader Muqtada al-Sadr. His appointment not only removed Fayyad, it also prevented Badr from controlling the NSS, which has quietly become one of Iraq's largest intelligence agencies. His deputy will be Falah Younis al-Issawi, a Sunni intelligence official appointed September 14.
National Operations Command (NOC). Kadhimi reactivated this national-level command hub, which has not been used much in recent years. Under Executive Order 328 of 2019, the prime minister can use the NOC to take operational control of any unit. If built up, the NOC could allow Kadhimi to coordinate certain security actions in a headquarters he directly controls, and with a high degree of operational security and secrecy. The NOC is now led by Thiya al-Musawi, a senior intelligence professional who has worked for Kadhimi since 2016.
Iraqi National Intelligence Service (INIS). On September 14, former defense minister and senior Sunni politician Khalid al-Obeidi was named the deputy director for operations (and thus the new day-to-day leader) of INIS, which Kadhimi headed before becoming premier and still formally leads.
Army Air Defense Command (ADC). The ADC has historically been a bastion of influence from Moscow, running its own Russian-advised compound at Camp Taji and often providing militias with warning of aerial operations near their locations. The old commander, Maj. Gen. Jabbar Ubaid Kadhim, has been replaced with CTS officer Maj. Gen. Maan al-Saadi, one of the most publicly recognized heroes of the fight to liberate Mosul. (Coincidentally, many senior CTS officers originally came from Iraq's pre-2003 air defense forces.)
International Zone Special Forces Division. Last month, Maj. Gen. Hamid Abdul Aziz al-Zuhairi was appointed to tighten up protection of the government center following the June 25 incursion by truckloads of Kataib Hezbollah militiamen. A combat commander with service in the Army's 2nd, 12th, and 14th Divisions and former dean of the military college, he will oversee further fortification of the zone and the preparation of new quick reaction forces. The Law Enforcement Force, a militia-penetrated paramilitary police unit raised in October 2019 to suppress protestors around the zone, was dissolved on August 3 and its troops reassigned to other police units.
Interior Ministry. The new deputy interior minister for administration and finance is Hussein Abdul Hussein Dhaief, a Sadrist politician and one of the few political appointees allowed in recent reshuffles.
MILITARY OPERATIONS COMMANDS
Since May, every headquarters responsible for exercising operational control of the Iraqi security forces at the provincial level has been restaffed, including:
Basra Operations Command (BaOC). Army combat commander Maj. Gen. Akram Saddam was transferred from Diyala to oversee all security forces in Basra. Afterward, Kadhimi promptly visited him and allocated the 3rd Army Commando Brigade to support his operations. In addition, Maj. Gen. Abbas Naji Adham was named as the new Basra provincial police director, replacing his former boss Maj. Gen. Rashid Flayih.
Diyala Operations Command (DOC). Seasoned combat commander Maj. Gen. Raad Mahmoud al-Jabbouri now heads the DOC. He has served in the Army's 7th and 14th Divisions and was recently stationed in Kirkuk.
Anbar Operations Command (AOC). Maj. Gen. Hamid al-Nams al-Jabbouri, the former police chief in Salah al-Din and Nineveh, has taken over this command.
Samarra Operations Command (SaOC). Maj. Gen. Jabbar Hatim al-Darraji, fresh from commanding the coalition-trained 16th Army division near Mosul, will lead the SaOC in the Balad, Bayji, Tikrit, and Tuz Khormatu areas.
Nineveh Operations Command (NiOC). Maj. Gen. Ismail Shihab al-Mahlawi was transferred here after ten years of combat commands in Anbar (7th Division and AOC).
West Nineveh Operations Command (NiOC-West). The old Rafidain Operations Command was moved from southern Iraq to the Syria border to replace a local Popular Mobilization Forces (PMF) headquarters. Renamed the NiOC-West, it is now headed by Maj. Gen. Jabbar Naima al-Tai, who previously led a combat unit (the 17th Division) plus operations command headquarters in Baghdad and southern Iraq.
Sumer Operations Command (SuOC). This new entity replaces the moved Rafidain Operations Command. Covering Dhi Qar, Maysan, and al-Muthanna, it is led by Maj. Gen. Imad al-Silawi, administrative commander of the coalition-trained 15th Army Division. His deputy is Maj. Gen. Jawad Abbas Abdullah, the capable first commander of the recently disbanded 19th Commando Division.
REINTEGRATING MILITIA ELEMENTS
The above changes create breathing space for the state to recover authority from destabilizing Iran-backed militias. They also work hand-in-hand with reform efforts inside the PMF, which Fayyad will continue to lead until Sistani suggests otherwise.
For now, PMF elements who look to Sistani for guidance are increasingly posturing for a major overhaul of the force and its civilian Popular Mobilization Commission (PMC). They already blocked Abu Fadak (aka Abdul-Karim al-Zrejawi) from replacing the slain Abu Mahdi al-Muhandis as PMF operational commander. More recently, Maytham al-Zaidi—senior commander of the shrine units (Atabat), which split from the PMF earlier this year—has accelerated his meeting schedule with military leaders outside the PMC structure (e.g., the new CHOD, General Yarallah; his deputy, Lt. Gen Abdul Amir al-Shammari; NSS director Asadi).
IMPLICATIONS FOR U.S. POLICY
As the United States draws down its forces to a more "fit for purpose" support mission of around 3,500 troops, the ongoing mechanical and personnel improvements in Iraq's command-and-control structure are an encouraging sign that positive change is possible. Ongoing U.S. engagement with a new generation of American-trained and -supported military officers and security professionals is one factor underpinning these improvements, so such engagement should be expanded and institutionalized over the long term through the U.S.-Iraq Strategic Dialogue.
Michael Knights, a senior fellow with The Washington Institute, has conducted extensive on-the-ground research in Iraq alongside security forces and ministries. Alex Almeida is the head security analyst at a leading risk advisory firm.