Israel's Leviathan Gas Challenge and the Consequences of Failure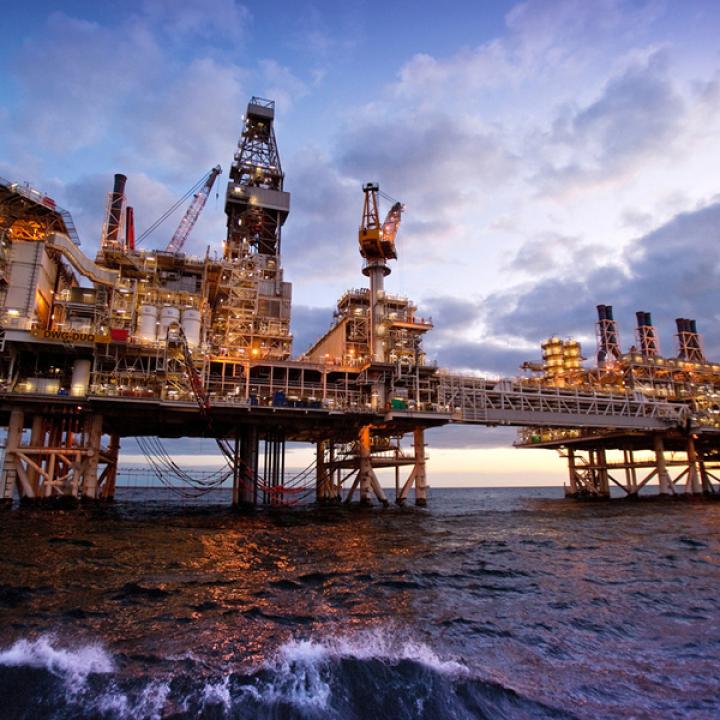 After months of bureaucratic foul-ups, Israel may be close to approving a new regulatory framework to develop its offshore natural gas resources, but another political fumble could have dire economic repercussions.
In the coming weeks, Israeli prime minister Binyamin Netanyahu will reportedly seek to win support for regulatory changes intended to break a political logjam that has cast a shadow over the country's good news story of the past few years: its discovery of major offshore natural gas reserves. If the changes, known as the "framework," are approved, Israel could entice a surge in foreign investment that would make its per capita economic ranking comparable to that of Germany or Britain. At present, Minister of the Economy Aryeh Deri is refusing to use his powers to allow the decision to be made on national security grounds, but he has offered to resign to allow the deal to proceed.
Gas from the Tamar field, located deep under the Mediterranean Sea fifty miles west of Haifa, currently generates about 60 percent of Israel's electricity. An even larger field further out to sea, Leviathan, has yet to be developed but could help Israel become a regional gas exporter. Jordan and Egypt are prospective customers, and Turkey could become one in the future -- all of these options have been actively encouraged by low-key but persistent U.S. diplomacy. Yet the development of Leviathan and further expansion of Tamar were put on hold in February by the principal license holder, Noble Energy of Texas, after the Israeli antitrust commissioner backed out of a deal under which Noble and its Israeli partner, Delek, would sell off their interests in smaller undeveloped fields to avoid being labeled monopolists.
Speaking in Washington last week, Israeli energy minister Yuval Steinitz said that concluding the new framework agreement was his first priority, but he also noted that he was working hard to convince more foreign companies to invest in Israel's offshore exclusive economic zone (EEZ). According to him, the Israeli government believes it is highly probable that several more gas fields of the size of Leviathan and Tamar are yet to be discovered, and that oil might be found in deeper layers under the seabed as well. Determining whether this is true will depend on encouraging foreign companies with the necessary technology to come and look -- an expensive proposition because each exploratory hole takes three months to drill and costs at least $100 million. After its bruising experience thus far, Noble Energy may not be interested in further expanding its operation, even if it agreed there were more gas to be discovered. Notably, an Italian company discovered a new gas field in Egypt's nearby EEZ in August, with initial indications that it is even larger than Leviathan (see "Egyptian Offshore Gas Find Curtails Israel's Options").
Steinitz also pointed out that Israel's energy security is poor because of its dependence on just one producing field (Tamar), and that the country needs the enormous revenues inherent in starting production at Leviathan. After securing the framework agreement, he hopes to bring $20 billion of additional foreign investment to Israel and counter the recent economic slowdown, noting, "For the last two years, Israel has experienced just 2.5 percent annual growth, when three years ago it was between 4 and 5 percent." Per capita growth, a more crucial measure, was running at 0.6 percent when it needed to be 2 percent, he said.
The almost one year delay in Israel's gas development has coincided with the collapse in world oil prices and parallel weakening in natural gas prices. Over the past twelve months, the price of Noble's stock has fallen from nearly $60 a share to around $36, causing the company to review its investment portfolio around the world. Noble claims it is committed to its investment in Israel, but if the framework agreement cannot be concluded, the company has reportedly considered commercial arbitration to recover its billions invested so far and anticipated profits from Leviathan. Its Eastern Mediterranean operation is conducted through a Cyprus-registered company, and Israel and Cyprus have an arbitration accord. Industry insiders estimate that Noble could be awarded as much as $16 billion if a judgment is issued in its favor.
Such an outcome would have devastating consequences for Israel's attractiveness to foreign investment, the development of its gas resources, and its economic growth. While quickly resolving the new framework is clearly important to Steinitz and, reportedly, Netanyahu, the narrowness of the government's Knesset majority makes the decision vulnerable to even small political objections. Steinitz discussed the issue with U.S. energy secretary Ernest Moniz during his trip as part of a wider energy dialogue, so Washington should be well prepared to intercede discreetly and productively if further Israeli political hurdles arise. While security problems are dominating the Israeli political agenda at present, the country's near-term economic prospects will be in jeopardy unless all parties strive for an early positive decision on the gas framework.
Simon Henderson is the Baker Fellow and director of the Gulf and Energy Policy Program at The Washington Institute.