Israel's Armistice with Hamas, Growing Tensions with Abbas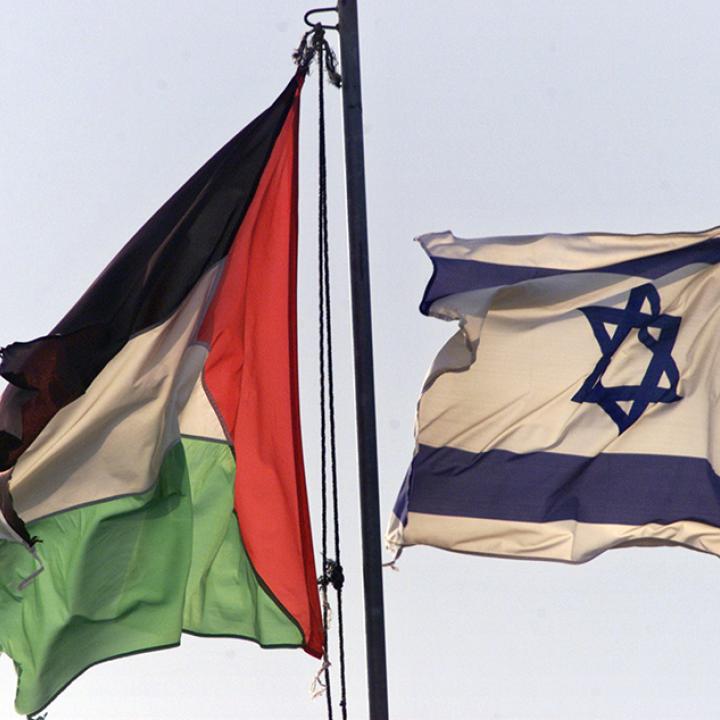 Releasing the U.S. peace plan could accelerate recent Palestinian political dynamics, with Hamas consolidating its position via ceasefire and reconstruction aid while the PA continues isolating itself.
As Israel and the Palestinians brace for the announced unveiling of President Trump's "deal of the century" sometime in the coming weeks, rival factions in Ramallah and the Gaza Strip have adopted contradictory strategies for managing the repercussions. The Palestinian Authority is already committed to rejecting the U.S. plan and wants Israeli prime minister Binyamin Netanyahu to resume peace negotiations under Russian auspices. Yet Israel has politely ignored such proposals in the past and is unlikely to replace White House mediation with the Kremlin's.
Meanwhile, PA president Mahmoud Abbas has issued vague warnings that he may take retaliatory measures if Israel's soon-to-form right-wing coalition government opts to annex settlement blocs in the West Bank. During internal deliberations over the past few months, his Fatah party passed recommendations to suspend the 1993 Oslo Accords, withdraw recognition of the state of Israel, cease security cooperation, and even dismantle the PA. He has also refused to receive customs funds collected by Israel so long as payments to "martyr" families and terrorist prisoners are deducted from the transfers—a stance that has exacerbated the PA's ongoing financial crisis.
In Gaza, Hamas shares Abbas's outright refusal to discuss the U.S. plan, but the group is inching closer to a separate set of understandings with Israel. Brokered by senior military officials from Egypt's General Intelligence Directorate, UN envoy Nickolay Mladenov, and Qatari aid coordinator Mohammed al-Emadi, these understandings have been under discussion for over a year but may now be reaching the point of fruition. If so, they could stabilize the turbulent situation in Gaza, establish a fragile long-term ceasefire, and usher in a generous package of economic programs. In short, while the PA appears to be sliding toward open confrontation with Israel, Hamas may soon dramatically reduce tensions with the "Zionist enemy," at least for the time being.
FROM RECONCILIATION TO RECRIMINATION
Recently, PA and Hamas leaders have been exchanging highly emotional public pleas for speedy Palestinian reconciliation, hoping to unify the ranks before the U.S. plan is released. Both factions argue that establishing a "unity government" and scheduling early elections for the PA presidency and Palestinian Legislative Council would convince Arab states to reject what they believe will be a one-sided U.S. proposal.
So far, however, they are stubbornly avoiding any concessions that would help end the twelve-year split between Gaza and the West Bank. Egypt has hosted numerous rounds of talks between top Fatah and Hamas representatives over that period and produced agreements on the broad principles of reconciliation, but none of them has matured to the implementation phase.
Hamas welcomes PA leaders to return to Gaza and govern the territory, but it refuses to disarm its militia forces or even hand over command of the police. It also insists on retaining the thousands of officials it has appointed since taking control of the Strip in 2007, while PA employees were instructed to stay home. In response, Abbas has refused to become the "subcontractor" who carries the formidable burden of running Gaza while Hamas turns itself into another Hezbollah, maintaining an independent army with a large arsenal of missiles. Reconciliation talks are now at a dead end, and the parties are unlikely to bridge their gaps anytime soon.
Ironically, even as Hamas and Fatah denounce each other's contacts with Israel, both are pursuing dialogue with Netanyahu's team. The PA has preserved effective security cooperation with Israeli military and intelligence agencies as well as close coordination on economic issues. Although Abbas has not met with Netanyahu for years, communication channels are kept open and busy via the head of the Israel Security Agency.
In Gaza, Hamas is rushing to transform the continuous border flare-ups into a kind of armistice with Israel. Abbas has described this effort as a U.S.-backed "conspiracy" aimed at creating a separate "statelet," arguing that such an outcome would obstruct full Palestinian statehood. He has also cut a great deal of funding to Gaza, which previously amounted to 52 percent of the PA budget. This has caused a severe currency shortage, exacerbated Gaza's problems with unemployment, electricity, and food supplies, and stirred unprecedented street protests against Hamas. The group dispersed these demonstrations within days, but the incident showed that its iron grip may be at risk.
THE ROAD TO ISRAEL-HAMAS UNDERSTANDINGS
Since becoming the top Hamas leader in Gaza two years ago, Yahya al-Sinwar has concluded that the group cannot afford an all-out military escalation with Israel, let alone achieve its demands for a free sea and airport in the Strip by that route. He spent twenty-two years in Israeli jails, speaks fluent Hebrew, and follows the Israeli media religiously, so he understands that Netanyahu's response to another major confrontation would be far more devastating than Operation Protective Edge in 2014. Meanwhile, Hamas has lost most of its cross-border attack tunnels into Israel and is struggling to maintain its rocket arsenal after Egypt cut its smuggling routes through the Sinai Peninsula.
Given these military disadvantages and the PA's refusal to shoulder responsibility for Gaza's economic crisis, Sinwar has decided to build his strategy upon the Israeli leadership's clear preference for containment over war. Backed by the Israel Defense Forces general staff, Netanyahu has repeatedly signaled his readiness to help ease Gaza's humanitarian crisis once calm is restored.
Therefore, Sinwar has applied fluctuating degrees of pressure to achieve better terms from Israel since March 2018, instigating weekly border clashes on Mondays and Fridays under the slogan "March of Return." Hamas has encouraged thousands of protestors—but rarely its own cadres—to storm the Israeli security barrier, with some elements throwing explosive charges at IDF soldiers, floating incendiary balloons that have set large fires inside Israel, and occasionally launching rocket salvos. Netanyahu ordered the IDF to prevent penetration of Israeli positions and villages, yet its response has been calculated to avoid all-out escalation.
Today, both sides want a ceasefire. Netanyahu has received growing criticism for his restraint, while Sinwar was excoriated for sending teenagers and unarmed demonstrators to be killed or injured. Both would like to silence their detractors by ending the cycle of violence.
The new understandings, awaiting final touches, aim to quiet the border in return for a multiyear Gaza aid package, to which donors have already pledged $300 million. Benefits would include:
Extending Gaza's fishing zone to fifteen nautical miles for the first time in thirty years
Allowing around one-third of previously prohibited dual-use goods to enter Gaza through Israeli crossing points
Reconstructing the industrial parks at the Erez and Karni crossings to attract (mainly Israeli) investors interested in Gaza's cheap labor force
Providing jobs for 20,000 unemployed Gazans through a $45 million infrastructure upgrade program supervised by the UN and World Bank
Establishing additional electricity lines to Gaza, converting the local power station to natural gas, and constructing solar power stations
Building a water purification plant financed by Saudi Arabia
Expanding al-Shifa, Gaza's main hospital, with Kuwaiti funds
CONCLUSION
If the Trump administration goes forward with its stated intention of presenting peace parameters this summer, the Palestinian political landscape could change substantially. Hamas will say no to Trump, secure behind Israeli ceasefire understandings, international economic assistance, and a likely boost to its prestige in Gaza. The PA is bound to say no as well, but from a position of weakness, isolation, and strained relations with Israel. This contrast would give Hamas room to accelerate its infiltration of the West Bank. For its part, Israel will likely let Washington absorb the negative Palestinian responses before issuing one of its own.
Ehud Yaari is a Lafer International Fellow with The Washington Institute and a veteran commentator for Israeli television.