Iran's Parliamentary Elections: Inside the Candidate Approval Process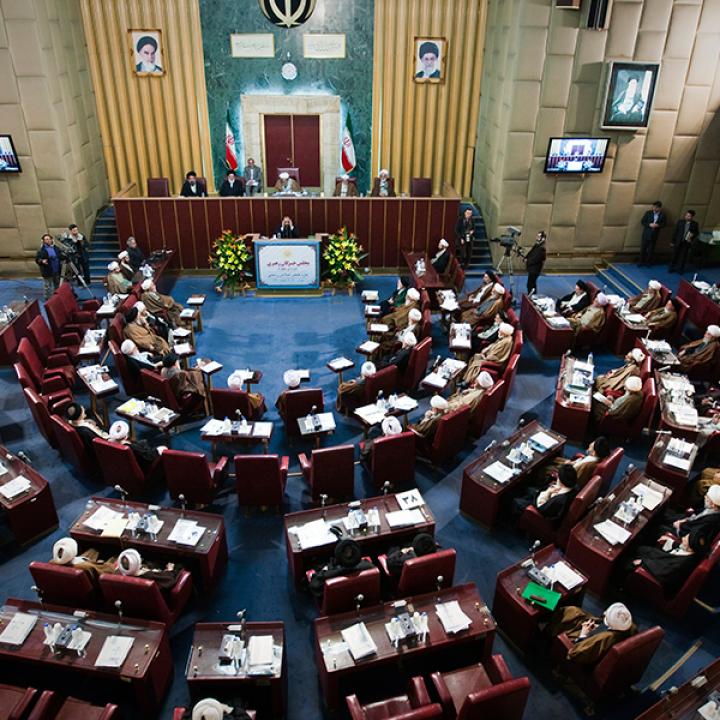 As in past elections, the Guardian Council seems poised to disqualify thousands of registered Majlis candidates, and its procedures for doing so are revealing.
On February 26, Iran will hold elections for parliament (also known as the Majlis or Islamic Consultative Assembly) and the Assembly of Experts. Initial reports indicate that thousands of candidates have been rejected by the Guardian Council, but no comprehensive list is available yet, and the manner in which candidates are apportioned to individual districts will likely prove more important than the overall vetting statistics. While Supreme Leader Ali Khamenei desires high voter turnout to prove the regime's legitimacy, on January 20 he cautioned, "This does not mean that those who disapprove of the regime should be voted into the Majlis." The following day, however, President Hassan Rouhani stated, "During these elections, impartiality, noninterference, the essence of constitution, complete security, and competition...need to be demonstrated," adding that "the Majlis is a house for the people, not a certain faction."
BACKGROUND
There are 290 seats in the Majlis, distributed between 207 electoral districts. With thirty seats, Tehran has the largest delegation of any district; the next largest has only six seats.
Members of parliament are elected to four-year terms. According to Article 28 of the Electoral Laws, Majlis candidates are required to meet the following conditions to run:
Belief in and practical obligation to Islam and the holy system of the Islamic Republic of Iran.
Citizenship in the Islamic Republic of Iran.
Loyalty to the constitution and the principle of "absolute guardianship of the jurisprudent" (velayat-e faqih).
Possession of at least an associate's degree or equivalent.
An acceptable reputation in one's electoral district.
Acceptable physical health (at minimum the ability to see, hear, and speak).
At least thirty years of age, and at most seventy-five. 
According to Majlis Monitor, 165 members of the current parliament are in their first term, 103 in their second or third, and 22 in their fourth or more. The historical reelection rate to the Majlis is 29%. In addition, 33 current members are clerics, and 9 are women.
BECOMING A CANDIDATE
According to the Islamic Republic News Agency, 12,123 individuals registered for the Majlis elections by submitting their names to the Interior Ministry during the December 17-23 signup period. Tehran province registered 2,477 candidates (2,242 men and 508 women). Guardian Council spokesman Nejatollah Ebrahimian remarked that approximately eight thousand of the applicants would be running in their first election.
Responsibility for administering elections and vetting candidates is divided between the Interior Ministry (a large bureaucracy whose portfolio also includes internal security and intelligence organs) and the Guardian Council (a body whose twelve members are appointed directly or indirectly by the Supreme Leader and wield wide-ranging powers). In practice, the ministry verifies the candidates' legal qualifications while the council assesses their ideological qualifications.
Between December 26 and January 4, the Interior Ministry conducted its investigations through legally mandated election boards (heyat-ha-ye ejrai) drawn from provincial, county, and district governments and the ministry itself. These background checks included reviewing candidates' military service, as well as their records with the police, judiciary, intelligence organs, and census registry. The results of these assessments were announced on January 5; rejected applicants were allowed to appeal their status until January 9, and the election boards deliberated on these appeals until January 16. As of January 19, 10,954 of the registered candidates were approved by the Interior Ministry and 814 were rejected. In addition, 498 candidates had withdrawn their names as of January 17 (large numbers of withdrawals are typical during Iranian elections).
The second round of vetting is conducted by the Guardian Council through its supervisory boards (heyat-ha-ye nezami). Article 99 of the constitution states that the council "is responsible for supervising the elections of the Experts Assembly, the President of the Republic, the Islamic Consultative Assembly, and referrals to the public vote and referenda." Since 1991, this clause has been interpreted by the council and by law as nezarat-i estesvabi (approbatory approval), applicable to all stages of all elections, including the candidate vetting process. Holding or having held a Majlis seat or even the presidency is not sufficient to ensure approval -- according to analyst Yasmin Alem, the Guardian Council rejected forty incumbents in the 1992 elections, eighty in 2004, and twenty in 2008. As of January 20, approximately thirty of the incumbents who applied for the upcoming elections had been rejected.
In general, only those candidates approved by the council are allowed to campaign, let alone appear on the ballot. Ebrahimian previously noted that a "tsunami of candidates" had registered for this election, alleging that "some candidates cannot even write their own names." According to him, "It is possible that some political groups are registering in mass...to reach their own goals...[and they] must know the effect of this on our work." He also acknowledged that the large number of candidates "decreases the opportunity to investigate individuals' background," raising the likelihood that lesser-known first-time applicants would be rejected.
Senior Iranian officials disagree on whether the government needs to explain its disqualifications. Interior Minister Abdolreza Rahmani Fazli has stated that candidates should be told why they are rejected, and that investigations need to be exact and according to the law. According to Ebrahimian, however, public announcements of disqualifications "are restricted due to legal reasons," and relevant statistics will be published later. The Guardian Council has published such data in the past. In 2004, it explained the thousands of disqualifications made that year as follows: 12.5% were for financial corruption, 13.5% for moral corruption, 14.5% for sympathy toward or membership in counterrevolutionary groups, 13.5% for lack of belief in the principles of Islam, 6.8% for publication of untrue statements and disturbance of public opinion, 15.7% for ill repute, 6.5% for acting against national security, and 16.5% for lack of belief in the constitution. This year, Ebrahimian and others -- including council secretary Ahmad Jannati and Friday prayer leaders in Mashhad and Tehran -- have stated that they will also assess every potential candidate's role in the disputed 2009 presidential election and subsequent protests, which hardliners commonly refer to as the "sedition."
On January 16, council member Siamak Rahpeyk announced that while official statistics were not yet available, candidates were being directly informed if they were approved or rejected. As of January 20, neither the council nor any official state media had provided final statistics, though Rahpeyk stated that "out of the twelve thousand candidates, approximately 26% were rejected and 28% were not accepted" (a dubious distinction that is becoming increasingly common in official statements on the matter). That same day, Fars News published a table of the council's vetting results, but it omitted details for Tehran, Isfahan, and seven other provinces, covering only 6,160 candidates in total. The Fars report indicated that in the twenty-two provinces with data available, the council had confirmed 2,667 candidates. According to one council official, "It is likely that during the next vetting round, the Guardian Council will reinstate 10-15% of rejected candidates."
On January 18, immediately following discussions related to the high number of disqualified candidates, the council published a report titled "Essentials for Examining Parliamentary Candidates' Qualifications and Standards for Members of Parliament According to the Words of Imam Khomeini and Supreme Leader Khamenei." Sections in this twenty-eight-page document include "The Importance of Understanding These Duties and Preserving the Guardian Council's Dignity" and "Resistance Against Those Wanting Excessive Concessions in Qualifications."
NEXT STEPS
Previous elections have witnessed similar mass disqualifications by the Guardian Council. In January 2004, it rejected 3,600 out of 8,157 candidates for Majlis, including 83 sitting members. Ultimately, around a thousand of these were reinstated after one-third of the Majlis resigned in protest.
According to Article 52 of the Electoral Laws, if the Guardian Council rejects a candidate accepted by the Interior Ministry's election boards, he or she may protest. The council is supposed to announce its final decision to the Interior Ministry twenty days after the initial report of its supervisory boards. This twenty-day period began on January 17 and will continue until February 5.
Finally, approved candidates have only a small window for campaigning (February 18-24) and can be disqualified for doing so before that date, including any promotional efforts they conduct through social media or other online outlets. That said, many press articles will appear in the preceding weeks that provide information on individual candidates.
Patrick Schmidt is a research assistant at The Washington Institute.