Iran's Next Cabinet: Technocratic and Security-Focused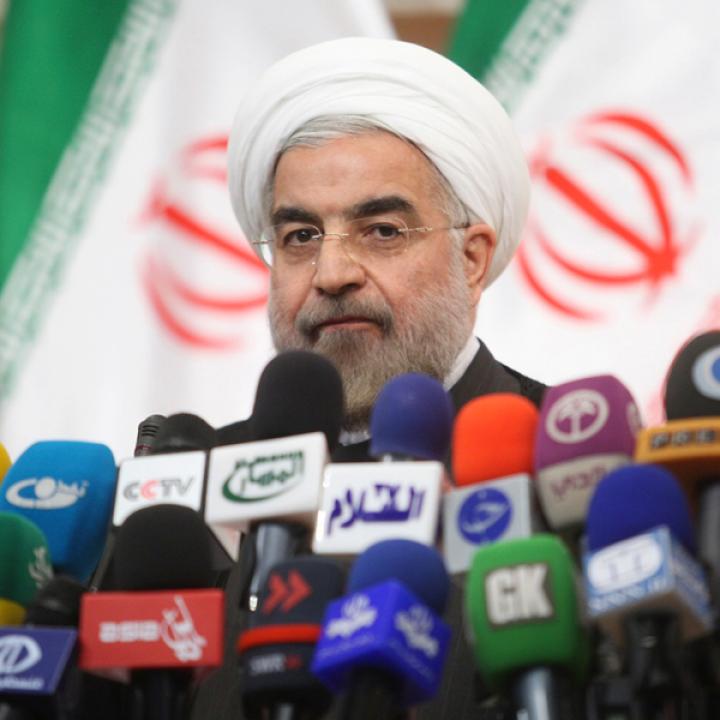 All evidence indicates that key intelligence and political ministers in the next cabinet will be confidants of the Supreme Leader, whose main policy views remain unchanged.
Iranian president-elect Hassan Rouhani is facing his first significant challenge since his June victory: forming a cabinet that does not destroy the moderate, open-minded, pro-Western image he created for himself during the campaign. At the same time, he must respond to the demands of conservatives (who control parliament, state media, and all other government bodies) and Supreme Leader Ali Khamenei. In general, Khamenei and the country's various conservative institutions are hesitant to trust figures who have a reputation for being reformist or supporting engagement with the outside world. In negotiating the makeup of the next cabinet, Rouhani will therefore need to make significant compromises that could damage his "moderate" image or pave the way for conservatives to exert heavy pressure on him. Either way, he must make his choices by August 4, his inauguration day.
SUPREME LEADER'S CABINET
Khamenei seems confident that the domestic opposition is losing ground in the wake of the election. Apparently, he believes that the outcome has restored the Islamic Republic's shattered image so effectively that the question of fraud in the 2009 election is now irrelevant. In a speech delivered this weekend, he bashed the opposition Green Movement's leaders for bringing people to the streets in mass protests four years ago: "In a private meeting, they said, 'We confess that fraud did not occur.' If fraud did not occur, why did you damage the country? Why did you make trouble for the country? Had God not helped this nation, then people would have fought against each other. You all know what happens in this region when people fight," he added, ostensibly referring to Syria. He concluded by asking, "Why don't they apologize?" Three of the Green Movement leaders in question -- Mir Hossein Mousavi, Zahra Rahnavard, and Mehdi Karrubi -- have been under house arrest for more than two years without trial.
In another speech earlier this month, Khamenei reaffirmed the late Ayatollah Ruhollah Khomeini's ideas on domestic/foreign policy and cultural issues, emphasizing that the Islamic Republic's "orientation should not change." Specifically, he claimed that the country's priorities should be scientific and economic progress, criticizing dissenters who say Iran should engage with the world:
"We believe in engagement with the world. But in engaging with world, we should know who we are dealing with, otherwise will be defeated by his deception. Americans say that they want to negotiate with Iran...At the beginning of this [Persian] year, I said that I am not optimistic. I don't ban negotiation on specific issues -- like Iraq and some other issues -- but my past experiences do not make me optimistic. Americans are untrustworthy, irrational, and dishonest. In the last four months since I have said this, American officials' positions have again confirmed it."
Khamenei also implicitly rejected any compromise with the West that would require a significant setback or interruption in the regime's agenda:
"The enemy may stop you and tell you that you should not move further. Compromise does not mean that you should accept and retreat...The skillful diplomacy is to continue your path without letting him stop you; otherwise, if agreement and mutual understanding was about submitting to the enemy's demand to step back, this would have been a loss."
In short, Khamenei's postelection speeches do not indicate any change in his views on domestic or foreign policy, so Rouhani may have little choice but to form a cabinet that reflects this mindset. Indeed, the most likely candidates mentioned thus far suggest that his main concern is to meet the Supreme Leader's expectations rather than reformists' demands, especially when it comes to sensitive posts such as minister of intelligence, minister of culture and Islamic guidance, or interior minister.
For example, Ali Jannati -- the son of Ayatollah Ahmad Jannati, the most influential member of the Guardian Council -- has told media that he will be chosen to head the Ministry of Culture and Islamic Guidance, the body responsible for censoring cultural products and engineering the state's cultural machinery. The younger Jannati is a conservative figure with no background in cultural issues; a longtime ambassador to Kuwait, he worked with Rouhani in the 1980s at Khatam al-Anbia, an engineering firm controlled by the Islamic Revolutionary Guard Corps (IRGC). His appointment would clearly disappoint most of the country's intellectuals, artists, and journalists.
Meanwhile, current foreign minister Ali Akbar Salehi -- who enjoys close relations with Khamenei -- has been mentioned as a candidate to head the Ministry of Science, Research, and Technology. He has been involved in the nuclear program for two decades, at one point serving as Iran's representative to the International Atomic Energy Agency in Vienna. Other ministries may be headed by figures who served under former president Akbar Hashemi Rafsanjani, such as Bijan Namdar Zanganeh (Ministry of Oil) and Muhammad Ali Najafi (Ministry of Education). Rouhani's first deputy will likely be Ishaq Jahangiri, a technocrat with past cabinet experience. And his economic team will likely consist of mostly traditional conservatives with close ties to the business community. Thus far, no reformist names have been put forth for cultural, security, or political ministries.
FOREIGN POLICY TEAM
For the Foreign Ministry, one name has been mentioned more than others: Mohammad Javad Zarif, formerly Iran's permanent representative to the UN. Like Rouhani, Zarif is well known among foreign diplomats and media for his ability to exercise diplomatic competence while protecting the Islamic Republic's interests. He is also known for being a confidant of the Supreme Leader. He left the Foreign Ministry six years ago following a disagreement with outgoing president Mahmoud Ahmadinejad (similar to Ali Larijani and other close Khamenei confidants who decided not to work with Ahmadinejad at the time).
The composition of the Supreme National Security Council has not been publicly discussed yet. This body will play a significant role in nuclear policy planning and negotiations. If Zarif becomes foreign minister -- a post that includes a seat on the council -- he may play a more prominent role on the nuclear issue than previous ministers. In the end, however, the council is merely as an advisory arm of the Supreme Leader; although it helps him make decisions, it cannot take any important steps without his approval.
NEUTRALIZING THE CHANGE AGENDA
Over the past two decades, Khamenei has developed several mechanisms to control the presidency and other democratic institutions. He monopolizes state radio and television (the only such outlets sanctioned by the government) as well as the judiciary, intelligence apparatus, clerical establishment, armed forces, and the largest economic organizations (e.g., the Mostazafan foundation, Astan-e-Qods Razavi, and various religious endowments). In doing so, he has secured the regime's core, preventing major shifts that might threaten his own political identity.
Therefore, while appointing technocrats would no doubt help Rouhani improve economic management (which Ahmadinejad mostly undermined), he will not be able to redistribute wealth in a way that counters clergy and IRGC expectations. On July 22, top IRGC spokesman Ramazan Sharif told Sharq newspaper: "Ahmadinejad's government did not help the IRGC in its economic activities very much, and the IRGC was economically better off under Rafsanjani and Khatami." Essentially, this means that a president who is known as "moderate" or "reformist" needs to make more compromises with the IRGC than a "radical" president like Ahmadinejad. Moreover, a significant number of the proposed cabinet members (e.g., Ali Rabii, the candidate for the Ministry of Cooperatives, Labor, and Social Welfare) have intelligence or military backgrounds.
CONCLUSION
All evidence indicates that Rouhani is trying to form a technocratic, security-focused cabinet whose intelligence and political ministers are close to Khamenei. This may suggest that he prefers to work with the Supreme Leader's confidants so as to prevent any internal tension. It might also show that Khamenei has established more direct and detailed control over foreign and domestic policy than the president. Usually, the Iranian president's most powerful years in office are his first two; afterward, the Supreme Leader tends to intervene with greater frequency and bolder measures. Tensions between the president and Supreme Leader are inherent in the structure of the regime, regardless of personality or ideology. All presidents since 1979 -- except Rafsanjani, whose term coincided with a period of weakness for the Supreme Leader in the early 1990s -- have complained about confusion over the boundaries of the office's power. Currently, Khamenei seems well positioned to limit the president's authority or sabotage his agenda any time he wishes.
Mehdi Khalaji is a senior fellow at The Washington Institute.