Human Rights Sanctions on Iran Need More Coordination and Creativity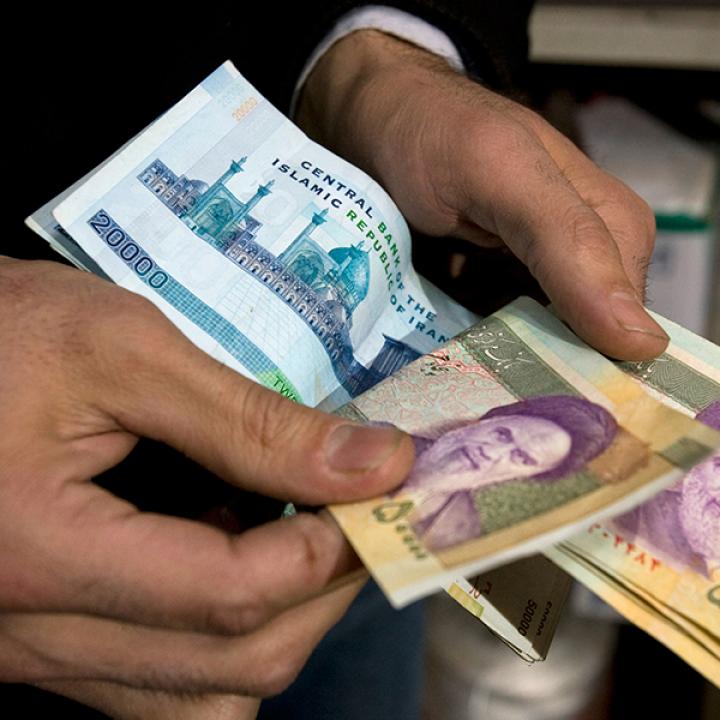 Several countries have rapidly imposed new sanctions in response to the regime's repression of peaceful protests, but they should do more to harmonize and expand these actions.
In less than three months, key Western actors have levied sanctions against 113 individuals and 17 entities linked to human rights abuses in Iran, with 7 batches of designations issued by Canada, 6 by the United States, 3 by Britain, and 2 by the European Union. The speed and scope of these measures are notable, especially compared with the West's relatively weak response to Iran's previous round of serious protests in 2019. But a closer look at the lists reveals significant inconsistencies between who is being sanctioned and how.
Defining Realistic Goals
In general, human rights sanctions on Iran have aimed to freeze the assets of those implicated. Depending on the country and authority used, travel bans may also be imposed, and third parties may be restricted from dealing with those sanctioned.
These measures are different from more powerful tools such as the U.S. sanctions targeting Iran's oil and banking sectors. Human rights sanctions are not generally intended to have macroeconomic impacts, and in many cases their practical significance is limited—especially when the targeted individuals have no assets outside Iran and do not travel to the country that sanctions them. In October, for example, after the EU and Britain sanctioned armed forces chief of staff Mohammad Bagheri in connection with drone sales to Russia, he responded by sarcastically suggesting that European governments should use his assets to "buy coal" given that a "difficult winter is ahead." That said, former Iranian officials often travel abroad, so immigration restrictions may have some impact.
More broadly, human rights sanctions are a way to demonstrate support for protesters by "naming and shaming" perpetrators, creating an authoritative public record of accusations against them, and spotlighting abuses that Tehran may prefer to keep hidden. In that sense, the press releases announcing sanctions are perhaps as important as the sanctions themselves.
Sanctions could also alter the behavior of any Iranian security personnel who might be wary of being called out for their actions. The EU has already sanctioned various junior security personnel, including the officers involved in arresting Mahsa Amini, the woman whose death sparked the uprising. This approach shows that officers can be singled out for specific abuses they may have believed would remain anonymous. To be sure, however, there are no indications that such sanctions have had any effect on the calculations or behavior of the security forces writ large.
Sanctions to Date
The majority of the Iranian officials sanctioned since September are commanders in security organs such as the Islamic Revolutionary Guard Corps (IRGC), Basij militia, Law Enforcement Command (LEC), Guidance Patrol (i.e., the morality police), Cyber Police, and Prisons Organization. Canada has also announced that it will ban "tens of thousands" of senior regime officials from entering its borders, though it has resisted pressure to designate the IRGC as a terrorist organization under the country's criminal code.
Washington, Brussels, London, and Ottawa have moved quickly in rolling out these measures and have coordinated their steps at a strategic level. All of them imposed sanctions against the morality police, its director, and its Tehran commander, as well as the LEC's chief in the capital area. In addition, they targeted Interior Minister Ahmad Vahidi and Communications Minister Eisa Zarepour. Yet significant gaps between their actions persist as of this writing:
The EU has sanctioned fifteen senior provincial LEC commanders and nine regional leaders of the IRGC and Basij, but Britain omitted five of these individuals, while Canada sanctioned only six of them and the United States just four.

Washington has sanctioned seven prison commanders and six officials and journalists affiliated with Islamic Republic of Iran Broadcasting, while Canada has sanctioned seven of these individuals and the EU and Britain have skipped all of them.

The United States and Canada have sanctioned Intelligence Minister Esmail Khatib; the EU and Britain have not.

The United States, EU, and Canada have

all sanctioned the Basij, LEC, and IRGC Cyber Defense Command, while Britain has not.
Such inconsistencies are sometimes inevitable given differing enforcement priorities, administrative processes, and evidentiary standards. Yet aligning sanctions lists would help Western allies project a united front and prevent bad actors from exploiting any technical differences between them; the governments should close these gaps in coming rounds of designations.
Comparing the 2019 Response
The West's current sanctions have been significantly more concerted and coordinated than its response to the mass protests of November 2019, which lasted less than a week but were met with even more violence than today's movement (e.g., as many as 1,500 civilians were reportedly killed). The United States imposed several rounds of sanctions during and after those events, but still fewer than today. Specifically, the Treasury Department imposed three batches targeting the communications minister, two Revolutionary Court judges, and eight senior regime officials, while the State Department designated two Iranian prisons and an IRGC brigadier general, in addition to expanding immigration restrictions. At the time, Washington may have been more focused on imposing "maximum pressure" through broad-based sanctions against Iran's economy rather than making specific human rights designations.
Another striking difference was the lack of coordinated action with Europe. The 2019 protests occurred at a time of sharp transatlantic tensions over Iran policy. European governments had fiercely opposed the Trump administration's 2018 withdrawal from the nuclear deal and took pains to preserve it, both by establishing a special financial mechanism to bypass U.S. sanctions and by lending political support to Tehran. When the regime cracked down on demonstrators a year later, Brussels may have felt compelled to further differentiate itself from Trump's policy and avoid irritating Tehran. Whatever its calculus, the EU did not issue sanctions in response to the violence until April 2021, while Canada did not issue any at all. Today, the allies are much more aligned—not only on the protests, but also on their broader approach to the nuclear file, Tehran's support for Russia's war in Ukraine, and other issues.
Another notable difference is time—the 2019 protests ended rapidly, but the current movement has continued for nearly three months, giving Western governments more opportunity to react. Indeed, in situations where the offending behavior is ongoing, policymakers may believe that moving quickly on sanctions can play a role in shaping outcomes.
Recommendations
To maintain pressure and attention on the Iranian regime's human rights abuses, the United States, Britain, Canada, and the EU should continue issuing sanctions while aligning their lists as much as possible. Although this may require some cultural and administrative shifts, there is symbolic value in speaking with one voice.
Western capitals should also consider extending asset freezes and travel bans to family members of sanctioned individuals. Some U.S. executive orders permit targeting the spouses or adult children of such individuals, while the State Department has authority under the Immigration and Nationality Act to impose immigration restrictions on immediate family members. For example, Washington recently used this immigration tool to pressure the police chief of Iran's Isfahan province, while family members of other individuals have been targeted by various U.S. tools or warned of their potential use on several occasions in the past few years (e.g., in relation to Burma, Sudan, Syria, and Russia, most prominently the daughters of President Vladimir Putin).
The West should also be more creative in designing sanctions tranches. One option is to target lower-level Iranian security commanders in parallel with other elements of the regime's repressive apparatus, such as judicial officials responsible for prosecuting, sentencing, and executing demonstrators. Britain's sanctions earlier today against Revolutionary Court judges and a prosecutor may be a good model in this regard. Travel bans could be more impactful as well if governments use international travel data to identify Iranian perpetrators who have already visited Europe, the United States, or Canada, since they may have future plans to do so again.
Finally, Washington and its partners should consider using sanctions in a deterrent capacity. The regime has yet to unleash the full force of the IRGC against protesters, so the West still has time to try warning Tehran away from even greater bloodshed. For instance, governments could identify and publish lists of IRGC officers who might be involved in a broader crackdown, threatening the imposition of personal sanctions if such an action proceeds. Encouraging defections or even just hesitation among Iran's security forces may be a longshot, but the West should at least consider this possibility.
Henry Rome is a senior fellow at The Washington Institute.