How the Popular Mobilization Forces Exploited Syria's Earthquake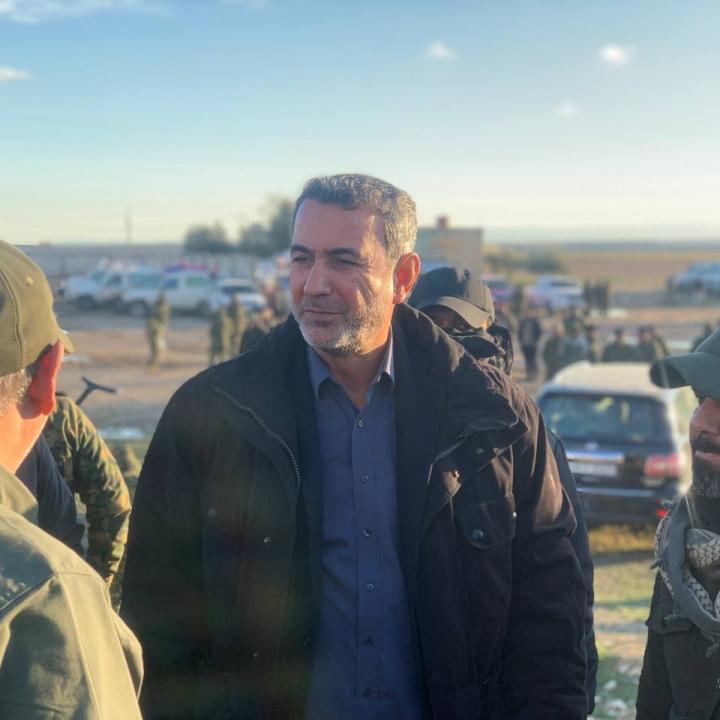 Now that Iraqi PMF groups can deploy to Syria with Baghdad's formal authorization, many cross-border militant activities may accelerate under the cover of earthquake relief.
The February 6 Syria-Turkey earthquake has provided multiple opportunities for Iraq's al-Hashd al-Shabi (Popular Mobilization Forces, or PMF) to deploy to affected areas across the border with Iraqi government approval. Previously, PMF militias that operated in Syria did so without legal orders from Iraq's commander-in-chief, as required by Iraq's constitution and military code. Now, however, these groups are permitted to work there openly, potentially enabling their patron in Iran to transport weapons to Syria and Lebanon inside aid convoys. 
Following the earthquake, the PMF—which are led by U.S.-designated human rights abuser Faleh al-Fayyad and U.S.-designated terrorist Abdul-Aziz al-Mohammadawi (Abu Fadak)—quickly established a humanitarian aid campaign for Syria under various names, including "Our Lady of Sham Zainab" and "The Iraqi Relief Mission." These assistance operations have been undertaken by Abu Fadak, who was dispatched to Syria to directly oversee the aid effort. Back in Iraq, the convoys are facilitated by Qasim Muslih, the PMF's head of operations in Anbar who was arrested by Iraqi officials in 2021 in connection to the murder of an activist by Kataib Hezbollah members the previous year.
PMF and muqawama (resistance) players have also used the disaster for propaganda purposes in Iraqi and Iranian media. For example, one poster found in Aleppo thanked Iraqi prime minister Mohammed Shia al-Sudani, the PMF, and Abu Fadak "for their courageous support for the people of Syria." The hundreds of PMF personnel deployed so far have set up field hospitals, kitchens, and blood donation centers (Figure 1), using aid vehicles that often display a mix of PMF and Iraqi flags. Iranian media have praised the PMF's efforts in very similar terms, strongly suggesting that Tehran and militia leaders are coordinating their messaging. PMF media have also described their efforts to support their Syrian neighbors as a religious obligation from authorities in Najaf, attempting to draw legitimacy from the non-muqawama Shia religious establishment.
On February 10,  Abu Fadak met with with Syrian president Bashar al-Assad amid the rubble in Aleppo (Figure 2), some of which some was created by the earthquake and some by Assad's massive military bombardment of the city in prior years. Abu Fadak then traveled to Latakia, where he met with the provincial governor and provided an update on PMF relief efforts. Later, he met with Minister of Local Affairs Hussein Makhlouf, a key Assad aide who presented him with a book of thanks and an honorary plaque in recognition of the PMF's aid to Syria (Figure 3). Abu Fadak's visits mirrored those of Islamic Revolutionary Guard Corps-Qods Force (IRGC-QF) commander Esmail Qaani, whom Iran dispatched to oversee its aid efforts. 
On February 16, PMF head Falah al-Fayyad likewise met with Assad in person (Figure 4). According to the PMF readout of the meeting, Fayyad conveyed a message from Prime Minister Sudani pledging Iraq's commitment to supporting Syria. Fayyad has long served as Iraq's de facto envoy to Damascus, and Militia Spotlight assesses that this remains the case under the new prime minister.
While some rank-and-file PMF members undoubtedly have genuine sympathy for the Syrian population and are delivering aid of real value, the muqawama leadership of the PMF—comprising multiple U.S.-designated human rights abusers and terrorists—and their Iranian partners are likely bent on exploiting the earthquake to substantially improve their cross-border coordination with Assad and Lebanese Hezbollah, and to legitimize themselves inside Iraq. PMF charitable operations and sites in Syria should therefore be closely scrutinized.