Who Is Mohammed Shia al-Sudani?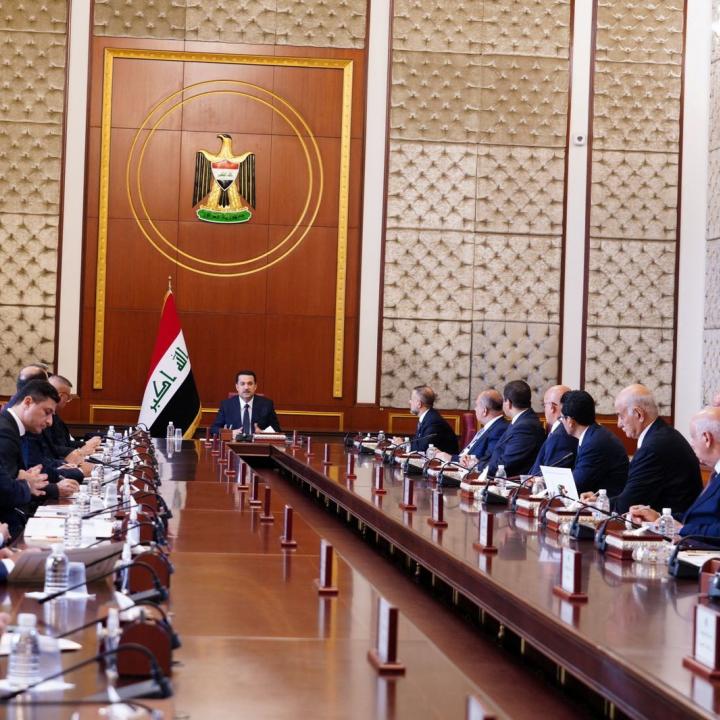 A closer look at the new prime minister's political career, past affiliations, and key cabinet picks as he attempts to balance relations with pro-Iran groups and wary U.S. officials. 
When Iraq's parliament approved Mohammad Shia al-Sudani as prime minister last month, it closed a paralyzing year-long government formation process and signaled imminent changes in senior cabinet posts that are crucial to relations with the United States. Yet little has been written about Sudani himself in Western media outlets. What is the prime minister's personal and political background, and what manner of officials is he surrounding himself with as his new government takes shape?
Political Career
A Shia Muslim born in Baghdad in 1970, Sudani earned his bachelor's degree in agricultural science from the University of Baghdad in 1992 and a master's degree in project management in 1997. During his childhood, his father and five other family members were executed by Saddam Hussein's regime on charges of membership in the outlawed Dawa Party, an Islamist faction closely aligned with Iran. Sudani himself became active in politics at a young age and participated in the Shia uprisings that followed the 1991 Gulf War. Later, he worked with Saddam's government as a supervisor of major agricultural projects.
Having grown up in Maysan province, Sudani began his political career there in 2004 once Saddam's regime was toppled. After a term as mayor of Amara City, he was elected governor of the province in 2009. He then held a string of ministerial positions in the government of Prime Minister Nouri al-Maliki, a fellow Dawa member: minister of human rights (2010-2014), acting minister of finance (2014), acting minister of migration and displacement (2014), minister of social and labor affairs (2014), acting trade minister (2015), and acting minister of industry and minerals (2016). Following the October 2019 protests that led to Prime Minister Adil Abdulmahdi's resignation, Sudani was considered as a candidate for premier but withdrew after Mustafa al-Kadhimi emerged as the frontrunner.
Unlike most of the country's current political elite, Sudani remained in Iraq his whole life rather than living in exile during Saddam's rule. In contrast, Kadhimi resided in the United States and other Western countries before returning home after 2003, even obtaining British citizenship. 
Cabinet Formation
Given Tehran's outsize influence in Baghdad, Iraqi politicians necessarily engage with Iran-backed figures, including those tied to U.S.-sanctioned entities. Sudani is no exception—in recent months, for example, he met with prominent pro-Iran politicians such as Hossein Moanes, head of the party Harakat Hoquq. That meeting came as little surprise because the party is run by the designated militia Kataib Hezbollah, a leading element of the "Coordination Framework" that oversees the majority coalition in parliament and essentially enabled Sudani's premiership after outmaneuvering rival factions.
His early cabinet and staff appointments have likewise included individuals tied to sanctioned Iranian proxies:
Media and education. His media office will be headed by Rabee Nader, who previously worked for news outlets affiliated with Kataib Hezbollah and Asaib Ahl al-Haq (AAH), another U.S.-designated terrorist organization. Additionally, AAH member Naim al-Aboudi was appointed minister of higher education and scientific research.
Intelligence. Sudani has also dismissed or moved some of Kadhimi's key staffers. On November 1, he removed Raed Johi as head of the Iraqi National Intelligence Service (INIS), then announced he would be overseeing the agency himself. Previously, Kadhimi took the reins at INIS in 2016 and continued running it after he became prime minister, thereby cementing his influence over the organization; he did not appoint Johi to the post until July 2022. By removing a Kadhimi associate from the senior ranks of INIS, Sudani is creating room for his own people, potentially including pro-Iran figures in leadership roles. That scenario could make it difficult to sustain close cooperation with the United States, since Washington would be wary about sharing sensitive information with such individuals—especially on Iran and its proxies. Indeed, the future of the entire bilateral security relationship could be affected. 
Finance and anti-corruption. Amid these worrisome developments, one potentially positive step is the appointment of Taif Sami to head the Ministry of Finance. A career civil servant in the ministry, she received the International Women of Courage Award from the U.S. State Department for her efforts to prevent financial corruption in Iraq while serving as deputy minister. Given Sudani's pledge to fight corruption, Sami could play an important role in a much-needed government initiative. Conversely, she could face continued threats from malign actors who oppose any serious anti-corruption efforts. 
In addition to accepting Sudani's new cabinet, parliament approved his twenty-nine-page ministerial program with 250 of 329 votes. The program includes fighting corruption, improving public services, and reforming the economy. Yet Sudani's affiliation with Maliki may hang like an albatross over his anti-corruption efforts—assuming the highly corrupt members of the Coordination Framework even allow him to press that agenda item in the first place. One early test of this facet has already begun: soon after taking office, Sudani demanded the return of some $2.5 billion in state funds pilfered from the Finance Ministry. What he does next to actually recover the funds will say a great deal about his orientation.
May Kadow and Erik Yavorsky are research assistants in The Washington Institute's Program on Arab Politics.