Hizbullah Under Fire in Syria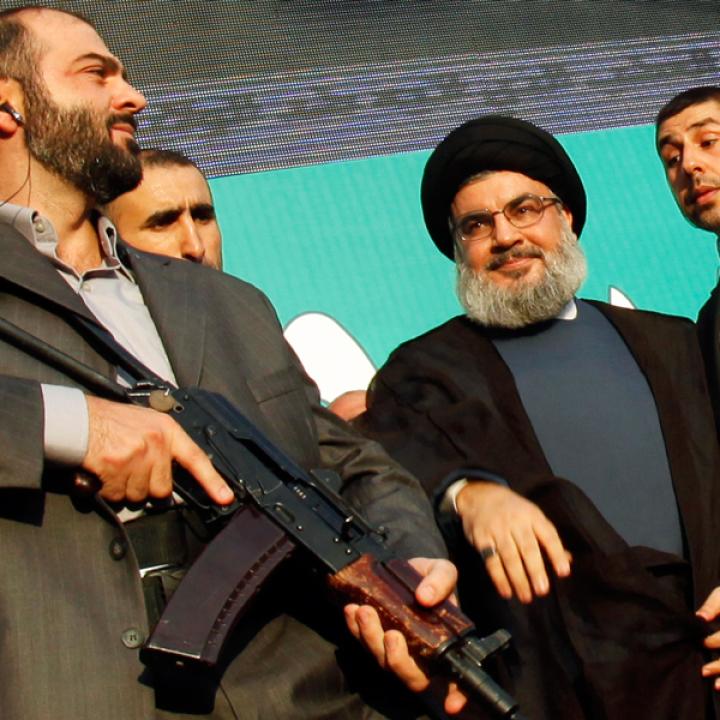 Last month's assassination of a senior Hizbullah commander, apparently by Syrian rebel groups, demonstrates the growing threat the organization faces from fellow Arabs and Muslims.
The death of senior Hizbullah commander Mustafa Badreddine in Syria in May left the group reeling, but not for the reason most people think. True, it lost an especially qualified commander with a unique pedigree as the brother-in-law of Imad Mughniyeh, with whom Badreddine plotted devastating terror attacks going back to the Beirut bombings in the 1980s. And, at the time of his death, Badreddine was dual-hatted as the commander of both the group's international terrorist network (the Islamic Jihad Organisation or External Security Organisation) and its significant military deployment in Syria. The loss of such a senior and seasoned commander is no small setback for Hizbullah.
But the real reason Badreddine's death has Hizbullah on edge is not the loss of the man, per se, but the fact that the group's arch enemy, Israel, was seemingly not responsible. Hizbullah, it appears, now has more immediate enemies than Israel -- and that has the self-described "resistance" organisation tied up in knots.
Hizbullah has lost more fighters in battles against Sunni rebels in Syria since 2012 than it has in all its battles and wars with Israel. It is not just a question of numbers, but of losing key leaders. A few Hizbullah personnel were reportedly killed by Israel, including Jihad Mughniyeh and Samir Kuntar. But these cases are the exception that proves the rule: most senior Hizbullah leaders were killed not by the Israelis but by Sunni rebels.
Some were killed on the front lines fighting alongside the Assad regime. Fawzi Ayub, a Lebanese-Canadian Hizbullah commander who featured on the FBI's most wanted list, was killed in May 2013 in the southern Syrian province of Deraa. Another commander, Hassan Hussein al-Hajj, died fighting around Idlib, in the northwest of the country, in October 2015. Khalil Mohammed Hamid Khalil died fighting in Homs in summer 2013. Ali Fayad died fighting in the Aleppo area in February 2016. And Khalil Ali Hassan, a "veteran Hizbullah commander," was also killed in the Aleppo area in early June 2016.
For Hizbullah, most things that go wrong are regarded as the product of an Israeli conspiracy, from the grassroots Lebanese movement that kicked Syria out of Lebanon in 2005 to the Syrian civil war. The deaths of fighters and commanders killed in battle are therefore, by Hizbullah's logic, the result of fighting a war that in the group's imagination was the product of an Israeli-American-Takfiri conspiracy. But the targeted assassination of someone as senior as Badreddine away from the frontline is an event in a class of its own.
So it was truly remarkable when the group's leader, Hassan Nasrallah, took to the airwaves to announce there was "no sign or proof leading us to the Israelis." Nasrallah quickly added that Hizbullah is "not afraid to blame Israel when necessary," but in this case "our investigations led us to the [Sunni] terrorist groups." Nasrallah could not have been clearer: "within 24 hours we knew who killed Syed Mustafa, don't just try to point at Israel."
Nor are Syrian Sunni rebels Hizbullah's only non-Israeli enemy, as underscored by the Gulf Cooperation Council's decision earlier this year to blacklist Hizbullah and the denunciations of the group by the Arab League and Organisation of Islamic Cooperation. Indeed, even before these actions, the Saudis were already leading an effort to counter Hizbullah's activities both in the Gulf region and in the Levant. One effort in particular led to spectacular results.
In August 2015, Ahmed al-Mughassil, the military chief of Saudi Hizbullah and the principal architect of the 1996 Khobar Towers bombing, was apprehended in Beirut, where he reportedly lived under Lebanese Hizbullah protection, and handed over to Saudi Arabia. After evading capture for nearly 20 years, Mughassil's sudden arrest must have come as an unwelcome shock to Hizbullah. Indeed, the Farsi-speaking Mughassil is uniquely positioned to shed light on the covert activities of Iranian operatives and their proxies in the region, especially Hizbullah.
It should therefore not surprise that an article published by Saudi Arabia's foreign minister in the New York Times in January (later included in a Saudi government White Paper) included some blunt language about Hizbullah:
'[Hizbullah], Iran's surrogate, tries to control Lebanon and wages war against the Syrian opposition -- and in the process helps the Islamic State flourish. It is clear why Iran wants Bashar al-Assad of Syria to remain in power: In its 2014 report on terrorism, the State Department wrote that Iran views Syria 'as a crucial causeway to its weapons supply route to [Hizbullah].' The report also noted, citing United Nations data, that Iran provided arms, financing and training 'to support the Assad regime's brutal crackdown that has resulted in the deaths of at least 191,000 people.' The same report for 2012 noted that there was 'a marked resurgence of Iran's state sponsorship of terrorism,' with Iranian and [Hizbullah's] terrorist activity 'reaching a tempo unseen since the 1990s.'"
Nor are the Saudis alone in their effort to counter Hizbullah influence and operations both in the region and well beyond. Within a couple of weeks, when the State Department issued the latest volume of its annual terrorism report, a senior US official highlighted the fact that "Confronting Iran's destabilising activities and its support for terrorism was a key element of our expanded dialogue with the countries of the Gulf Cooperation Council, following the leaders' summit at Camp David in May of [2015]. We've also expanded our cooperation with partners in Europe, South America, and West Africa to develop and implement strategies to counter the activities of Iranian-allied and sponsored groups, such as Hizbullah."
For a group founded on the basis of the "resistance" against Israel, Hizbullah has to cope with the difficult reality that it has lost well over 1,000 fighters in battles against fellow Arabs and Muslims, not Israelis. The group is seen throughout the region as a sectarian weapon in Iran's arsenal. It is not a resistance force fighting occupation, but a force supporting an occupation in Syria. "We are invaders," a Hizbullah fighter conceded in a May NOW article, "this is our role now. Yes, I have many questions, but war is too complicated and I have a family to support."
Across the Middle East, Hizbullah's standing has fallen precipitously. The group's popularity skyrocketed after the 2006 war with Israel, but today it is a different story. After the GCC designation of Hizbullah, Nasrallah insisted that most of the Arab world rejected this decision and still supported the group. But polling data from September 2015 paint a different picture, with 86 per cent of Jordanians holding a negative view of Hizbullah, and the group scoring just 13-15 per cent approval ratings in Saudi Arabia and the UAE.
As Badreddine's assassination shows, Hizbullah's Sunni problem goes far beyond faring poorly in the polls. It is a telling turn of events when the group's biggest security problem comes not from Israel but from Syria.
Matthew Levitt is the Fromer-Wexler Fellow and director of the Stein Program on Counterterrorism and Intelligence at The Washington Institute. Nadav Pollak is the Institute's Diane and Guilford Glazer Foundation Fellow.
Tony Blair Faith Foundation