Hezbollah in Iraq: A Little Help Can Go a Long Way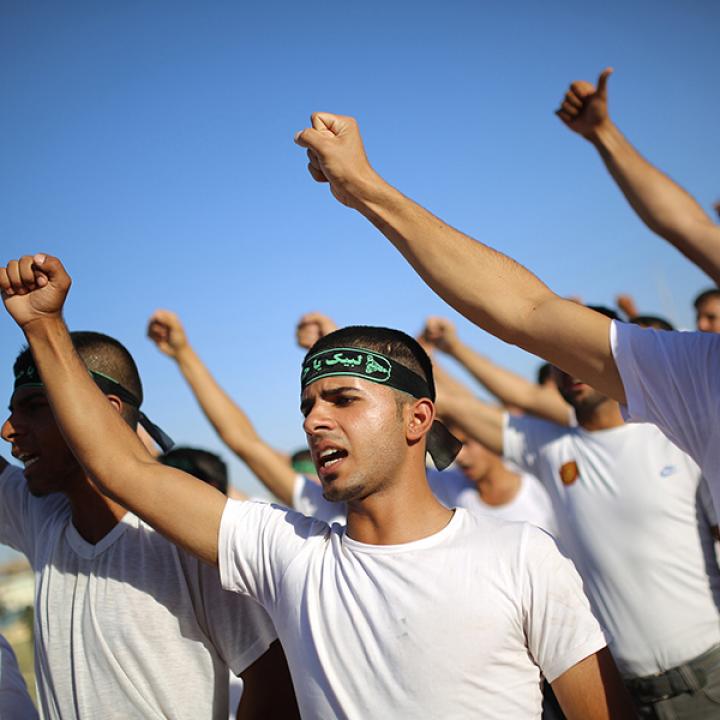 Hezbollah's past operations in Iraq show that a limited number of experienced "consultants," working with Iran's Qods Force, could significantly increase the lethality of the local Shiite militias currently gearing up to counter the ISIS offensive.
As Sunni militants from the Islamic State of Iraq and al-Sham (ISIS) captured Mosul two weeks ago and set their sights on Baghdad, Hezbollah leader Hassan Nasrallah offered to send fighters to Iraq to help turn the jihadist tide. In Syria, the Lebanese Shiite group's forces have already deployed in large numbers over the past several years and made all the difference in the Assad regime's battle for survival. In Iraq, Hezbollah would likely dispatch only small numbers of trainers and special operators. Yet given the group's past special operations and training activities in Iraq and its close ties with Iran's elite Qods Force, even a modest deployment would likely have a significant impact.
INTENTIONS AND CAPABILITIES
On June 17, Nasrallah pledged, "We are ready to sacrifice martyrs in Iraq five times more than what we sacrificed in Syria in order to protect shrines," noting that Iraqi holy sites "are much more important" than Shiite shrines in Syria. To be sure, Hezbollah is heavily invested in the Syria war and will probably increase its presence there as Iraqi Shiites leave to defend their homeland from ISIS. Yet the group can make a significant contribution to the Shiite counteroffensive in Iraq without having to redirect many of its operatives or resources from Syria.
During the last Iraq war, Hezbollah effectively used a limited number of special operations personnel to train Iraqi Shiite militants and support sporadic special operations targeting coalition forces. As a 2009 Australian government report concluded, "Hezbollah has established an insurgent capability in Iraq, engaging in assassinations, kidnappings and bombings. The Hezbollah units have been set up with the encouragement and resources of Iran's Revolutionary Guards al-Qods Brigades." The Qods Force will likely request a similar initiative to aid the Shiite-led government in Baghdad today, turning these capabilities against ISIS with potentially far-reaching benefits for Iraqi Shiite militias.
PAST ACTIVITY IN IRAQ
Beginning in 2003, Iran's Qods Force requested Hezbollah's services to help increase Tehran's influence in Iraq. To this end, Hezbollah created Unit 3800, whose sole purpose was to support Iraqi Shiite militant groups targeting multinational forces there. According to U.S. intelligence, Unit 3800 sent a small number of personnel to Iraq to train hundreds of fighters in-country, while others were brought to Lebanon for more advanced training. Hezbollah also provided funds and weapons to Iraqi militias, but its most dangerous contribution was in the realm of special operations. According to a 2010 Pentagon report, the group gave these militias "the training, tactics and technology to conduct kidnappings [and] small unit tactical operations," and to "employ sophisticated improvised explosive devices (IEDs), incorporating lessons learned from operations in Southern Lebanon."
The most prominent example of how this training helped the militias was probably the January 20, 2007, attack on the Joint Coordination Center in Karbala, which resulted in the deaths of four American soldiers. That well-executed operation was thoroughly planned with the help of the Qods Force and Hezbollah, as determined later through the capture of one of Hezbollah's best trainers in Iraq, Ali Musa Daqduq. Daqduq was heavily involved in training tactical units of Iraqi Shiites and even took part in some of the operations they conducted. He was also responsible for planning other operations such as the aborted kidnapping of a British soldier, and gave specific instructions to those he trained about the use of IEDs. Moreover, while operating in Iraq, he dealt directly with the Qods Force on certain occasions -- further evidence of the high level of coordination between Hezbollah and the Iranians on Iraq.
CURRENT SITUATION
Since American and multinational forces withdrew from Iraq, Unit 3800 has been put to work elsewhere in the region, primarily in Yemen. There, Hezbollah and Qods Force personnel have helped the Houthis, a Zaidi Shiite insurgent group, fight the government. Reports from the Treasury Department and the New York Times indicate that Hezbollah and Qods personnel coordinated their operations in Yemen, with the former in charge of transferring funds and training Shiite insurgents, and the latter in charge of transferring advanced weapons such as antiaircraft missiles. U.S. intelligence agencies detected these activities, which led former White House counterterrorism advisor John Brennan to state in October 2012, "We have seen Hezbollah training militants in Yemen and Syria." National Intelligence Director James Clapper reinforced this point in his January 2014 "Worldwide Threat Assessment," noting that "Iran will continue to provide arms and other aid to Palestinian groups, [Houthi] rebels in Yemen, and Shia militants in Bahrain to expand Iranian influence and to counter perceived foreign threats."
Besides branching out to Yemen, Unit 3800 received another boost to its capabilities and prestige in 2012, when Hajj Khalil Harb -- a longtime Hezbollah commander and close advisor to Nasrallah -- was appointed to lead it. Harb is an experienced operative who has held various key positions, especially in terms of working with other terrorist organizations and overseeing special operations. He served as deputy commander of Hezbollah's central military unit in Southern Lebanon during the late 1980s, where he gained his first substantial experience in special operations against Israeli forces. He later assumed command of Unit 1800, the Hezbollah force dedicated to assisting Palestinian terrorist groups by operating in the "ring countries" around Israel and infiltrating individuals into Israeli territory to conduct terrorist attacks and collect intelligence. According to the Treasury Department, Harb also traveled to Iran many times in his role as coordinator between Hezbollah, the Palestinians, and Tehran. After his role in Yemen became apparent to U.S. intelligence, the department designated him for sanctions in August 2013, citing his long body of work.
Appointing Harb to head Unit 3800 no doubt made a great deal of sense to Hezbollah's leaders given his experience working with other terrorist organizations, his close relations with the Iranians, and his expertise in special operations and training. The unit has likely benefited from his guidance and upgraded its capabilities since then. Deploying members of this unit to Iraq would also make sense given Harb's status as a former advisor to Nasrallah, who would presumably want an experienced commander in charge of such an important arena.
CONCLUSION
The war in Syria requires a great commitment from Hezbollah in terms of personnel and weapons, and significant numbers of its fighters have already lost their lives in helping the Assad regime. Yet given its willingness to answer Iran's call for help in Syria, the group will probably answer the call to fight in Iraq as well. Nasrallah is already laying the groundwork to justify such involvement by invoking the same hollow excuse of "defending Shiites and Shiite holy places."
As in the past, Hezbollah's contribution does not have to include hundreds of fighters, but only a limited number of experienced trainers and special operations "consultants." This type of contribution would not overstrain the organization, and it could facilitate far-reaching achievements for Iraqi Shiite militias.
Matthew Levitt is the Fromer-Wexler Fellow and director of the Stein Program on Counterterrorism and Intelligence at The Washington Institute. His latest book is Hezbollah: The Global Footprint of Lebanon's Party of God. Nadav Pollak is a research assistant at the Institute.