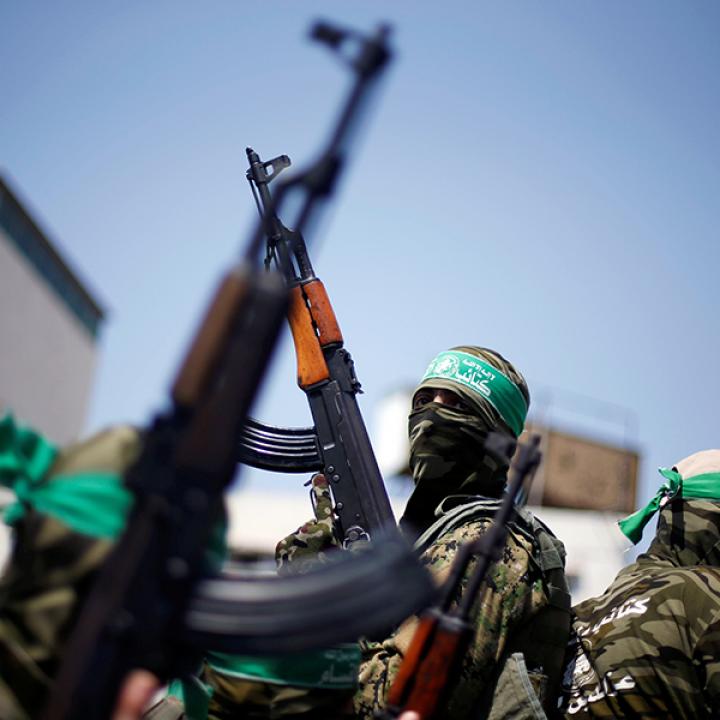 A look back at the group's track record and unchanging core ideology shows why its gestures toward democracy and inclusivity should not be mistaken for true moderation.
On December 14, Hamas celebrated the thirty-fifth anniversary of its founding. In addition to unveiling a new logo, the group held a rally in Gaza City, where it showed off the gun of slain Israeli soldier Hadar Goldin, released numerous statements reiterating its goals, and hinted at future conflicts with Israel. Such hostile displays are no surprise given the course of the group's ideological and political development over the past four decades.
Founded in Violence
Harakat al-Muqawama al-Islamiyah (the Islamic Resistance Movement), more commonly known by the acronym Hamas, initially emerged as a social and religious wing of the Muslim Brotherhood in Palestine during the 1960s and 1970s; it did not institutionalize into its current form until the late 1980s. As a Brotherhood-inspired group, Hamas believes in "revolution from below"—that is, using existing democratic institutions to garner power and authority, while simultaneously establishing a social service infrastructure and conducting dawa missionary work to gain popular support. Yet violence has always been a driving part of the group and its goals.
In August 1988, Hamas published its organizational charter. Filled with anti-Semitic rhetoric, the document highlights the organization's focus on Palestine and nationalism, the important roles that both men and women are to play in the movement, and the rejection of negotiations with Israel in favor of jihad—specifically, a violent struggle devoted to destroying Israel. The charter also made clear that Hamas is a uniquely Palestinian organization despite being influenced by Brotherhood ideology.
In addition to calling for jihad against Israel, the charter includes a nod toward Muslim Brotherhood member Abdullah Azzam (1941-1989), one of the most influential ideologues for violent jihadist groups such as al-Qaeda. According to Article 12, "resisting and quelling the enemy become the individual duty of every Muslim, male or female. A woman can go out to fight the enemy without her husband's permission." This line mirrors Azzam's famous fatwa on the individual duty of jihad, which extremist groups still echo today (e.g., to justify women's participation in violent operations under specific circumstances).
Even as it embraced violent Islamist ideology, Hamas sought to market itself as an alternative to the Palestine Liberation Organization, an umbrella entity that dominated Palestinian politics at the time. This decision was welcomed by many, who believed that Hamas could provide the social services that the PLO failed to offer. The group also won support from many Palestinians unhappy with the PLO's 1988 decision to acknowledge Israel's existence and accept UN Security Council Resolution 242, which called for a two-state solution; Hamas vehemently opposed both stances.
During this period, Hamas began to engage in acts of violence. For example, along with Palestinian Islamic Jihad (PIJ), it helped popularize suicide bombings against Israeli targets. Yet subsequent events, including the first intifada (1987-1993), the Oslo Accords (1993), and the second intifada (2000-2005), forced Hamas to adapt in certain ways to changing realities in the Middle East.
Governance and Legitimacy
After being active as a violent nonstate actor for almost twenty years, Hamas entered the political arena with great popular support. The pivotal point came in the Palestinian Legislative Council elections of January 2006, when Hamas campaigned as part of the "Change and Reform" bloc and won 74 seats, a majority in the 132-member body.
This result led to a new Palestinian government being formed under Hamas leader Ismail Haniyeh, which heightened tensions with its main political rival, Fatah. Despite signing a national unity agreement in March 2007, the two groups soon returned to deadly fighting, culminating in the violent Hamas takeover of Gaza that June. Thereafter, two entities governed the Palestinian people: Hamas ruled Gaza, and the Fatah-dominated Palestinian Authority governed the West Bank.
Although Hamas entered the political arena through elections, the legitimacy of its continued control over Gaza is regularly questioned by the PA, Israel, the United States, and the international community. This is because the group has since ruled the territory through force, restricted media access, and cracked down on Fatah and other groups that try to organize there politically. Moreover, it continues to use political violence and terrorism as a tactic both at home and abroad.
Accordingly, the political and military "wings" of Hamas have been designated as terrorist entities by Australia, Britain, Canada, the European Union, Israel, and the United States. Furthermore, Paraguay and New Zealand have designated the military wing (i.e., the Izz al-Din al-Qassam Brigades, or more simply Qassam Brigades).
In the Middle East, policies toward the group are mixed. Saudi Arabia's designation of the Muslim Brotherhood led to cool relations with Hamas, while Egypt overturned its previous designation of Hamas in 2015. The governments of Jordan, Qatar, and Turkey have not overtly supported Hamas and its agenda, but they have met with its leaders and played bystander or intermediary roles. Elsewhere, the group's complex relationship with Syria has just started to thaw, while Iran has financially and militarily supported Hamas for decades.
Since taking control of Gaza, Hamas has also engaged in four rounds of major conflict with Israel and numerous skirmishes. At the same time, it has expanded itself into a seemingly stable governing actor—it runs the territory's infrastructure, operates extensive media campaigns (in multiple languages), and otherwise endeavors to convince observers that it is a government rather than a terrorist group. Furthermore, it has entered into various rounds of negotiations with the PA and Israel since 2006, each time offering a hudna (temporary ceasefire) to reduce violence within the Palestinian territories. Yet such agreements were generally made through third parties (e.g., Qatar and Turkey) rather than directly, and Hamas never truly abandoned its own methods of political violence.
A Step in a New Direction?
As Hamas has repeatedly noted, two main documents highlight its goals and evolving direction: the 1988 charter, and the May 2017 update to the charter, titled the "Document of General Principles and Policies." The latter document represented a rhetorical shift, with the group seeking to present itself as a centrist alternative to global jihadist organizations like the Islamic State and secular nationalist groups like the PLO. Despite this framing, however, the updated principles and policies also declared that "resistance and jihad for the liberation of Palestine will remain a legitimate right, a duty, and an honor for all the sons and daughters of our people and our umma [global Islamic community]."
Another contradiction can be seen in the group's framing of Islamization as a "choice" driven by individuals. For example, Hamas has repeatedly argued that while wearing the hijab is a religious obligation, it remains a woman's choice to do so, not something that can be forced upon her (e.g., according to an interview with Hamas leader Khaled Mashal posted on the group's website). At the same time, however, the group does not discount acts of violence and pressure to achieve its goals of a "traditional" Islamic society, such as running "virtue" campaigns to discourage "Western" behaviors, excluding male teachers from girls' schools, segregating classes after age nine, and penalizing male driving instructors who do not have a chaperone for female students. Hamas justified all of these decisions by claiming they were driven by Gaza's conservative society.
Thirty-five years on, Hamas has demonstrated its staying power in a competitive and often unforgiving institutional environment. It faces challenges to its continued governance from the PA and from violent Islamist groups, including PIJ and the Islamic State. But it has also adapted when necessary to stay in power. For example, it often acquiesces to an uneasy calm with Israel in order to stabilize Gaza's precarious economic situation, which often seems close to boiling over. And in March 2021, it made the unprecedented move of appointing a woman, Jamila al-Shanti, to its Political Bureau, the group's highest decisionmaking body. Moreover, it has begun to focus more political energy on expanding its foothold in the West Bank, recently winning student elections at Birzeit University, once a Fatah stronghold.
As Hamas continues to strive for international legitimacy, it will no doubt highlight what it considers to be its most laudable traits—namely, its supposed democratic rule (despite the lack of elections in Gaza), its gender inclusivity, its Islamization of society (supposedly supported by the people), and its dual-messaging approach aimed at local and international audiences (e.g., its recent anniversary statements were released in differing Arabic and English versions). The United States and its allies should not be distracted by this seemingly more moderate approach. Despite its rhetorical embrace of change in certain contexts, Hamas remains committed to its original goal—violent struggle against Israel by any means necessary, with itself at the helm of Palestinian leadership.
Devorah Margolin is the Blumenstein-Rosenbloom Fellow at The Washington Institute.