Giving Iraq's Next Prime Minister Space to Succeed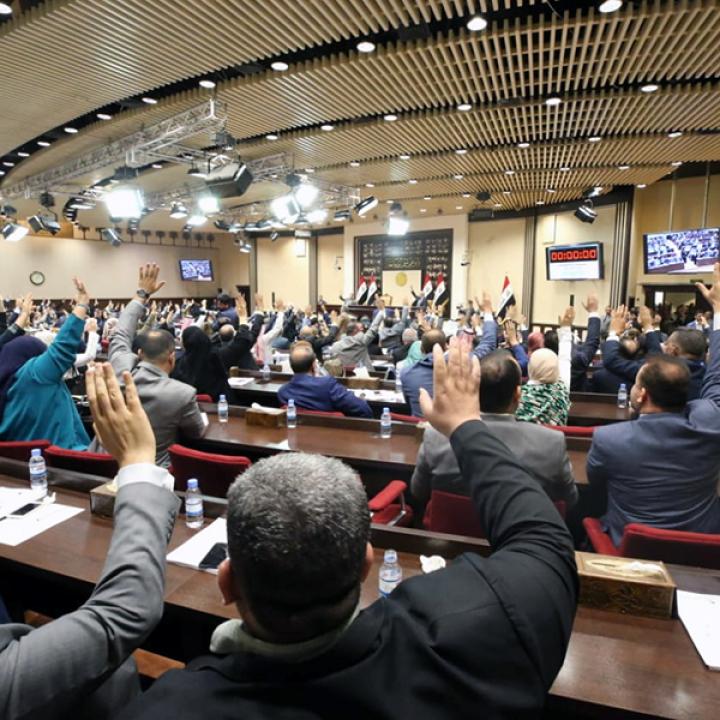 As the next well-qualified, Iraqi-chosen candidate navigates the delicate ratification process, Washington can avoid disrupting his efforts by temporarily ignoring militia provocations and providing quiet, symbolic support where needed.
In the early hours of March 17, Iraqi president Barham Salih nominated the country's next candidate for prime minister, Shia politician Adnan al-Zurfi. Iran's closest allies in the Iraqi parliament have vowed to oppose his parliamentary ratification, due by April 16, and may raise legal challenges to the nomination in the meantime. Likewise, Iran's militia proxies reacted with their third, fourth, and fifths attacks on coalition forces in a week, targeting the U.S. embassy and the Taji and Bismayah training bases near Baghdad.
How can the United States respond to these provocations without derailing a potentially positive development? Iraq desperately needs effective leadership at a time of intertwining economic, political, security, and health crises, and Zurfi appears capable of providing it. To increase his chances of ratification, the U.S. government should temporarily adopt a defensive military posture, "banking" response strikes for the future while using diplomatic measures to deal with militia attacks for now. On the political front, it needs to be visibly helpful with Iraq's multiple crises but invisible in all other matters. And to show faith in Zurfi, Washington should renew and lengthen its energy sanctions waiver.
THE ROAD TO NOMINATING ZURFI
Iraq's government formation process has entered uncharted territory twice in the past four months: on December 2, when mass public protests forced Adil Abdulmahdi to resign, the first prime minister to do since the fall of Saddam; and again on March 1, when Mohammed Tawfiq Allawi became the first prime minister-designate to fall short of ratifying a government by the thirty-day constitutional deadline. Afterward, the Federal Supreme Court confirmed that the president was solely authorized to name Allawi's replacement, and Salih appealed to all parties to come up with a consensus candidate. That failed, as did an effort by just the Shia parties to name one.
With the fifteen-day constitutional deadline for picking a candidate set to expire, Salih did something that is very rare and risky for Iraqi politicians these days: he fulfilled his oath, played by the rules, and chose the candidate he regarded as the most qualified. The international community should remember this and support Salih at a very trying time.
Zurfi is an intriguing candidate who was unlikely to garner unanimous backing from Iranian-backed Shia factions such as Hadi al-Ameri's Fatah bloc (which holds 48 of the parliament's 329 seats) and Faleh al-Fayyad's Ataa bloc (8 seats). A former governor of Najaf, he has a history of push-and-shove with Shia Islamist parties and militias, yet seems to have overcome the concerns of Muqtada al-Sadr and certain other Shia leaders. A businessman and politician, he lived in the United States from 1992 to 2003 and holds citizenship there, though this has not prevented him from building effective relationships with many U.S.-skeptical Iraqi politicians.
The unlikely advent of his nomination represents potentially vital progress for Iraq, which has been hit with the perfect storm of coronavirus outbreaks, halved oil prices, popular unrest, and ongoing militia violence. Zurfi now has up to thirty days to form a cabinet and ratify it with a minimum of 165 votes in parliament. As things stand, he is quite likely to succeed because only some elements of Fatah are dead-set against him, and he has the connections needed to splinter remaining opposition. His challenge is to avoid any major defections in the coming weeks, particularly by the changeable Sadr. The United States can help reduce the likelihood of major disruptive developments by temporarily adjusting its current policies.
SELF-DEFENSE WITHOUT MAJOR ESCALATION
To compensate for their limited representation in parliament, those elements who oppose Zurfi's nomination most vehemently will almost surely resort to armed force. Militia rocket attacks have attended almost every key milestone in the nomination process, and three new salvos landed after Salih chose him. Thus, while the United States needs to protect its personnel in Iraq, it also needs to avoid the trap that militias and their Iranian backers are setting: to bait Washington into a confrontation that undermines Zurfi's nomination and boosts their own leverage. Policymakers should focus on the following options:
Consolidate and protect U.S. bases. The coalition is reportedly withdrawing from exposed forward bases such as al-Qayyara, al-Qaim, and Kirkuk in order to consolidate on bigger, better-protected bases like Erbil, Baghdad International Airport, and al-Asad. These moves will likely coincide with the arrival of U.S. Patriot missile and counter-rocket, artillery, and mortar (C-RAM) batteries. The new approach is prudent and should be implemented in full, despite potentially diluting the campaign against the Islamic State for a time. Once the moves are completed, helicopter traffic and ground movements should be minimized.
Bank retaliatory responses. The United States should publicly and privately signal Iran and its proxies that even if certain rocket strikes pass without a major response for now, U.S. forces will retaliate for each of them at a time and place of their choosing. Besides potentially reducing the chance that militias will try to bait Washington at this sensitive time, this is generally a smarter way to do deterrence, since it allows for striking high-value militia leaders as they surface. Congress and the Trump administration should hold private discussions on determining the proper degree of military flexibility and response ratios.
Increase international pressure on militias. Over the past three months, Iran-backed militias have struck bases housing forces from Denmark, Britain, Australia, New Zealand, Spain, and Portugal. Washington should reassure these and other international players that it will rein in retaliatory strikes, so long as they agree to tenaciously and publicly condemn militia attacks on coalition forces, as some are already doing.
NON-MILITARY STEPS
Under Abdulmahdi's tenure, U.S.-Iraq relations deteriorated to a level unseen since 2003. Washington should therefore give the next prime minister a soft landing, since the government now seems capable of turning toward a better future for the first time in two years. Non-military measures are vital in this regard, on both the symbolic and tangible levels:
Manage the COVID-19 crisis. As the pandemic intensifies, Iraqis will look to U.S. institutions like the Centers for Disease Control and Prevention for best practices and medical support. Washington should use its leverage as a major donor to the World Health Organization to ensure testing kits are rushed to Iraq, and send some symbolic humanitarian support directly (including drugs and ventilators), in the same manner that the United Arab Emirates and Kuwait are sending such support to Iran.
Restore Iraqi prestige. Baghdad's reputation has been battered by the collapse of its government and unchecked militia attacks on international military advisors. To help reverse this deterioration, U.S. officials should publicly welcome Zurfi with a warm and supportive tone even before ratification, while giving him the leeway to direct fair criticisms at America—as long as he does the same with Iran. They should also encourage him to strengthen his strategic communications with Iraqi protestors in order to reduce potential public opposition. Finally, they should begin hinting that the next prime minister will be welcomed for a White House visit once quarantine conditions are lifted by both states.
Support economic reforms. With oil prices plummeting, Iraq is in the worst economic peril of almost any Middle Eastern state—a situation that gives Washington yet another reason to push Saudi Arabia and the UAE into ending their price war with Russia. U.S. authorities could also prioritize the purchase of Iraqi oil when refreshing the Strategic Petroleum Reserve, a useful symbolic move. In parallel, they should begin building support for new IMF and World Bank engagement with Iraq, which may quickly become essential supports for the retrenching Iraqi economy.
Support energy independence. Existing U.S. efforts to increase gas treatment and gas-to-power projects in Iraq are now more important than ever, both to reduce Baghdad's dependence on Iranian energy/fuel supplies and to increase the amount of Iraqi oil available for export. A bilateral strategic dialogue on these matters should be accelerated—even if virtually while international travel is restricted by the coronavirus. And as mentioned previously, Washington should bolster Zurfi by issuing a 120-day sanctions waiver as it did in the past, not at the current 45-day limit.
Gather international support for early elections. The United States should play an energetic (albeit back-seat) role on this issue, urging the UN and other international institutions to help Iraq's parliament and next prime minister complete the elections code and reform the Independent High Electoral Commission.
These steps can help show the Iraqis that even in the midst of a global crisis, they have a friend in the United States, with one important proviso—that this friend will be even more responsive to their needs once they have an effective prime minister at the helm.
Michael Knights is a senior fellow with The Washington Institute. Since 2003, he has conducted extensive on-the-ground research in Iraq alongside security forces and government ministries.