Gaza War Shows Heightened Risk of Escalation in the Region
Also published in
Al Majalla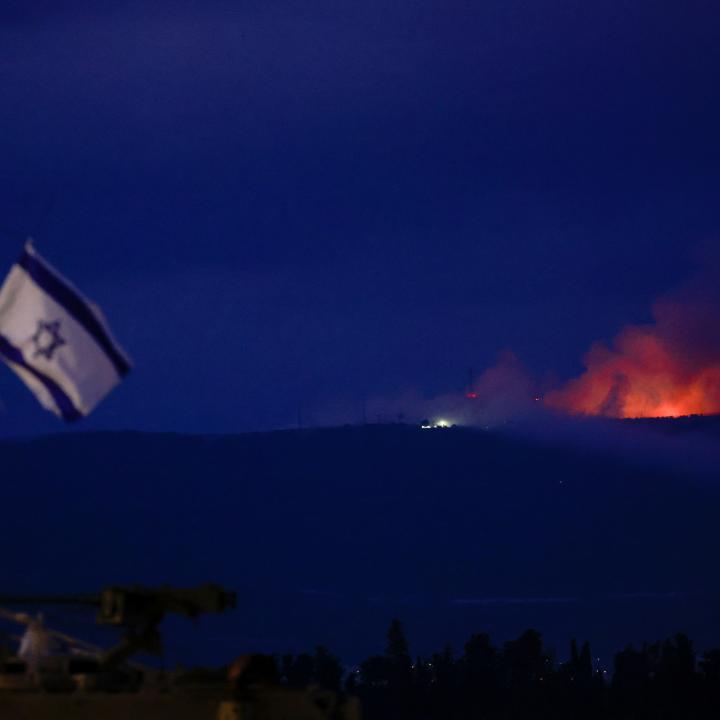 Although Washington and its partners have kept the war from spreading so far, the lack of clear rules on some fronts—particularly Syria—has created a dangerous environment in which any actor might inadvertently cross someone's red lines.
Forty days and nights into the Gaza crisis and the regional war that some predicted would engulf the Middle East and disrupt the world's energy markets and economy has not happened—at least so far. Israel continues Operation Swords of Iron in Gaza purportedly to destroy Hamas' capabilities and to somehow create a Gaza Strip ruled by any other party.
Meanwhile, reports surfaced that Iran told Hamas that its lack of advance warning of the October 7 attack means Tehran will not intervene directly in the conflict. However, Iranian proxies have responded against Israel and its ally the United States in three different regional theaters. The first involves multiple attacks by Hezbollah against Israel and vice versa along the Israeli Lebanese frontier. The second includes launches of long-range missiles and drones by the Houthis from Yemen, all of which have been intercepted by Israel, the United States, and Saudi Arabia or fallen in empty areas.
The third and arguably the most unexpected response—with equally unknown political ramifications—involves a sustained month-long horizontal military escalation by Iranian-supported militias against US military bases across Syria and Iraq that continues despite three successive US military strikes in less than as many weeks.
All Along the Blue Line
Every day since Hamas' October 7 attack, Hezbollah has claimed several attacks on Israel, which are typically followed by an Israeli response. This dynamic led Israel on October 18 to order the evacuation of civilians within five kilometers of the border with Lebanon, with most villages on the Lebanese side of the border within the same range being evacuated as well. To date, more than 70 Hezbollah fighters and 10 Lebanese civilians have been killed in Lebanon while 10 Israelis, including 7 soldiers, have been killed in Israel.
Between October 7 and November 14, detailed analysis shows Hezbollah launched nearly 170 specific attacks from Lebanon involving anti-tank weapons, artillery, missiles, or drones. Palestinian groups operating inside of Lebanon have also targeted Israel to a lesser extent. Hamas' Izz al-Din al Qassam Brigades have claimed 8 rocket attacks from Lebanon during the same period, with many targeting Nahariyya being intercepted by the IDF or falling in open areas. Palestinian Islamic Jihad al Quds Brigades have attempted two infiltrations from Lebanon into Israel, while al-Jamaa al-Islamiyah's al-Fajr Forces have launched three rocket attacks from Lebanon into northern Israel.
Through these attacks, Hezbollah and Israel seem to have developed unspoken rules of engagement. Hezbollah does not appear to be targeting civilians (except for an attack on electric utility employees Hezbollah claimed were soldiers setting up cameras and other "spying" devices). Hezbollah also primarily targets Israeli military positions and mostly refrains from launching attacks further than the five kilometer evacuation zone inside Israel.
Israel for its part primarily targets Hezbollah in retaliation for an attack and only targets the sources of Hezbollah's fire, with the exception of some airstrikes of anticipated missile launch sites and the use of phosphorus on wooded areas to burn off vegetation to deny Hezbollah ground cover. Between October 7 and November 14, Israel carried out 327 airstrikes or artillery fire targeting positions across southern Lebanon.
Parting the Red Sea
Yemen's Houthis have launched several unsuccessful missile and drone attacks on Israel over the last month, and in the last few days have threatened to attack Israeli shipping in the Bab el-Mandeb Strait. Although Israel, the United States, and Saudi Arabia have been able to intercept Houthi missiles and drones, the Houthis have proven their ability to cause havoc in the region, shooting down a US drone off the coast of Yemen and hitting—albeit unintentionally—areas in Egypt and Jordan.
The Houthi response began in the aftermath of the Al-Ahli Hospital explosion on October 19, when they launched three cruise missiles at several drones from Yemen that were shot down by the American USS Carney over the Red Sea. The Pentagon said the intended target was likely Israel. Saudi Arabia reportedly shot down one of the missiles that had strayed into Saudi airspace. Then on October 27, two unidentified drones crashed in the Egyptian cities of Taba and Nuweiba injuring at least six people. Meanwhile Israel reported an aerial threat from the Red Sea, indicating that the drones were likely fired by the Houthis with the intention of targeting Israel. The IDF intercepted one of the drones over the Red Sea near Nuweiba and the second drone crashed in Taba close to the Israeli border. A few days later on October 31, The Houthis claimed to launch a barrage of ballistic and cruise missiles at southern Israel, none of which hit their reported targets. Open source intelligence reporting indicates that one of the missiles fell in the Al-Mudawwara area in Jordan.
Shortly thereafter, the IDF released footage showing an F-35I fighter jet intercepting a cruise missile and showing the long-range Arrow missile defense system intercepting a ballistic missile. On November 5, Saudi Arabia reportedly shot down another missile in the northwestern part of the kingdom close to the Jordanian frontier, followed by a claimed Houthi drone attack against Israel the following day—which garnered no response or closures of Israeli airports or other facilities.
This trend took a more serious turn on November 8, when U.S. defense officials confirmed that the Houthis shot down a U.S. military MQ-9 drone off the coast of Yemen. On November 14, the Houthis then openly threatened Israeli shipping in the Bab al-Mandeb Strait off Yemen, followed by an attempted Houthi drone attack launched from Yemen that was intercepted by the USS Thomas Hudner. The ship's crew engaged and shot down the drone to ensure the safety of the ship and US personnel, which incurred no damage or casualties.
Iraq and Syria
Arguably the most worrisome trend for Washington involves Iranian militia attacks against US bases in Iraq and Syria. Detailed tracking of Iranian attacks and US counter strikes by my Washington Institute colleagues shows that since October 18—again immediately after the Al-Ahli Hospital explosion—Iranian-backed militia have launched approximately 77 separate attacks against US personnel in Iraq and Syria. This has involved 43 strikes on US bases in Syria and 34 in neighboring Iraq, with rockets, missiles, and increasingly more accurate drones.
The US Department of Defense announced on November 14 that since October 18 there have been 28 attacks against US forces in Syria and 27 in Iraq. (The Pentagon does not count some open-source reports of attacks unless they can be proved to have been launched specifically at US forces, hence variations in attack counts.) No matter the exact number, the frequency of attacks is dramatically well above pre-October 7 baseline numbers.
Analysis of the data to date shows that the attacks are launched from three areas. The first focuses on US bases west of the Euphrates, in western Iraq (al-Asad), and al-Tanf in southern Syria. A second launches attacks from within northern Iraq against US bases east of the Euphrates in Syria at Shadadi, Rumaylan, and in northern Iraq at Erbil airport and Harir. A third set of attacks are launched from a slew of Iranian militia bases on the west bank of the Syrian Middle Euphrates River Valley, including short-range rockets at US bases and the Syrian Democratic Forces (SDF) in the oil fields of Deir az-Zor. Some longer-range drone attacks on Shadadi, Rumaylan and Tal Baydar are also launched from the same area.
In response to the attacks, the Biden Administration has launched three separate strikes on Iranian-militia targets in Syria on October 27, November 8 and November 13, each respectively with an immediate statement that President Biden was doing so in support of US forces. While the October 27 and November 8 statements made clear the United States did not want further escalation with Iran, such words were missing from the November 13 message—a tacit but clear message that further attacks would likely garner a greater response. The attacks continued for another two days before finally a night of peace on November 16—nearly a month after the Al-Ahli Hospital explosion.
The Lack of Clear Rules
While the Biden Administration has downplayed the attacks, every incident increases the chances for US casualties and their political ramifications in the 2024 US Presidential elections. To date the Pentagon says that 27 personnel have been evaluated for traumatic brain injuries and 32 for other non-serious injuries. All 59 have returned to active duty, indicating Washington has been able to deal with attacks effectively and without significant cost until now.
But every attack increases the risk of an incident that leads to the loss of life. A mass casualty attack would likely lead to calls from the far right and left of the US political spectrum for Washington to withdraw its forces from Syria and Iraq.
This is the stated intention of Syria's tripartite alliance consisting of the Assad regime, Iran, and Russia that has been busy this summer trying to stoke discord between the US-supported Syrian Democratic Forces and local Arab tribes, which clashed last August and September over long-standing issues regarding Kurdish domination of SDF leadership and control of the Deir az-Zor Military Council.
Overall, attacking the US in Syria continues to be low risk, high reward for Iran and its allies. Syria provides military adversaries the greatest freedom of maneuver, and the rules of the game there are the most malleable—unlike along the Lebanon-Israel frontier where both sides appear risk-averse for fear of making a mistake that leads to a wider conflict. But at the same time, the lack of clear rules and proliferation of foreign militaries operating in Syria creates a dangerous environment that may lead to unintended escalation—and the regional war and Biblical-scale destruction that might accompany it.
Andrew Tabler is the Martin J. Gross Senior Fellow at The Washington Institute and former director for Syria on the National Security Council. This article was originally published on Al Majalla's website.