Gaza Demonstrations Around the World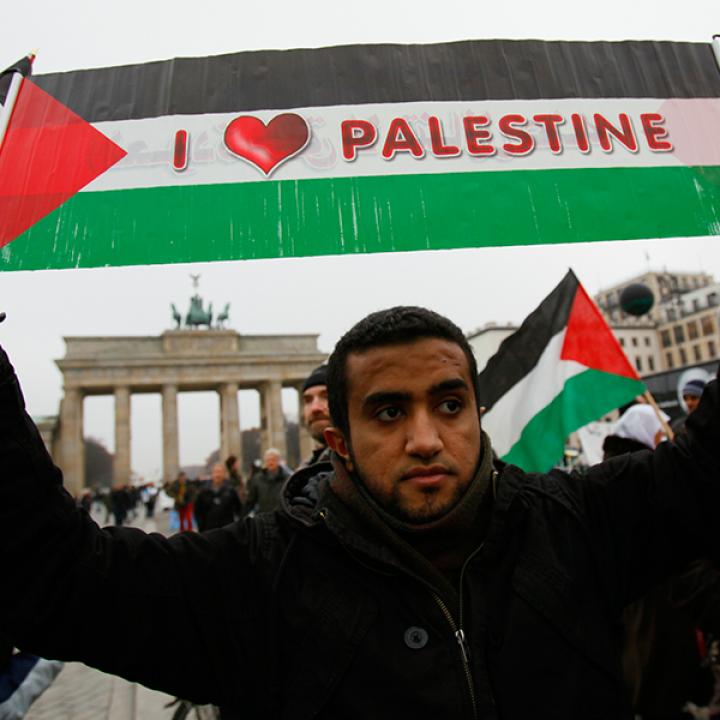 A survey of the various rallies held in the Middle East and abroad since the latest Gaza conflict began.
On July 25, Iran's supporters around the world will organize large anti-Israel rallies as part of the annual "Qods Day" promoted by Tehran for the last Friday in Ramadan. These would have been held even if Israel had not launched military operations in Gaza. Yet numerous demonstrations of varying size have already occurred in and around the Arab world and the West in reaction to the Israeli campaign. And reports indicate that these protests have been more concentrated in the West than in Arab countries, except for Morocco.
Read a companion piece assessing Arab public opinion on Hamas and the Gaza conflict.
EUROPE AND THE AMERICAS
London
Huffington Post, July 20, 2014
"Up to 15,000 people are thought to have marched through the capital from Downing Street to the Israeli embassy in Kensington after Israel launched a ground invasion of Gaza on Thursday."

Paris
Associated Press, July 13, 2014
"Sunday's protest, involving about 10,000 people, had been largely peaceful."

Haaretz, July 19, 2014
"To the up to 4,000 pro-Palestinians who protested in Paris this weekend, there was no question they had to defy the authorities' ban against their demonstration."

Santiago
Times of Israel, July 12, 2014
"About 5,000 people gathered in the Chilean capital to protest against Israel's military strikes in Gaza in retaliation for Hamas rocket fire on Israeli cities."

Vienna
Daily Star, July 20, 2014
"One of the largest rallies in Europe drew 11,000 people to the streets of Vienna, who marched across the city center to the official residence of the country's president Sunday."

Amsterdam
NBC, July 20, 2014
"Around 3,000 people staged a peaceful pro-Palestinian demonstration calling for an end to the bloody Israeli invasion of the Gaza Strip."

Dublin
Independent.ie, July 20, 2014
"An estimated 3,000 people walked from the Spire on O'Connell Street to the Dail and then the Israeli embassy."

Oslo
RT.com, July 12, 2014
"The Norwegian capital also saw around 3,000 pro-Palestine activists gather outside the parliamentary building in support of peace in Gaza."

Zurich
Maariv, July 18, 2014
"Yesterday evening 3,000 protestors gathered yelling 'throw the Jews into the sea.'"

Stockholm
France 24, July 20, 2014
"In Stockholm about 1,000 people protested."

Madrid
Menara, July 18, 2014
"Hundreds of people protested Thursday night in Madrid in solidarity with the Palestinian people against the Israeli aggression."

Belfast
RT.com, July 20, 2014
"Hundreds of protesters have gathered outside the BBC Broadcasting House in Belfast, expressing their concerns over what they see as 'biased' reporting by the BBC on the current Israeli military offensive in Gaza."

Glasgow
BBC, July 20, 2014
"Hundreds of people have gathered in Glasgow to call for an end to Israeli military action in Gaza and 'justice and freedom' for Palestine."

Chicago
Chicago Tribune, June 20, 2014
"Thousands of protesters were marching through downtown Chicago on Sunday in support of Palestinians as Israeli forces continue a ground invasion in the Gaza Strip."

Washington DC
CBS DC, June 20, 2014
"Thousands marched down Constitution Avenue to the White House Sunday, protesting Israel and calling for a free Palestine."

Sydney
Haaretz, July 20, 2014
"An estimated crowd of 5,000 pro-Palestinian supporters brought Sydney's business district to a standstill."

South Africa
Aljazeera, July 19, 2014
"Thousands of South Africans have taken to the streets in Johannesburg, Durban, and Cape Town demanding South Africa expel the Israeli ambassador."
TURKEY

Istanbul
Daily Sabah, July 21, 2014
"On Saturday, thousands of people gathered outside the consulate and tried to storm it again by climbing up the outer walls of the plaza that houses the consulate."
MIDDLE EAST

West Bank
Aljazeera, July 18, 2014
"In Ramallah, hundreds of people protested, expressing their support for the resistance and condemning the Israeli enemy."

PNN, July 21, 2014
"In Bethlehem, the demonstration started in Bab Zqaq, in the city center, where around 1,500 Palestinians took part in the protest holding banners against Israeli crimes."

Lebanon
Press TV, July 22, 2014
"A large crowd of protestors held demonstrations across Lebanon calling on the international community to stop Israeli atrocities."

Morocco
France 24, July 20, 2014
"Demonstrators from a number of Moroccan cities gathered in Rabat on Sunday to condemn the Israeli war on Gaza, with their numbers exceeding 30,000."

Egypt
Daily Star, July 13, 2014
"Around 100 Egyptians held a protest in central Cairo on Sunday against Israel's deadly offensive in the Gaza Strip and criticized their government's efforts to halt the violence."

Tunisia
O News Agency, July 22, 2014
"Large protests in Tunis against the Israeli occupation crimes in Gaza."

Algeria
PANET, July 22, 2014
"Hundreds participated in a number of vigils and marches that began in Algiers after Friday prayers to condemn the aggression in Gaza and the Algerian silence on this issue of prime importance to Algerians."

Iran
Business Standard, July 20, 2014
"Hundreds of Iranians gathered here Saturday to protest against Israel's offensive against the Palestinians in the Gaza Strip."

Gavi Barnhard and Adam Rasgon are research assistants at The Washington Institute.