Gas in Iraqi Kurdistan: Market Realities, Geopolitical Opportunities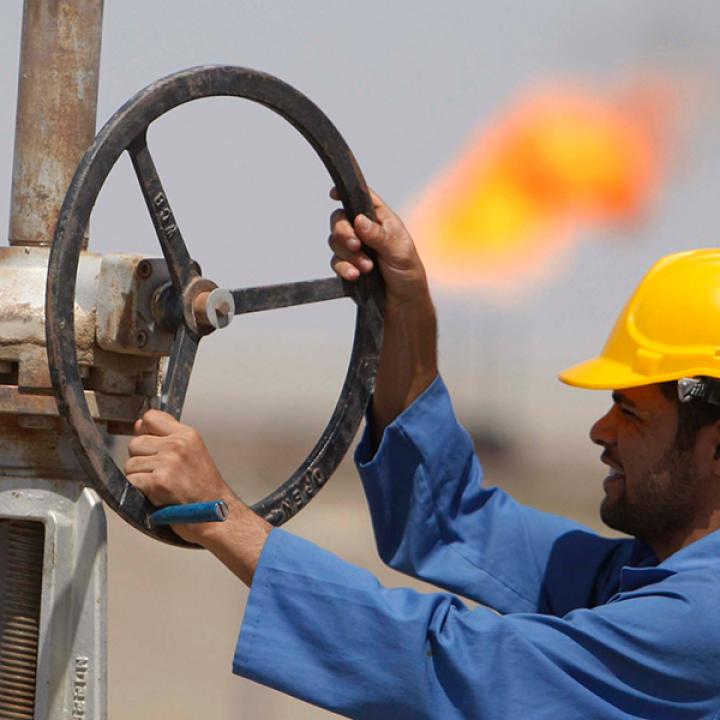 U.S. and Iraqi Kurdish officials discuss the future of the region's natural gas sector, including proposals for surmounting various political and commercial hurdles.
On January 12, The Washington Institute held a virtual Policy Form with Matthew Zais, Barozh Aziz, and Rob Waller. Zais is the principal deputy assistant secretary for the U.S. Department of Energy's Office of International Affairs. Aziz is a senior advisor to the Kurdistan Regional Government's minister of natural resources. Waller is the U.S. consul-general in Erbil, America's top diplomat to the Kurdistan Region. The following is a rapporteur's summary of their remarks.
Matthew Zais
Iraq's gas situation is unique. Although the country possesses vast natural gas resources, it flares significant amounts of this potential supply and therefore remains dependent on neighboring countries for its energy needs. Gas resources in the Kurdistan Region of Iraq (KRI) will be critical in developing a solution to this challenge.
KRI gas issues are not simply another aspect of U.S. policy toward Iran. Developing this sector will permit greater Iraqi energy production for both domestic consumption and exports to Turkey and other neighbors. It will also allow for greater economic integration inside the KRI and with federal Iraq, creating benefits for the entire country. The United States recognizes the importance of energy cooperation with the KRI, as the International Development Financing Corporation has demonstrated by supporting American oil and gas companies working on projects in the region.
Any effort to further develop the KRI gas sector will face several challenges. Political hurdles include a dearth of collaboration between international oil companies and Kurdistan's Ministry of Natural Resources. The abundance of sour gas in the area will require additional investment and technical expertise. From a commercial standpoint, the lack of a benchmark gas price is the central problem. Despite these barriers, the KRI has the potential to produce 40 billion cubic meters of gas annually by 2035, compared to the current level of 5 bcm per year. This vision can be achieved through a gradual process rather than an approach that focuses solely on large-scale projects.
Cooperating on natural gas and electricity production can bring the Kurdistan Regional Government and Iraq's federal government closer together. The KRI's energy potential could help ease the tensions that surround yearly budget discussions. Addressing this friction would improve the region's business climate by giving international oil companies greater certainty about financial flows.
Exports of gas-produced electricity—"gas by wire"—from the KRI to federal Iraq are already occurring and are more viable than other proposed solutions to the country's electricity woes (e.g., interconnection with power grids in Gulf Cooperation Council countries or Jordan). An eventual gas-by-pipeline connection with Turkey would likely start from Duhok, but this would not preclude gas-by-wire exports before that point.
Iran consistently attempts to put a damper on Iraqi energy development through its political influence, as it wants to sustain the country's dependence on Iranian energy and electricity imports. Tehran also manipulates its energy supplies for political ends. Iraqi politicians must find a way to overcome this challenge.
Gas pricing is a crucial issue in the KRI's relatively undeveloped market. The pricing framework must provide investors and Kurdish authorities with adequate returns while also attracting consumers to use natural gas. Two benchmarks merit close consideration: the highly competitive Turkish market, which has several sources of imported supply as well as a recent domestic gas discovery; and the Iraqi domestic market, which relies mostly on oil along with Iranian gas imports and a small amount of domestic gas. In addition, pricing will be affected by the high hydrogen sulfide content of Kurdish gas, which necessitates expensive processing upon extraction. Electricity sector reforms that address subsidies—especially those that encourage oil consumption—are also needed to develop a fair market price.
The KRI has enough gas resources to export to federal Iraq and Turkey while still meeting domestic demand. Small-scale exports would likely begin via existing pipeline infrastructure. If the sector develops swiftly, it should be able to compete for Turkish supply contracts that open up as Ankara's gas deal with Iran expires in 2026. The federal Iraqi market is much less competitive because current Iranian gas imports do not meet demand, so the KRI should be able to increase supply to the rest of the country whenever it develops the necessary capabilities.
Barozh Aziz
Iraqi Kurdistan struggles with a shortage of electric power. Several power station turbines are idle simply due to the unavailability of fuel. This lack of electricity hinders business development in the region, and the use of at-home diesel generators in response to power blackouts is detrimental to the environment and public health. These challenges are not caused by insufficient power generation capacity, as the region has enough capacity to share with the rest of Iraq. Development of Iraqi Kurdistan's gas sector would help address these problems while providing the region's residents with job opportunities.
Gas investment is an inherently long-term deal, which only increases the importance of a predictable business environment. Annual budget disputes create significant uncertainty that undermines Iraqi Kurdistan's gas sector; cooperating on gas issues with U.S. support could help build trust and alleviate this problem.
The industry must also develop a solution for the high sulfur content of the region's gas, a challenge that has stymied midstream investment. Iraqi political tensions, the threat of the Islamic State, and the ongoing COVID-19 pandemic have been hindrances as well.
The oil experience in Iraqi Kurdistan can inform the future of the gas sector. The region did not initially possess the expertise or finances needed to develop an oil industry, but it was able to attract these elements from international oil companies. The Ministry of Natural Resources has the experience and leadership needed to apply the same methods toward developing its gas resources.
Rob Waller
Iraqi Kurdistan's immense supply of hydrocarbon reserves and human capital make it an exciting place to invest, and the State Department will continue to support U.S. companies looking to enter or expand their footprint in the region. In order to attract foreign investment, the KRI must create a more transparent, competitive business environment. A recent study sponsored by the U.S. Energy Department highlights areas where the Kurdistan Regional Government can make improvements that help unlock its full economic potential.
The study also points out areas where the KRI and the Iraqi federal government can cooperate. One particular point they can work together on is electricity sector modernization, which should occur alongside development of the gas sector. For example, transitioning diesel power plants to natural gas would allow for greater power generation at a lower cost.
The International Development Financing Corporation has been funding expansion of the Khor Mor gas project, an important initial step in fostering greater energy cooperation between the United States and the KRI. The success of this endeavor has generated increased interest in future U.S. involvement with major energy infrastructure projects.
The U.S. government is also committed to bridging the trust gap between the Kurdistan Regional Government and the Iraqi federal government. Energy sector cooperation between them will help build trust that can lead to a fairer revenue-sharing agreement. Political cooperation between the Kurdistan Democratic Party and the Patriotic Union of Kurdistan is also a priority for U.S. gas development policy. The United States is optimistic despite heightened tensions in the KRI, since recent protests may lead both parties to recognize that cooperation breeds prosperity.
This summary was prepared by Henry Mihm. The Policy Forum series is made possible through the generosity of the Florence and Robert Kaufman Family.