Bismarck on the Bosporus
Also published in
Die Weltwoche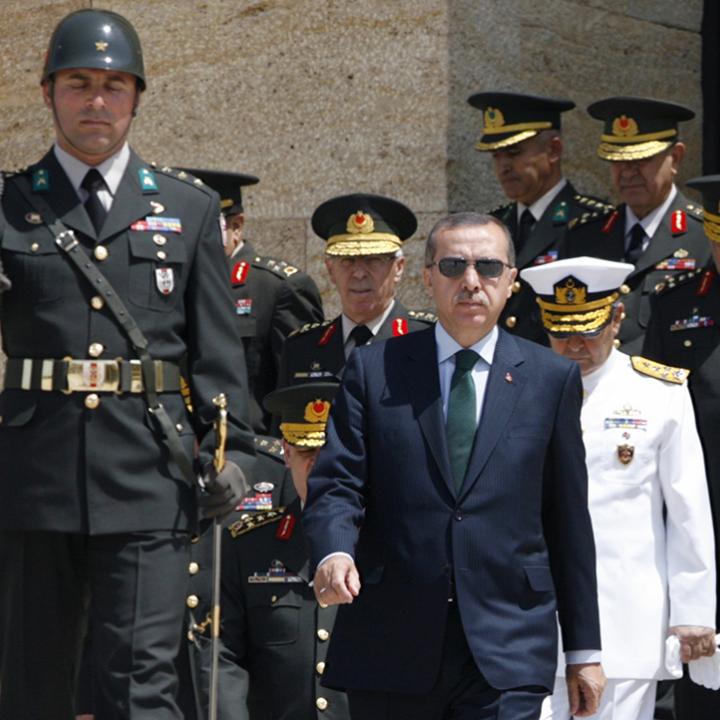 Turkey's president faces a reinvigorated opposition at home, but he is trying to show he can still win elections while also playing Russia, the United States, and Europe against one another.
Nations that were once great empires, such as Turkey, Russia, China, and the United Kingdom, often have an inflated sense of their heyday. This leads to a readiness to be inspired, or a vulnerability to be manipulated, by effective politicians who are able to embody and speak to this narrative. Understanding the importance of Turkey's imperial past is essential to understanding modern Turkey. This is because a romantic view of the collapsed Ottoman Empire continues to shape the views held by Turkish citizens of their place in the world.
Enter Recep Tayyip Erdogan, the country's president, who has held sway since 2003. Erdogan, who has won thirteen nationwide polls, consolidating power in Turkey over two decades, is the country's most consequential and powerful leader since Mustafa Kemal Ataturk, who in 1923 established modern Turkey out of the ashes of the Ottoman Empire at the end of the First World War.
Ataturk, a general in the Ottoman army, founded modern Turkey in his own image as a secular, European state. After he deposed the sultans, he turned Turkey's face further to the West. By copying European states, the great global powers of the interwar era, in statecraft, he aimed to place Turkey on a trajectory which would lead to the great nation status that was Turkey's birthright.
Inspired by European traditions, Ataturk's secularism (laïcité) mandated freedom from religion in government, politics, and the education system. A Jacobin politician, Ataturk ran the country with an iron fist until his death in 1938. He left behind a secularist system of government based on his principles, also known as Kemalism.
After Turkey became a multiparty democracy in 1950, Ataturk's democratically elected successors for decades perpetuated their secularist legacy. These Kemalists believed that Ataturk's political system was durable, and should not be changed as the world changes.
Until Erdogan. Ataturk ruled Turkey for fifteen years. Erdogan has already governed from Ankara for nineteen years. He has successfully torn down, or recalibrated, much of Ataturk's legacy. In addition, under him, the country has reverted to an autocratic style of government, ironically more reminiscent of the Ataturk era than of late twentieth-century Turkey.
As the "new Ataturk," Erdogan has recast Turkey top-down in his own image: profoundly Islamic and socially conservative. Moreover, Erdogan's "new Turkey" primarily faces not Europe, or the West, but the Middle East. Erdogan wants to see Ankara rising as a great power with and through influence over Muslims across Turkey's former Ottoman possessions in the Middle East and the Balkans.
On March 1, 2022, only weeks after Moscow launched its war against Ukraine, Turkey closed the Bosporus to Russian and Ukrainian naval vessels. The decision was based on the 1936 Montreux Convention, according to which Turkey is the gatekeeper for the Black Sea's only outlet to the open ocean.
At first glance, the closure appeared to be a neutral measure aimed at limiting both combatants from moving in and out of the Black Sea. In reality, however, the decision was clearly aimed at Russia—at the time, Ukraine had just one naval vessel and a few patrol boats, all of which were already on the Black Sea, while nearly half of Russia's combined Mediterranean–Black Sea fleet (over four dozen vessels) was deployed outside the straits.
This approach is in line with Turkey's broader Black Sea policy, which can be described as "pro-Ukraine neutrality." Although Ankara and Moscow are the main military powers in the neighborhood, Russia is both the larger power and a historic nemesis to Turkey. Consequently, Ankara views all the other littoral states as indispensable counterbalances against Moscow and will do a great deal to prevent Kyiv from falling under Vladimir Putin's thumb. This includes selling drones to Ukraine and enforcing Montreux in a "neutral" fashion that has the practical effect of undermining Russia's local naval presence.
Yet even as it supports Ukraine militarily, Turkey has been careful not to endanger its economic ties with Russia. Erdogan has national elections on the horizon in 2023, so he feels an urgent need to boost trade and tourism with Moscow in order to open up Turkey's economy well before then.
Erdogan is also cultivating more direct Russian investments. Following his August 5 meeting with Putin, Moscow sent nearly $5 billion to facilitate a Russian company's construction of the Akkuyu nuclear power plant in southern Turkey. These and other transfers tend to have a trickle-down effect on the Turkish economy, creating a sense of relief from hyperinflation and other problems. In short, amid growing opposition at home, Erdogan has tried to balance between being pro-Ukraine and avoiding an overtly anti-Russia stance, simultaneously guarding Turkey's Black Sea security interests and his own political interests.
In a way, Erdogan is like a modern Bismarck, a statesman brilliantly balancing off his country's neighbors and adversaries. Turkey lies in the midst of several conflict zones and powers; nevertheless, he manages to be a key power broker and has most of the countries he deals with dependent on him.
Can Erdogan, the "Turkish Bismarck," continue to play Russia, the United States, and Europe against one another and even win the 2023 elections, notwithstanding his recently united and reinvigorated opposition? The answer lies in the state of the economy. If the economy melts down and Turkey has to be bailed out, only the IMF, in which the U.S. holds the golden vote, would have the funds to do so. This would come with strings attached for Ankara and Erdogan.
On the other hand, if the Turkish economy muddles through, thanks to fresh injections of cash from Russia and the wealthy Gulf countries, with which Erdogan is trying to reset Ankara's ties, he could narrowly win the 2023 elections; he could also embrace further autocratic measures and—simultaneously—double down on his nativist populist policies, targeting women, the LGBTQ community, Kurdish nationalists, liberals, leftists, and other vulnerable and opposition groups across the Turkish society.
Whichever way you approach it, the 2023 elections will be Turkey's most historic since the country's first free and fair vote in 1950. 
Soner Cagaptay is the Beyer Family Fellow and director of the Turkish Research Program at The Washington Institute, and author of A Sultan in Autumn: Erdogan Faces Turkey's Uncontainable Forces. The German translation of this article is available here.