Beyond Implementation Day: A Brief Statement on U.S. Policy Toward Iran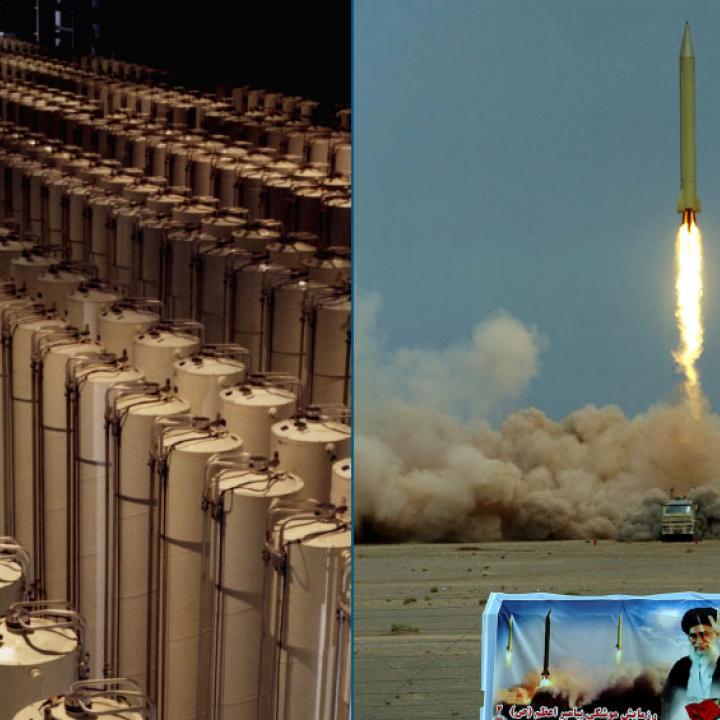 A bipartisan group of American diplomats, legislators, policymakers, and experts cites the need for vigilance in enforcing the nuclear deal and urges the administration to reject the idea of Iran as an ally in the anti-ISIL campaign.
In this policy statement marking the nuclear deal's "Implementation Day," a group of experts organized by The Washington Institute urges the Obama administration to take steps ensuring Iran's full compliance with its many continuing commitments, and to implement a truly robust regional strategy designed to push back on Tehran's problematic behavior throughout the Middle East.
"It is a mistake to infer that Iran has now satisfied its requirements [under the Joint Comprehensive Plan of Action]," the statement reads. "To ensure Iran's full compliance over the life of the JCPOA, it is essential that the United States, along with its P5+1 partners, establish the highest level of vigilance now." Toward that end, the sixteen distinguished bipartisan experts called on Washington and its partners to ensure that the International Atomic Energy Agency (IAEA) has put in place the monitoring regime called for in the nuclear accord and to undertake whatever intelligence gathering is necessary to verify Iran's compliance.
The statement also emphasized that the administration must "take the moment of Implementation Day -- and Iran's receipt of considerable sums in sanctions relief -- to implement a truly robust strategy to counter Iranian destabilization" in the Middle East. The group recommends bolstering U.S. support for traditional regional allies; more active efforts to counter Iranian military and other support to terrorist proxies; and swifter resort to punitive measures, including sanctions, as a response to egregious actions by Iran outside the scope of the JCPOA. The group specifically urged the White House to counter the perception that Iran is a constructive partner in the counter-ISIL campaign. "Nothing could be further from the truth," the group argued. "The reality is that Iran's policy across the region is to promote instability."
Download the PDF above to read the full statement.
The group previously drafted a June 2015 statement on the nuclear negotiations and an August statement on the JCPOA.
CONTRIBUTORS
Howard Berman, U.S. House of Representatives (D-CA), 1983-2013; former chairman of the House Foreign Affairs Committee
Robert Blackwill, deputy assistant to the president and deputy national security advisor for strategic planning under President George W. Bush, 2003-2004
Gen. James Cartwright, vice chairman of the Joint Chiefs of Staff, 2007-2011
Patrick Clawson, Morningstar senior fellow, director of research, The Washington Institute
Paula J. Dobriansky, undersecretary of state for global affairs, 2001-2009
Michael Eisenstadt, Kahn fellow, director of the Military and Security Studies Program, The Washington Institute
Stephen Hadley, national security advisor to President George W. Bush, 2005-2009
Olli Heinonen, deputy director-general of the International Atomic Energy Agency, 2005-2010
Simon Henderson, Baker fellow, director of the Gulf and Energy Policy Program, The Washington Institute
James Jeffrey, U.S. ambassador to Iraq, 2010-2012, deputy national security advisor to President George W. Bush, 2007- 2008; Philip Solondz distinguished fellow, The Washington Institute
Joseph Lieberman, U.S. Senate (I-CT), 1989-2013
David Makovsky, senior policy advisor to the U.S. special envoy for Israeli-Palestinian negotiations, State Department (2013-2014); Ziegler distinguished fellow and director of the Project on the Middle East Peace Process, The Washington Institute
Gen. David Petraeus, director of the Central Intelligence Agency, 2011-2012
Dennis Ross, special assistant to President Obama and National Security Council senior director for the central region, 2009-2011; counselor and William Davidson distinguished fellow, The Washington Institute
Robert Satloff, Howard P. Berkowitz chair in U.S. Middle East policy and executive director, The Washington Institute
Michael Singh, former senior director for Middle East affairs, National Security Council; Lane-Swig senior fellow and managing director, The Washington Institute