Behind the 'Non-Flub' on Iran's Weaponization Program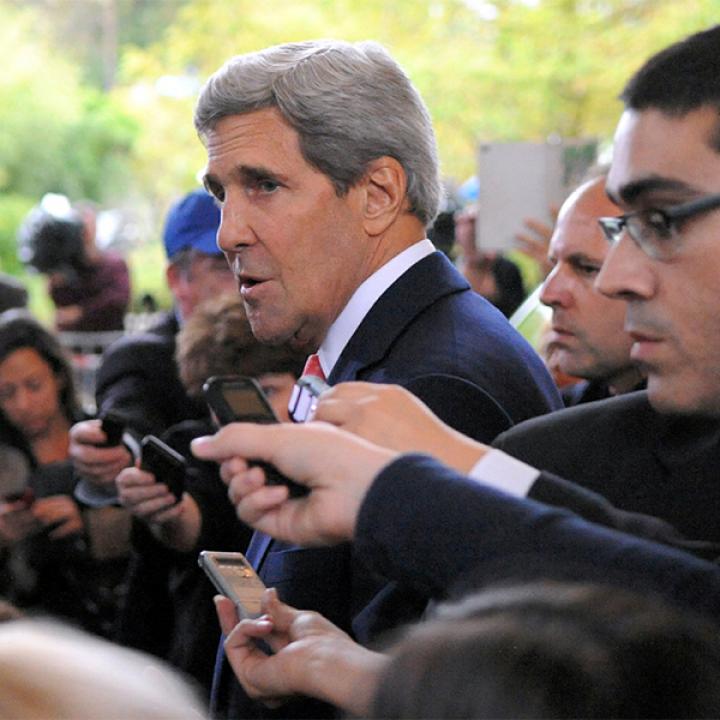 The Obama administration appears to be walking back from a full accounting of Tehran's nuclear weaponization efforts, leaving ample room for further clandestine research and weakening a central pillar of the global nonproliferation regime.
Over the past few days, Secretary of State John Kerry and his new spokesman John Kirby have engaged in a controversial back-and-forth with the media on whether the P5+1 will require Iran to disclose the "possible military dimensions" (PMD) of its nuclear program. The situation reveals the Obama administration's readiness to give Tehran a pass on a crucial component of nonproliferation, as well as the degree to which Iran is successfully avoiding any risk of condemnation despite decades of deception.
PMD involves alleged weaponization efforts -- research to place a nuclear device in a warhead and detonate it. Unlike the two other components of a nuclear weapons program (fissile material and long-range delivery systems such as missiles), weaponization is not "dual use." A documented weaponization program is a smoking gun that essentially proves a nuclear weapons effort -- missiles can carry conventional explosives, and an enrichment program can generate electricity, but efforts to engineer nuclear-capable warheads and their complicated detonators cannot be dismissed as anything other than preparing for another Hiroshima.
The United States has long had compelling evidence of such a program in Iran. Washington went public with these findings as early as 2007 and has also provided ample information to the International Atomic Energy (IAEA). In its latest report on Iran, issued May 29, the agency characterized this and other evidence it has received or developed as "credible." Resolving weaponization questions is one of the IAEA's core missions and a crucial component of any nonproliferation regime.
Yet on June 16, Secretary Kerry told reporters that "we're not fixated on Iran specifically accounting for what they did at one point in time or another...We have absolute knowledge with respect to the certain military activities they were engaged in." In doing so, he implied a U.S. walk-back from this important requirement, and Kirby's subsequent attempts to clean the record did not dispel this impression. The demand that Tehran come clean on PMD is not only a core IAEA obligation for Nuclear Nonproliferation Treaty states such as Iran, but also an element in the UN Security Council's Chapter VII resolutions on Iran (including Resolution 1929 in 2010) and the P5+1 negotiations (e.g., President Obama himself pledged on April 2 that "Iran's past efforts to weaponize its program will be addressed"). Yet the administration now appears ready to punt the issue.
An early sign of this shift emerged on April 2, when the White House's framework parameters for a nuclear deal indicated that "Iran will implement an agreed set of measures to address the IAEA's concerns" about PMD. The problem is that Iran has agreed to similar formulations in the past while providing almost no useful answers to the agency's numerous PMD questions. If the administration were serious about the issue, it would have made "satisfying" IAEA concerns a requirement in the agreement, as opposed to "addressing" them (whatever that passive, beloved-in-Washington word actually means in practice).
Kerry let the cat out of the bag with his Tuesday emphasis on ensuring IAEA "access," relying on America's knowledge of Iran's weaponization efforts, and "going forward" rather than focusing on past activities. But access alone is insufficient to close the PMD file, which requires a fuller measure of cooperation that Iranian officials have signaled they are not prepared to offer. In fact, even the administration's willingness to insist on basic "access" is questionable. While the White House's April parameters touted IAEA access to nuclear facilities at Natanz and Fordow, they did not mention the Parchin site, where Iran's militarization efforts were reportedly centered. The administration's spin on this core issue was manifest in the following exchange from Wednesday's State Department briefing:
KIRBY: "...what they've agreed to do is establish a set of parameters that would address the possible military dimensions to include access."
QUESTION: "...What I think I heard you say is that it's a condition of lifting some of the sanctions and having an agreement that the IAEA be granted access...but that it's not a requirement that the IAEA complete its process and resolve to its satisfaction an issue of finding on possible military dimensions, which can be a rather lengthy process, in order for these sanctions to be lifted...This is sort of two different things, because they could get the access and it could then take them some time --"
KIRBY: "Right."
QUESTION: "-- to resolve these issues to their satisfaction."
KIRBY: "...That is the level of detail I think they're still talking about there in Vienna, Michael. And that's why I don't have anything further."
Despite its constant moving of the Iran goalposts, those sympathetic to the administration might say, "So what, we know what they were up to, let's focus on an agreement that will ensure they won't be back in the labs tooling up new warheads." Unfortunately, the issue is not that simple. Weaponization research is easily concealed, so Washington cannot conclude that it knows everything about such efforts without a full accounting from Iran -- barring such disclosure, America's ability to catch future weaponization research will be limited. Furthermore, by essentially telling the international community that "the past is past," Washington and the P5+1 would undercut the arms-control regime that the IAEA is tasked with maintaining globally -- not to mention the fact that when it comes to weapons of mass destruction, asking the world to rely solely on U.S. intelligence has not had a happy history.
For their part, the Iranians gain a broader benefit from stonewalling. Consistent with the Supreme Leader's other admonitions (e.g., no shipping of enriched uranium out of the country; no destruction of equipment or sites, with the lone exception of the Arak heavy-water core), Iran's refusal to admit it was researching nuclear weaponization is setting the stage for a final agreement that documents its longstanding claims: namely, that it has done nothing wrong, that the entire Security Council resolution and sanctions regime was illegal, and that its only business is with the IAEA. Even a nuclear state as recalcitrant as North Korea was willing to blow up one of its plutonium reactors as a concession to the West, but Tehran seems bent on saying "We are not guilty of anything."
This stubborn insistence goes back to Henry Kissinger's adage about Iran deciding "whether it is a country or a cause." A country would have to own up to its violations of solemn international agreements, but a "cause" can champion a victim's role and put the onus on the other side by simply not admitting or doing anything to end its illegal activities. There is a term for this that folks all over the region understand, and which Iran greatly values: "winning."
How can this be fixed? Some of the international sanctions on Iran ban materials used in nuclear weaponization, with Washington proposing in any agreement to replace those sanctions with a less-binding UN procurement monitoring and control process. For now, the P5+1 could go forward with an agreement if other issues are resolved, but make clear that these weaponization-related sanctions will remain in place until the IAEA formally reports on its PMD findings and the degree of Iranian cooperation. Some would argue that Iran might respond by folding on the entire agreement, but it is time for Washington to call Tehran's bluff.
James Jeffrey is the Philip Solondz Distinguished Fellow at The Washington Institute.