Is Armenia the Next Turkish-Russian Flashpoint?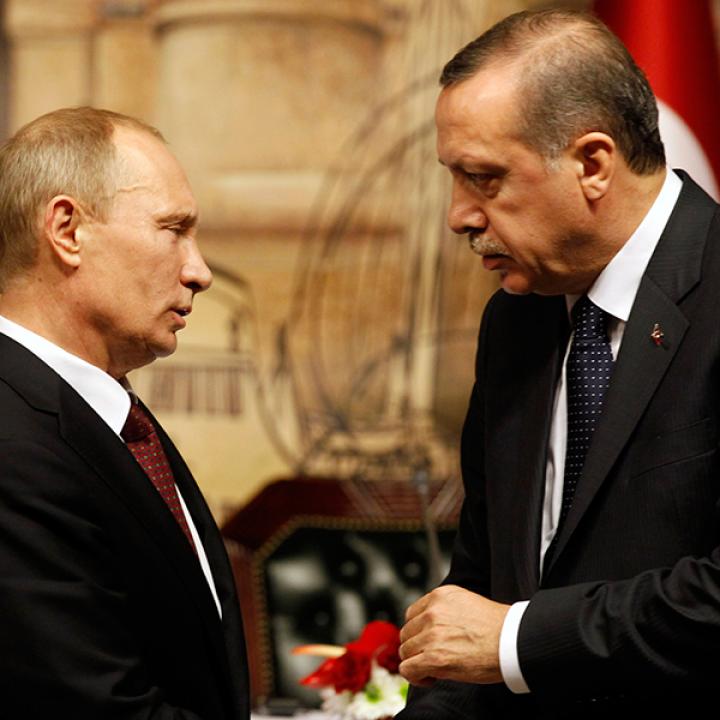 Although Turkey and Russia are unlikely to erupt into direct conflict, a regional hotspot like Armenia-Azerbaijan could drag Ankara into active engagement, giving the Kremlin ample room to exploit Turkey's sensitive position.
On April 2, border clashes broke out between Armenia and Azerbaijan, with some of the heaviest fighting since the two countries declared a ceasefire over the disputed Azerbaijani region of Nagorno-Karabakh in 1994. The clashes and related developments have increased the risk of their border becoming a dangerous flashpoint that draws in Turkey and Russia. In November, Turkey downed a Russian military jet near its southern border, sending bilateral relations on a downward spiral and leading many analysts to focus on Syria as the most likely flashpoint between the two historical rivals. Yet while Russian airstrikes against Turkey-backed rebels in Syria continue, the South Caucasus -- namely Azerbaijan, Armenia, and Georgia -- have traditionally been the main chessboard of their longstanding rivalry.
Azerbaijan and Armenia have technically been at war since well before the latest hostilities, and both Moscow and Ankara have actively sought to secure their interests in the conflict. Turkey has no diplomatic ties with the Armenians, but Russia has formed an ever-closer alliance with them, deploying military forces inside their territory and folding their airspace under its own since November. Given Moscow's adventurism in Crimea to the north and Syria to the south, Ankara sees the recent moves to the east as a particularly menacing threat and has expanded its military partnership with Turkic Azerbaijan in response.
SURROUNDING TURKEY FROM THE CAUCASUS
Moscow's current military outreach in Armenia is centered around the Russian bases at Gyumri and Erebuni, but its presence can be traced back to the Soviet Red Army's Transcaucasian Front of the early 1940s. In the 1990s, while the bulk of Russian forces withdrew from the region, Moscow kept its footprint in Armenia through the 102nd Military Base at Gyumri. After 2010, deployment of offensive and defensive strategic weapons in Armenia added new assets for Russia in the southern Caucasus. From a geopolitical perspective, this contingent is augmented by Russia's presence in Georgia (a key energy chokepoint) and its growing strategic ties with Iran, another regional stakeholder.
Militarily, the main threat that Russian forces in Armenia pose to Turkey emanates from the menacing antiaccess/area-denial (A2/AD) bubble they have formed, as well as recently deployed offensive capabilities. Open-source intelligence suggests that Russia operates a MiG-29 fighter jet squadron there, along with a few thousand personnel, heavy armor, and S-300V long-range air and missile defense systems layered with SA-6 medium-level air defenses. The A2/AD umbrella is capable of making significant trouble for the Turkish Air Force. Furthermore, Armenia signed a joint air defense agreement with the Russians in December 2015, so its S-300 missiles are expected to operate under joint command and control with Russian assets soon if they are not doing so already.
In terms of offensive capabilities, Russia's modernization of the MiG-29s to cover air-ground attack roles is key, as is the deployment of rotary-wing gunships and elite VDV airborne troops. Moscow has also been beefing up its rocket and missile arsenal at the Gyumri base since 2010, centered on Tornado-G multiple rocket launchers and SS-26 Iskander-M short-range ballistic missiles. The latter system is especially problematic because SS-26 launchers in Gyumri could theoretically target almost all Turkish military formations in eastern Anatolia; their presence also likely violates the long-embattled U.S.-Russian Intermediate-Range Nuclear Forces Treaty, which restricts ground-launched ballistic and cruise missiles with ranges between 500 and 5,500 kilometers. Ankara does not have a national missile defense architecture, so it would have to rely on NATO capabilities in case of an escalation on its Caucasus frontier.
TURKEY'S THIRD ARMY: A STRONG DETERRENT
Despite its main troop concentrations along the Syrian border, Turkey still has the formidable Third Army in place to guard its eastern doorstep. Relying on the harsh terrain of eastern Anatolia, this field army formed the first line of defense against a possible Soviet invasion during the Cold War, and some of its units have been assigned to counterterrorism roles since the 1990s. As a result, they enjoy high combat-readiness levels.
The Third Army also supports the formations that Azerbaijan has deployed in its exclave of Nakhichevan, bordering Turkey, Iran, and Armenia. These formations have been organized under the Special Combined Army since 2013, replacing the former Fifth Army Corps. Some assessments suggest that the superior combat readiness of Azerbaijan's forces in Nakhichevan compared to its formations elsewhere are the result Turkey's assistance.
THE NAGORNO-KARABAKH NEXUS
Despite their massive military presence on various frontiers, Turkey and Russia are unlikely to erupt into direct conflict. Nevertheless, a regional flashpoint such as the Armenia-Azerbaijan situation could drag Ankara into active engagement, giving the Kremlin ample room to exploit Turkey's sensitive position.
Recently, the protracted conflict over Nagorno-Karabakh has shown signs of becoming a hot war. Exchanges of fire between border positions have steadily mounted since November 2014, when Azerbaijani forces downed an Armenian Mi-24 helicopter on the frontier. Meanwhile, Russia has been playing both sides of the field, using multi-billion-dollar arms sales to Azerbaijan as a lever to make Armenia even more reliant on its military patronage. Moscow may even be exploiting the de facto Armenian leadership of Nagorno-Karabakh to ignite a military escalation with Azerbaijan and thereby Turkey. In November 2015, for example, leader Bako Sahakyan offered to let Russia use the Khankendi/Stepanakert airport in occupied Azerbaijani territory for "antiterrorism operations." Such a move would stir up Baku and Ankara, as would replacing Armenian troops in the occupied regions with Russian "peacekeepers" -- a scenario the Kremlin has been throwing out for some time.
Armenia is a NATO partner nation and has contributed to several of the alliance's missions, including in Kosovo and Afghanistan. Yet the Nagorno-Karabakh conflict has impeded the country's pro-Western pivot by making it an avid consumer of Russian security -- a trend that will increase so long as the conflict festers. Armenia's recent accession to the Eurasian Economic Union made it subject to a single market managed by Russia, while its membership in the Collective Security Treaty Organization, an alliance of six post-Soviet countries, has increased its military dependence on Moscow.
For its part, Ankara has been tightening its traditional strategic partnerships in the Caucasus since 2008, when Russia upped its regional profile via war with Georgia. In 2014, the Turkish, Azerbaijani, and Georgian defense ministers began holding trilateral meetings. And last year, the Turkish and Azerbaijani air forces conducted their first joint drill, the TurAz Qartali exercise. They have not hesitated to bolster their already strong defense cooperation since the Russian shootdown incident on the Syria border, recently conducting a follow-on drill called TurAz Shahini.
TURKISH-AZERI TIES
Given their ethnic ties, the relationship between Turkey and Azerbaijan goes well beyond realpolitik parameters. Even the Turkish Foreign Ministry, traditionally a conservative reader of foreign policy, officially depicts bilateral relations as "one nation, two states." And only days before the 2014 helicopter shootdown incident, the commander of the Turkish elite "maroon berets" personally inspected Azerbaijani outposts along the Armenian border, posing for the press with a sniper rifle. In a tense border area where sniper fire had become the primary military tool, the image sent a strong signal in support of Baku.
Technically, two legal frameworks shape bilateral defense cooperation. The first, established in the early 1990s, enables military training of Azerbaijani personnel in Turkish military institutions. The second is the 2010 Strategic Partnership agreement, which openly states that the countries will help each other if either one invokes its right of self-defense under Article 51 of the UN Charter. Although the nature of this "help" is subject to bilateral consultations, the agreement clearly underscores the potential use of military means in urgent circumstances.
CONCLUSION
Against the backdrop of recent Russian-Turkish tensions, Moscow has ample avenues through which to further provoke Ankara, including volatility emanating from the Nagorno-Karabakh conflict, Turkey's close ties with Azerbaijan, and Russian deployments in Armenia. For some time, analysts have expressed concern about the presence of advanced Russian air defenses in Syria without noting the similarly potent A2/AD deterrent and offensive capabilities on Turkey's eastern doorstep. Turkey's military formations would be more than adequate to protect its own territory, but uncontrollable escalation between Armenia and Azerbaijan could spark a regional conflict in which Turkey and Russia become directly involved.
Can Kasapoglu is a defense analyst at the Istanbul-based think tank EDAM and a former visiting scholar at the NATO Defense College. He holds a PhD from the Turkish War College's Strategic Research Institute.