Annan's Syria Action Group a Hopeful Sign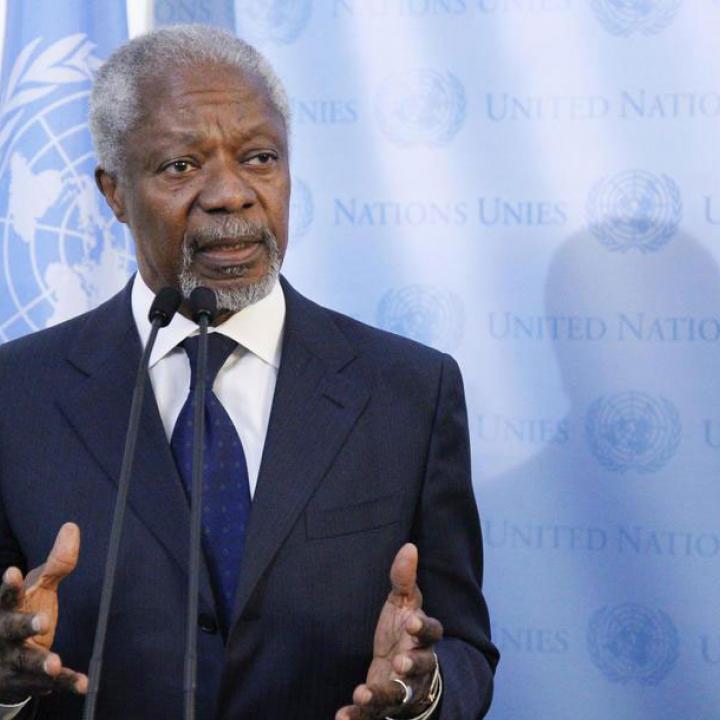 UN special envoy Kofi Annan recently issued invitations for a June 30 meeting in Geneva to deal with the Syria crisis. The participants -- whom Annan dubbed an "action group" -- include the five permanent members of the Security Council, Turkey, and Arab League members Iraq, Kuwait, and Qatar.
Annan's invitation came after a week of talks in Geneva between his staff, Russia, and the United States regarding the formation of a more permanent "Contact Group" on Syria. Moscow and Washington continue to disagree on the nature and makeup of that group. Washington insists, quite rightly, that any Contact Group should be focused on the process of handing power from the Assad regime to another administration, and that only countries with an interest in this outcome should be at the table. This stipulation disqualifies Iran, Bashar al-Assad's stalwart ally and direct supporter in crushing the Syrian uprising. Yet Russia is less clear on the Contact Group's purpose and has argued for Iran's inclusion.
Given the rising death toll in Syria and the diplomatic effort Washington has invested over the past few months to gain Russian approval for UN action, participating in yet another round of "dialogue for dialogue's sake" holds little value unless it makes clear what a "Syrian-led transition" entails: namely, that Assad goes, and that he goes sooner, not later. Therefore, the Contact Group's composition will be key to determining whether it plays any role in Assad's departure.
So far, Washington has successfully lobbied Annan not to invite Iran. The Islamic Republic's three-decade alliance with Damascus gives it at least some influence over Assad, and many speculate that Tehran and its Hizballah allies see the regime's sixteen-month attempt to shoot its way out of the crisis as ultimately futile. Yet no matter how much outside observers may believe that Iran could best advance its interests by supporting a "soft landing" in Syria, Tehran's actual behavior indicates that it supports Assad's "hard landing" approach -- that is, shooting the population into submission. The Qods Force, part of Iran's Islamic Revolutionary Guard Corps, is the only non-Syrian entity listed under U.S. sanctions on Syria for good reason -- it has aided and abetted the Assad regime in tracking and killing Syrian civilians. According to an April Wall Street Journal report, Qods Force commander Qasem Soleimani traveled to Damascus and pledged more military and political support for the regime.
Iran would love to be part of a Contact Group on Syria, where it could use its influence to prolong Assad's lease on life and ensure that any successor government does not represent the country's majority Sunni population, which has openly chided Iran for supporting him. Accordingly, if the United States truly wants to facilitate his ouster, it should hold firm in opposing Iran's inclusion in any discussions on bringing about a post-Assad Syria.
Andrew J. Tabler is a senior fellow in The Washington Institute's Program on Arab Politics.