Will Hezbollah and Iran Expand War to Israel's North?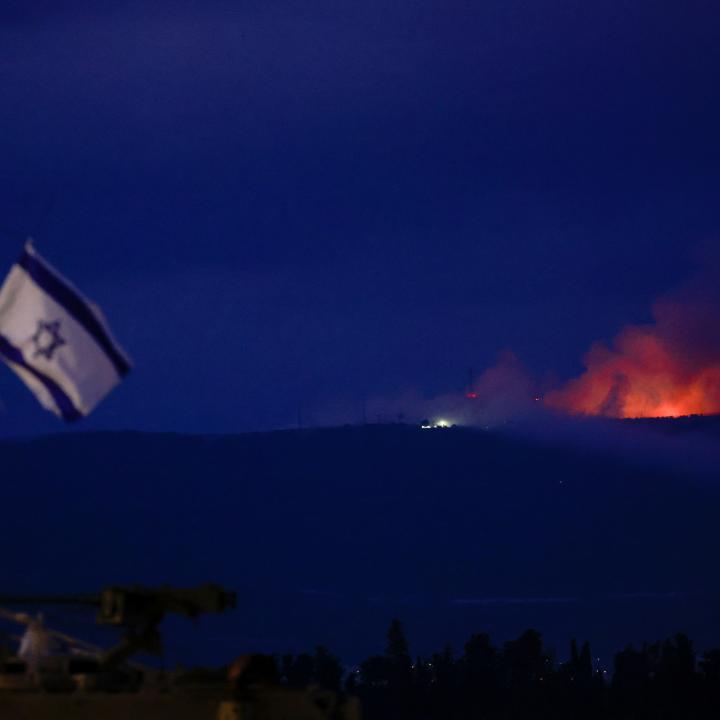 A former senior IDF official joins Lebanese and U.S. experts to discuss whether additional fronts are poised to open in the north, and what Washington is doing to avert this risk.
On October 12, The Washington Institute held a virtual Policy Forum with Yair Golan, Hanin Ghaddar, David Schenker, and Farzin Nadimi. Maj. Gen. Golan (Res.) is former deputy chief of staff of the Israel Defense Forces and commander of the northern front. Ghaddar is the Institute's Friedmann Senior Fellow and coauthor of its 2018 study "Iran's Precision Missile Project Moves to Lebanon." Schenker is the Institute's Taube Senior Fellow and director of its Rubin Program on Arab Politics. Nadimi is a senior fellow at the Institute and author of its recent study "The Next Generation of Iranian Ballistic Missiles." The following is a rapporteur's summary of their remarks.
Yair Golan
Unfortunately, there is no way to predict the future actions of Iran and its proxies. Tehran is carefully and continuously assessing the situation on the ground, and a critical part of these calculations is the potential endangerment of Hezbollah and its state-capture project in Lebanon. Hezbollah serves as a powerful Iranian proxy and deterrent in the region. The value of this proxy, the strength of the Israel Defense Forces (IDF), and the potential for U.S. involvement will all influence Tehran's decision on whether or not to open a front in Lebanon.
After the massive surprise attack by Hamas, Israel has mobilized the IDF to secure its northern border. Reserve units have been called up, and troop deployments to the north are in their final stages. Israel is prepared for any developments on its borders, so the Iranians would be wise to stay on the sidelines of this war. Yet only time will tell if they will keep out of the fray.
Three scenarios might prompt a direct military response from Hezbollah. One, if Israel launches a large operation inside Gaza and Hezbollah concludes that the north is more vulnerable to attack. Two, if Israel launches a preemptive strike against Hezbollah in anticipation of a major attack from the north. Three, if Iran involves itself by launching missiles from its own territory or from Iraq, Syria, or Yemen. These scenarios would in turn shape U.S. involvement.
Decisionmakers must therefore factor in all the possibilities and trajectories. And if Israel decides to consider a preemptive strike, it must coordinate with the United States. Although tension between Washington and Jerusalem was relatively high before the war, their foreign policy will presumably be more in line going forward, especially regarding Iran.
Hanin Ghaddar
Hezbollah is walking a fine line. Although Israel's continued engagement in the north may not lead to full-scale war, the group is concerned by this possibility. The families of Hezbollah officials have already been evacuated from border communities along with local residents. Yet cities further from the border have not been evacuated, indicating that the group is gearing up for continued provocations rather than full-scale war. Of course, this apparent strategy could change at any moment. 
Hezbollah's decisionmaking is inextricably linked to Iran's. The group's secretary-general, Hassan Nasrallah, has been surprisingly silent so far, in contrast to his loquacious commentary during the 2006 Lebanon war, suggesting that Tehran does not yet have a final strategy. Instead, the Iranians may be content to sit on the sideline for now while calculating the risk vs. reward of direct Hezbollah involvement. The militia has gained leverage over the years by stockpiling and producing more advanced weapons with Iran's assistance, and they do not want to lose this advantage. Moreover, Tehran has already accomplished its main objectives in the war: regaining some regional leverage, freezing Israel-Saudi normalization, and isolating Israel from its neighbors.
It is important to remember that Hezbollah is not Lebanon. The group attracted supporters in the past with its "resistance" narrative, but after the 2019 Beirut port explosion, most of the public came to realize that Hezbollah's primary domestic goal is to protect the status quo. The Gaza war is a perfect opportunity for the group to rebrand and reignite the resistance narrative. Whether or not the people support this narrative, however, Hezbollah likely does not want to go to war. The group's leaders seem to realize that now is not the time to drag the country or the ill-prepared Lebanese Armed Forces into a major conflict—one whose aftermath would destroy what little stability and infrastructure Lebanon has left.
David Schenker
In the days since the Hamas attack in southern Israel, Hezbollah has launched various provocations along the northern border, and the IDF has responded with similarly limited action. Yet the frontier is volatile, and miscalculation of the sort that sparked the 2006 war is a real danger. History suggests escalation is possible if not probable. How is Washington addressing this risk?
On October 10, President Biden delivered an extraordinary speech mapping out the U.S. response to Hamas's unprecedented attack and warning other state and nonstate actors against getting involved. Additionally, he dispatched the USS Gerald R. Ford Carrier Strike Group to the East Mediterranean—a deployment intended not only as a deterrent to Iran and its proxies, but also as a response to a terrorist operation and hostage situation that involves American citizens. It is unclear how much of a deterrent this will be, however. On October 11, Hezbollah's al-Manar satellite television channel claimed that the carrier deployment shows Israel's weakness.
Whether or not the United States joins the fight, the carrier group can augment Israel's response capabilities if the conflict widens, for instance by providing an enhanced air picture that enables better defense against long-range missiles. Washington has also provided Israel with more ammunition, is in the process of replenishing its Iron Dome receptors, and has sent a second carrier strike group, the USS Eisenhower, to the region.
Iranian proxies such as Lebanese Hezbollah, Iraq's Kataib Hezbollah, and Yemen's Houthis have warned the United States against military involvement, and while these threats are nothing new, they raise the potential for horizontal escalation. Such a development would stretch U.S. resources between Ukraine, Israel, and readiness in other regions. Russia and China are eager to see the United States distracted and deeply involved in this conflict, so Washington must be proactive in dealing with Iran and its proxies. 
Farzin Nadimi

 
Through foreign proxies and steady development of its own long-range conventional forces, Tehran has established a threatening footprint in the region. Both tools have served as deterrents to military action against Iran, allowing the regime to take a defensive posture while using its proxies for depth operations.
In Lebanon, Hezbollah has not only procured a large stockpile of Iranian weapons, but also developed its own underground arms industry with Tehran's help. Armed with long-range missiles and suicide drones, the group could pose a real threat to U.S. intervention in the East Mediterranean, much like it did during the 2006 war, when Iranian-supplied missiles damaged an Israeli missile corvette. According to current assessments, Hezbollah has nearly doubled the range of its antiship missiles since 2006, a fact that U.S. planners should keep in mind as they establish a cautious perimeter. They should also keep an eye on the naval exercises Iran has been conducting in the Persian Gulf to bolster its defensive position. 
Tehran is happy to maintain a defensive posture while allowing Hezbollah to continue its border provocations. This posture will likely continue even if Israel launches a ground invasion into Gaza. Yet there is a strong possibility that Iran will eventually use drones to target Israeli ships on covert missions. The likelihood of a direct threat to U.S. military assets is lower, unless Hezbollah acquires and opts to use Iranian air defense assets.
Alternatively, Tehran might open a second front in the Golan Heights, which it considers a safer option than the Lebanon border. The Golan is a favorite area of operations for the Islamic Revolutionary Guard Corps (IRGC), who have been recruiting local groups into militia outlets to support Hezbollah activities in Syria while deploying drones and rocket capabilities around the area. The IRGC's Qods Force has the infrastructure and experience to lead a multi-domain attack on Israel much like Hamas did, so the Golan frontier bears close watching.
This summary was prepared by Ana Estrada. The Policy Forum series is made possible through the generosity of the Florence and Robert Kaufman Family.