Why Egypt Won't Open the Border to Its Palestinian Neighbors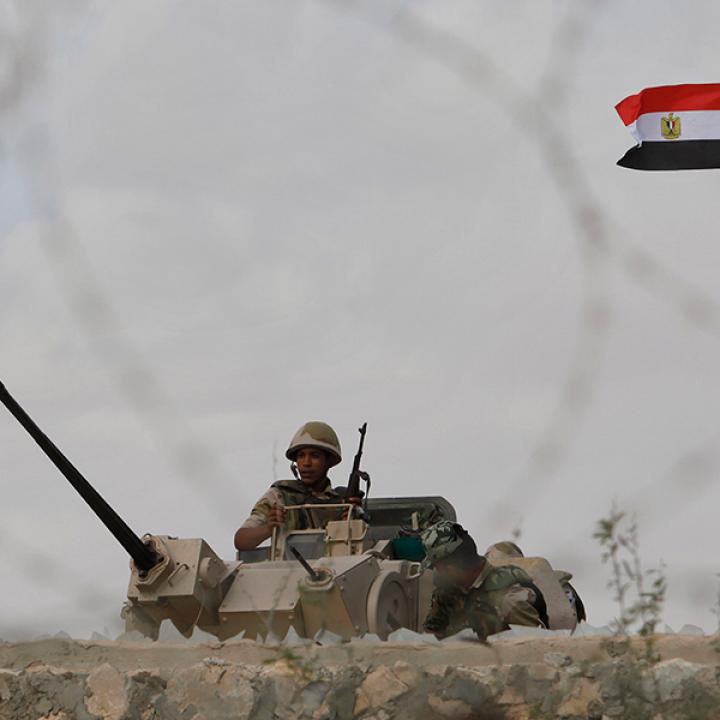 Cairo has understandable concerns about unsustainable refugee flows, Sinai terrorist threats, and longer-term Palestinian political aspirations, all of which need to be taken into account when pushing for humanitarian corridors into Gaza.
Egypt has re-emerged as a pivotal actor in the Middle East thanks to the Israel-Gaza War. Its revived influence was epitomized by the summit Cairo convened on Saturday for a number of Arab and European leaders. Although it didn't produce a unified statement from the parties, underscoring the challenges of finding common ground, it was the crucial player in drawing top leaders together after several Arab countries refused to meet with President Joe Biden earlier in the week.
Egypt's importance is not just as a leader among Western-allied Arab countries, however. The country is a critical partner for the Biden administration on all issues related to Gaza because its control of the Rafah crossing—currently the only point of entry into the embattled Gaza Strip since Israel closed all crossings on its borders after Hamas' October 7 terror attack—allows Egypt to dictate and leverage the terms by which humanitarian assistance can enter the Palestinian territory.
It's understandable if Washington, which provides Egypt with over $1 billion per year in military assistance, is frustrated that Cairo isn't allowing American citizens and other nationals to exit Gaza via the crossing, as Egypt has seemingly made their departure contingent on the entry of aid. It's also understandable if humanitarian groups are frustrated that Egypt won't open its border for a humanitarian corridor to let out hundreds of thousands of internally displaced Gazans who are trying to take refuge in the south of the Gaza Strip, which Rafah sits on, as the most intense fighting rages in the north.
But Egypt's positions reflect serious, and legitimate, concerns. First and foremost is the fear of a massive refugee flow if the crossing were opened. A decade after the Syrian civil war started, Egypt claims to host 9 million refugees from different countries, with no horizon of repatriation for most in sight. For Egypt, a deluge of Palestinian refugees would not only pose humanitarian and economic challenges—Egypt is currently experiencing a devastating economic crisis—but also security and political ones.
Egyptian President Abdel Fattah el-Sisi, in uncharacteristically explicit remarks, on Wednesday warned that transferring Palestinians into Sinai will turn the peninsula into a launching pad for attacks against Israel, eliciting Israeli reprisals, triggering war between the two countries and upending the longest peace between Israel and any Arab country. Additionally, the movement of Palestinian refugees out of Gaza would evoke memories of the mass displacement that accompanied the creation of Israel in 1948. Egypt fears that such an eventuality would bring an end to any future prospect of Palestinian-Israeli peace based on a two-state solution, instead bringing a diplomatic void and inflaming Arab public opinion.
This concern is so widely and deeply held in the region that, even as Palestinian civilian casualties mounted after October 7, other Arab countries supported Egypt in its vehement opposition to opening the Sinai for refugees. Indeed, after concluding a tour to several Arab capitals, Secretary of State Antony Blinken told Al-Arabiya TV that he heard "from virtually every...leader that I've talked to in the region that that idea is a nonstarter, and so we do not support it."
Additionally, Egypt has privately held that the Palestinian-Israeli conflict is ultimately Israel's problem, and that the latter should bear any political or territorial costs of its resolution. During the Trump administration, an American proposal to build infrastructure in Sinai to serve Gaza was roundly rejected by Cairo, which saw it as a potential slippery slope that could draw it into the Israeli-Palestinian conflict.
Egypt is also concerned that opening the crossing could allow in Hamas and its sympathizers. Hamas is an offshoot of the Muslim Brotherhood, Sisi's most serious domestic political rival. And Egypt has faced Islamist terror in the Sinai Peninsula since the 2011 revolution that toppled the Mubarak regime.
For all these reasons, shortly after Hamas took over Gaza in 2007, Egypt sealed the border. By 2018, according to Human Rights Watch, Egypt had razed the entire Sinai city of Rafah on the Egyptian side of the borders, destroying thousands of homes and displacing 70,000 persons, to create a nearly mile-wide buffer zone to prevent the movement of weapons and terrorists in tunnels between Egypt and Gaza. To emphasize the point, Egypt even flooded those tunnels. Two years later, in 2020, Egypt built a 20-foot reinforced concrete wall that reaches 16 feet below ground.
This wall has helped ensure the war in Gaza doesn't spill over into Egypt. Like other Middle Eastern states, however, what is happening in Gaza is having an impact within Egypt, where there is a significant reservoir of support for the Palestinians. For the first time since the Mubarak days, the Egyptian government has organized anti-Israel protests to try to come out ahead of public opinion on supporting the Palestinians and better control the demonstrations.
The very staunch US support for Israel, which reflects longstanding American policy, sharpened further by the brutal nature of Hamas terror and Biden's own convictions about it, has inevitably created additional tensions in the Arab world. The view that the US is complicit in the human suffering in Gaza is widely held in the Arab world, partly out of compassion and partly out of political opportunism. This, naturally, complicates Egypt's engagement with the US and helps explain why the meeting with Biden last week was canceled, after (later disproven) reports of Israel targeting a hospital in Gaza circulated.
However, the delicate way the US approached the cancellation, framing it as a response to the period of mourning announced by the three Arab countries and expressing sympathy for the victims, helped ease pressure on Sisi, who would have been criticized by his public for appearing with the US president at such highly charged times, and was no doubt appreciated in Cairo. Subsequent US policy, focusing on delivery of aid into Gaza, also signaled support for Egypt's position, buying some goodwill from Cairo.
Still, if Washington is committed to the objectives of both supporting Israel in its campaign to degrade, if not eradicate, Hamas and at the same time providing critical humanitarian support to Palestinian civilians, the US will need to coordinate with its Arab allies. For reasons of geography, history and diplomatic heft, Egypt is the linchpin.
Ghaith al-Omari is the Rosalinde and Arthur Gilbert Foundation Senior Fellow at The Washington Institute. David Schenker is the Institute's Taube Senior Fellow and director of its Rubin Program on Arab Politics. This article was originally published on the CNN website.