What's at Stake for Lebanon's New Government?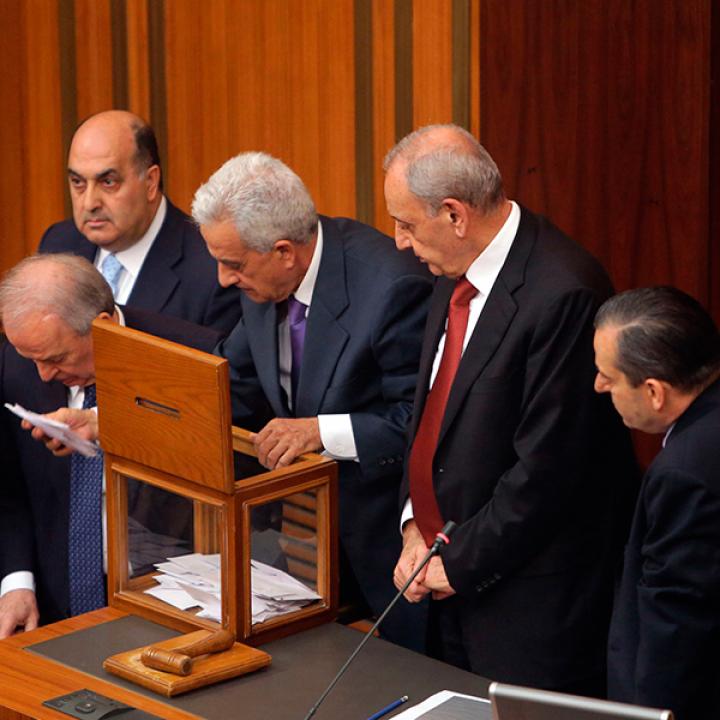 The heavy presence of pro-Iranian and pro-Syrian ministers is troubling, but Hariri and his allies can still preserve Lebanon's sovereignty by pushing for a balanced electoral law and a timely parliamentary ballot.
On December 18, two months after Hezbollah ally Michel Aoun was elected president of Lebanon, Prime Minister Saad Hariri announced the formation of a new government that heavily favors factions affiliated with Damascus and Tehran. Eight of the thirty cabinet appointments are "ministers of state," meaning they have no real role except to appease certain political parties. Pro-Hezbollah factions garnered eighteen seats, including three of the four so-called "sovereign ministries."
The new government is not supposed to last more than six months -- it is expected to oversee the next parliamentary elections, which have been postponed since legislators failed to choose a new president in 2014 and extended their own terms until 2017. Theoretically, Hariri's government should be focused on crafting an electoral law and making sure the elections take place on time, but in reality things are not going to be that simple for him.
His first hurdle is to come up with a ministerial statement that reflects the cabinet's economic and political outlook. Although this statement is not binding, the constitution mandates that the cabinet has thirty days to present the document to parliament in order to get its confidence; otherwise, it will not be able to govern. Hezbollah and its allies will definitely refuse any platform that does not acknowledge the role of the "Resistance" in "protecting Lebanon against external dangers." The group will also reject any electoral law that does not guarantee its control and the success of its allies in the next parliament. According to a December 18 report in the Daily Star, Hezbollah officials have already begun lobbying for a proportional electoral law that would secure this objective.
Indeed, that legislation will be Hariri's main battle, and the reappointment of Nohad al-Machnouk to head the Interior Ministry -- which oversees elections -- is a significant step. Machnouk is a member of Hariri's Future Movement, so having him supervise the elections would probably ensure a certain level of transparency and accountability. Yet passing a law that aligns with the goals of the prime minister's "March 14" coalition will not be easy. Hariri made many compromises while forming the new government in order to end Lebanon's long political gridlock, so his supporters and allies may not forgive him if he gives further ground on this legislation or postpones the parliamentary elections. In their view, any such moves would be seen as essentially handing Lebanon over to Iran.
But the fact remains that Hezbollah and its allies constitute nearly two-thirds of the cabinet -- although it is a Hariri government, it runs the risk of being dominated by an Iranian-backed party that is heavily involved in the war next door. This would not only bring Lebanon back into Syria's sphere of influence, but also drag the vulnerable country further into a sectarian regional conflict. That is why an electoral law that secures a more balanced parliament in 2017 is vital to protecting Lebanon from the war's repercussions.
The Justice Ministry will pose another formidable challenge to Hariri. Formerly headed by retired police chief and March 14 coalition hawk Ashraf Rifi, it will now be led by Salim Jreissati, a lawyer who has helped defend Hezbollah members on trial in absentia at The Hague for assassinating former prime minister Rafiq Hariri, Saad's father. This is certainly not reassuring in terms of achieving justice, the core value on which the March 14 coalition was built. Jreissati is highly unlikely to continue his predecessor's work on concluding the Hague tribunal or prosecuting Syrian regime atrocities in Lebanon. For example, he will probably ignore the September military court indictment against two Syrian intelligence officers in connection with the 2013 Tripoli mosque bombings -- the deadliest attack in the city since Lebanon's civil war ended in 1990.
The heavy presence of pro-Iranian and pro-Assad politicians in the new government is not promising, and reveals Tehran's intentions to keep Lebanon under its thumb. Yet Hariri and his allies can still help matters by pushing for an electoral law that produces a more balanced parliament, and sooner rather than later. That is the only way to avoid a future clouded by Iranian and Syrian hegemony.  
Hanin Ghaddar, a veteran Lebanese journalist and researcher, is the Friedmann Visiting Fellow at The Washington Institute.