What Is Hamas' Hostage Endgame?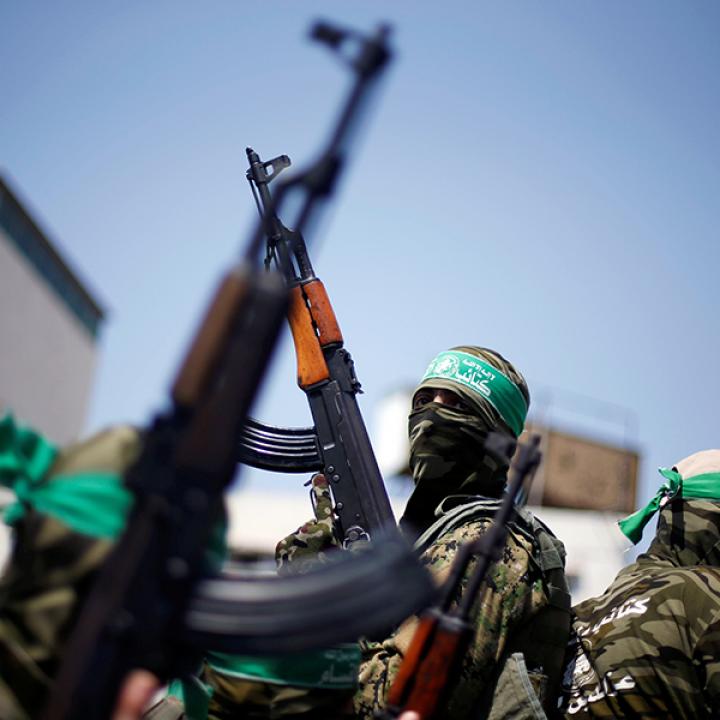 The group seems intent on using its many remaining captives to increase international pressure on Israel and compel mass prisoner exchanges, though it may hesitate to take steps that would further harm its public image.
One month after the Oct. 7 attacks launched by Hamas that killed more than 1,400 individuals in Israel, approximately 240 hostages have been identified. These men, women and children are still being held in the Gaza Strip by Hamas and other groups, including the U.S.-designated Palestinian Islamic Jihad. The majority of captives are civilians, and include nationals from approximately 40 countries, including an estimated 10 Americans. Hamas' decision to take civilian hostages appears to be multifaceted, including using them as bargaining tools, to delay an Israeli ground invasion, and to psychologically impact domestic and international audiences.
Despite Hamas' attempts to portray itself as a legitimate political actor since taking control of the Gaza Strip in 2007, the group has never stopped engaging in violence in pursuit of its goals: the creation of a Palestinian state ruled by Islamic law with Hamas at the helm, and the destruction of the state of Israel. Prior to Oct. 7, however, Hamas attacks generally targeted adults (whom the group sees as legitimate targets due to Israeli military draft laws) or indiscriminately targeted civilians through rocket attacks or suicide bombings.
Moreover, while the group has taken hostages before, they had typically targeted adult men. These include Hisham al-Sayid, a civilian who crossed into Gaza and was last seen alive in June 2022 in dire health, and Gilad Shalit, a soldier who was captured in 2006 and released in a prisoner exchange between Hamas and Israel in 2011 for approximately 1,000 prisoners in Israeli jails. Thus, researchers and policymakers—myself included—argue that the scale and scope of the Oct. 7 attacks, specifically the mass targeting of children and the elderly, constitutes a major pivot in Hamas strategy.
Hamas leader Khaled Mishal has rejected the accusation that his group attacked civilians, and Hamas Deputy Secretary-General Salah al-Arouri also insisted the group did not target civilians: "The truth is that our mujahideen do not target civilians. It is inconceivable that they would perpetrate the kind of crimes mentioned by the occupation, like rape, killing children, or killing civilians."
However, there is clear and overwhelming evidence that the Hamas-led attacks explicitly did just that, as documented in raw footage recovered from Hamas body cameras, a recovered "abduction manual" which detailed how to take civilian hostages, and other documents that included maps of civilian targets—like schools and community centers—and contained instructions to "kill as many people as possible" and "capture hostages."
Hamas' brutal strategy has also been corroborated by testimonies from recently released hostage Yocheved Lifshitz. In addition to speaking about being beaten, Lifshitz noted that captors had enough rations and even supplies like shampoo for their hostages; this could indicate Hamas' preparation for an extended standoff, rather than their interest in treating the hostages well. And notably, we do not know how Hamas is treating military-aged individuals and soldiers.
To date, four hostages have been released by Hamas, all women, including two American citizens released on Oct. 20, and two elderly Israeli women released on Oct. 23 for "compelling humanitarian reasons." Israel also rescued a female member of the Israeli Defense Forces on Oct. 30. In addition, both proof-of-life videos released by Hamas so far have included female hostages. While there have been discussions regarding the release of 50 additional hostages, talks appear stalled after Hamas asked for more fuel to be delivered to the Gaza Strip, something the Israeli government considers non-negotiable.
Over 200 hostages remain—and so do plenty of questions about Hamas' endgame. As noted, the scale of the hostage crisis has psychological implications—both domestically and internationally. Moreover, Hamas is not the only group holding captives, and hostages are being held separately across a "spider web" of tunnels underneath Gaza. 
Hamas' strategy appears to be focusing on releasing foreign citizens, dual nationals and humanitarian cases, in an apparent bid to win public support. This is a group that is very conscious of its public image. Many fear that while more hostages will be released, the group will continue to hold individuals who only carry Israeli passports.
The longer Hamas is able to continue hostage negotiations, the longer Israel will be under both domestic and international pressure to delay or at least limit its ground operation in Gaza. Prolonging fighting in Gaza has its own costs, however. Hamas is bleeding commanders, equipment and personnel, and has lost several top leaders to Israel's air campaign. Hamas could also escalate its tactics as a full ground incursion progresses, including making good on its promise to publish footage of hostage executions, though this could work against Hamas' bid for public support. Hamas has also made clear that it hopes to use its hostages in prisoner exchanges with supporters in Israeli detention, a tactic that has worked for the group in the past.
How will the hostages be returned safely? And what could Hamas get in return? One thing is clear: Hamas' decision to launch the Oct. 7 attacks and take civilian hostages has shattered any illusions surrounding the group's legitimacy.
Devorah Margolin is the Blumenstein-Rosenbloom Fellow at The Washington Institute. This article was originally published on the MSNBC website.