'We Are Not at the Table, but on It': Arabs React to the Iran Deal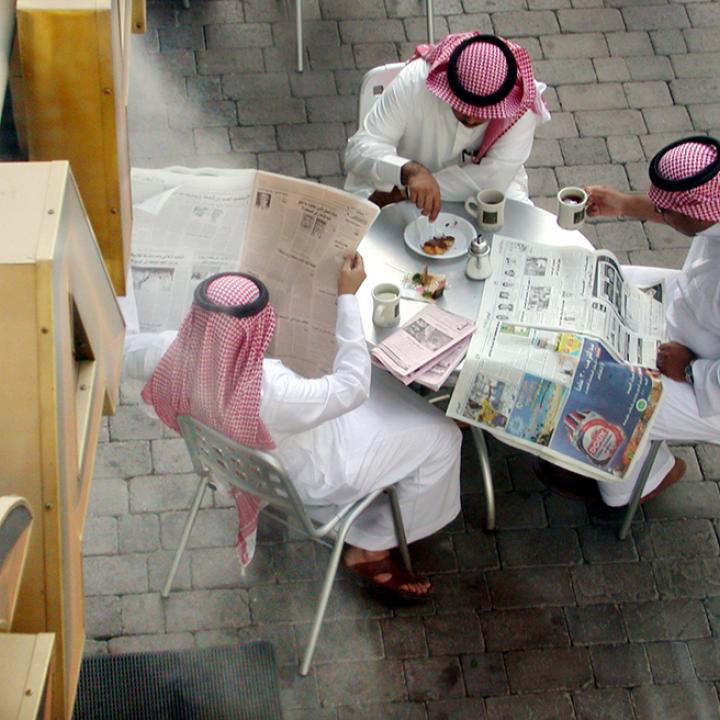 Arab responses to the nuclear agreement with Iran suggest that the United States must work harder to allay the fears of allies and friends -- and be especially mindful of the deal's nonnuclear implications.
Official Arab reactions to the Iran nuclear deal have so far been relatively cautious and low-key, in a generally positive yet in some cases explicitly tentative vein. Of particular interest, right across the Gulf, the Gulf Cooperation Council (GCC) monarchies issued brief, vague, and qualified statements welcoming the accord, labeling it a "step" toward or a "hope" for further denuclearization and regional stability. The Saudi statement added the pointed proviso "as long as there are good intentions." These reactions signal a skeptical, wait-and-see attitude, reserving judgment both about implementation of the deal and about its wider policy implications -- with Saudi Arabia standing out as having the most reserved official position.
Other Arab governments more friendly to or dependent upon Tehran were noticeably more effusive. Syria's Foreign Ministry called the Iran deal "an historic accord which guarantees the interests of the brotherly Iranian people and acknowledges their right to the peaceful use of nuclear energy." Iraqi prime minister Nouri al-Maliki termed the agreement "a major step in the security and stability of the region."
POLARIZED MEDIA AND EXPERT VIEWS: PRO- AND ANTI-IRAN
More diverse and more revealing than the terse official statements, however, are the initial media comments across the Arab region. The day after the Iran nuclear deal went public, Arab TV talk shows and websites were awash with news, speculation, and commentary about the agreement. Reactions varied with political orientation. On Hezbollah's al-Manar or Hamas's al-Aqsa channel, for example, the predictable emphasis was on gloating over Israel's "defeat" or "isolation" as a result of Iran's new international accord.
In the Gulf, however, a typical view was that of a leading Kuwaiti analyst, Sami al-Faraj, on Sky News Arabia: "When it comes to negotiations with Iran," he said sardonically, "we are not at the table, but on it." Kuwait and its GCC neighbors have more at stake in Iran's behavior than anyone else, Faraj explained, but they were neither invited to nor even seriously consulted about these talks -- as a result of which, in their view, some of their vital assets or interests could be carved up and devoured.
AN ARAB COMMON DENOMINATOR: FOCUS ON NONNUCLEAR IMPLICATIONS
Behind the striking contrast in Arab views lies an even more striking similarity -- at least on one aspect of the new agreement often overlooked elsewhere. Much of the Arab commentary focuses not on the nuclear issue per se, but instead on Iran's other activities: support for Shiite groups and militias like Hezbollah in Lebanon, the Houthis in Yemen, or the opposition in Bahrain; interventions in Iraq, Syria, and elsewhere; and the general quest for military power, economic leverage, and regional influence or even hegemony. None of these Iranian activities, as diverse Arab analysts point out, are directly covered in the new nuclear agreement. So Iran's Arab allies trumpet, and its Arab adversaries lament, the ways in which the agreement could indirectly affect Tehran's nonnuclear ambitions.
Thus, for example, Faraj worried aloud about the sanctions relief that would enable Iran to purchase or develop more advanced conventional weapons, and to intensify the provision of funding and equipment for Hezbollah, the Assad regime, and other GCC foes. Further, he argued, just by sitting at the table as an equal with, and obtaining new recognition from, the P5+1 group of Great Powers, Iran must now feel enhanced freedom to pursue its overarching goal of dominance in the entire Gulf region and beyond. Such sentiments were closely echoed in the past few days by unofficial yet significant Saudi commentators: billionaire businessman and prince Alwaleed bin Talal, author and policy advisor Nawaf Obaid, Shura Council chairman Abdullah al-Askar, and leading media directors and pundits Tariq al-Homayed and Jamal Khashoggi.
CRITICAL GCC COMMENTARY OFFERS NO CLEAR ALTERNATIVE
Less clear were statements from these quarters about how the GCC would confront the challenge posed by a newly emboldened Iran. Bin Talal noted the "incredible" convergence of interests with Israel against Iran, and Faraj referred obliquely to the "unprecedented consensus of various countries in the region" regarding this common threat, but neither they nor others specified how this consensus could be translated into effective action. A few GCC commentators speculated publicly about other measures: increased weapons purchases, closer collaboration with France than with the United States, or future nuclear technology options to match Iran's advances.
Significantly, little Gulf Arab media commentary has appeared to date about any direct legal, business, or economic effects of the Iran sanctions relief package on GCC trade, investment, or oil and gas interests. Interest in these very tangible consequences of the nuclear deal is probably substantial, but so far it seems largely relegated to the private rather than the public sphere. Given their reservations about the deal, these countries appear reticent about any such practical benefits that might accrue from it.
SYRIAN, LEBANESE, AND PALESTINIAN REACTIONS
At the other end of the spectrum, former Syrian cabinet minister Mahdi Dakhlallah, speaking from Damascus on Iran's Arabic-language channel al-Alam, likewise concentrated on the deal's nonnuclear implications -- but in exactly the opposite political direction. He maintained that the "Iran nuclear Geneva" is a good omen for "the Syrian Geneva II conference," because it "codifies the supreme rights of states" and signifies a "more pragmatic" U.S. attitude. Now, he continued, the United States should follow up by inviting Iran to the Geneva II conference, newly rescheduled to convene January 22, 2014. Moreover, Washington should press Saudi Arabia, Turkey, Qatar, and even France to "stop exporting and arming jihadis in Syria."
Heavily influenced by Hezbollah, Lebanon's official reaction, and some of its media commentary, is similarly favorable to Iran's achievements in the nuclear accord. Parliament speaker Nabih Berri, visiting Tehran, called it "the deal of the century." Foreign Minister Adnan Mansour termed it "an advanced step forward," adding a "call upon the Arab nations and the world to pay attention to Israel's nuclear program, comprising a huge arsenal threatening the whole region." Hezbollah itself touted the deal as "a lesson to the rest of the countries, governments and people who seek pride and independence without bowing to foreign dictates." And political analyst Habib Fayyad, appearing on Sky News Arabia, argued that "for sure" the nuclear agreement will encourage Iran to intensify support for its allies in both Lebanon and Syria.
That is precisely why, in private, according to a veteran journalist from Lebanon, the Sunni community there generally sees the deal with Iran as a distinctly mixed blessing. It lowers the odds of American or Israeli military action against Iran, which might well drag Lebanon into another war. But it also helps consolidate the Iran-Syria-Hezbollah axis, in their view, leaving Lebanon's Sunnis in the lurch.
A final, special case concerns Palestinian Authority (PA) responses to the Iran deal. Coverage and commentary in official PA print and broadcast media has been mostly muted. But PA presidential senior advisor Nabil Abu Rudeineh publicly noted that in this case, Washington went ahead despite Israeli objections. Thus, he contended, the Iran nuclear deal sends "an important message to Israel, to realize that peace is the only choice in the Middle East." The accord with Iran should inspire world powers, argues Abu Rudeineh, to press harder for a Palestinian-Israeli accord as well.
POLICY IMPLICATIONS
Given these diverse Arab reactions, three lessons stand out for U.S. policy. First, officials should understand that many Arabs are interested less in the nuclear than in the other regional implications they see in the new deal with Iran. Second, the United States must work harder to allay the anxieties of allied or friendly Arab states, especially in the GCC, in this regard -- including through much closer consultation and coordination on the continuing Syrian crisis. Third, Washington should find ways to deflate the exaggerated expectations of the Assad regime, Hezbollah and its partners, and perhaps also the Palestinians regarding perceived U.S. resignation to their ascendance, and a possible resulting rift with Israel.
David Pollock is the Kaufman Fellow at The Washington Institute and director of Fikra Forum.