U.S. Carrier Deployment Opens a Strategic Opportunity in the Mediterranean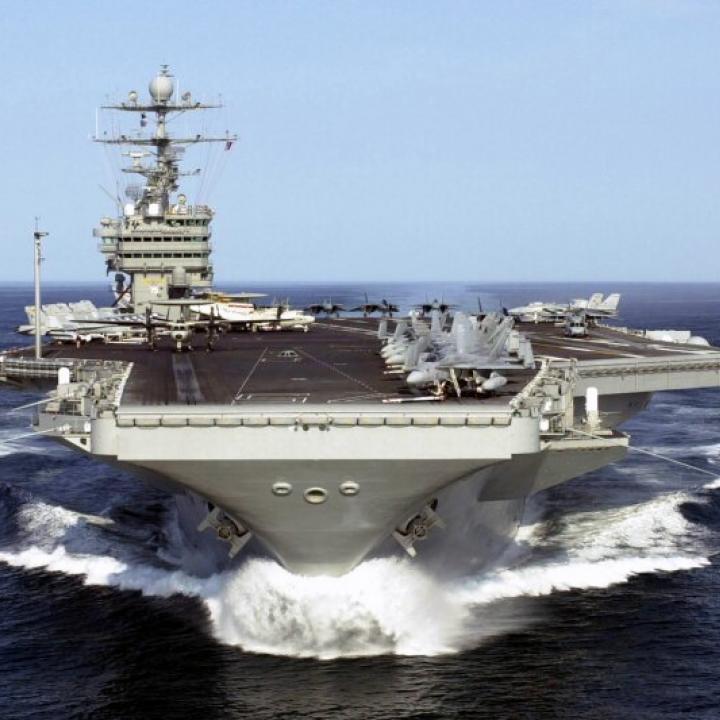 By stopping in the Mediterranean on its way to the Persian Gulf and conducting joint anti-ISIS strikes with the French, the USS Truman could send a strong message to NATO allies and Moscow alike.
Three days after the Paris attacks, the USS Harry S Truman Strike Group departed Norfolk for Middle Eastern waters to close the so-called carrier gap. Despite the noteworthy timing, this deployment was previously scheduled and not in response to the latest ISIS terrorist attacks in Egypt, Lebanon, Mali, and France. Once the ship arrives in the region, its air wing, which includes about fifty strike aircraft, will substantially increase the coalition's ability to hit ISIS targets in Iraq and Syria. If it follows the pattern of the past several years, the carrier will head directly to the Persian Gulf, but it could take better strategic advantage of the current situation by conducting strikes from the Eastern Mediterranean before continuing on to the Gulf.
The operational effects of bombing ISIS targets from either body of water are very similar. Yet the French carrier Charles de Gaulle is currently conducting strike operations from the Mediterranean. If the Truman were to delay its Gulf arrival for a short time, join the de Gaulle, and launch its aircraft as part of French-led strikes, it would make a clear statement of solidarity with a close ally and signal U.S. commitment to other NATO allies in the region as well. Accordingly, both governments should consider announcing this intention as soon as possible, preferably during President Francois Hollande's visit to Washington this week, and certainly before his subsequent visit to Moscow. A Truman port call in Israel or Cyprus would further reinforce this messaging.
Operating from the Eastern Mediterranean would concurrently send a very different signal to Russia and the Assad regime it is propping up. Since the last U.S. carrier temporarily exited the region, the Russians have been busy flexing their military muscle. For the past two months, twenty-eight Russian strike aircraft based in Latakia have pounded Syrian targets from the air -- mainly opposition elements rather than ISIS -- while recent deliveries of armored vehicles, weapons, helicopters, and advisors have supplemented regime forces. In addition, warships and strategic bombers have conducted attacks into Syria from thousands of miles away. On November 20, Moscow requested that Lebanon close its airspace, including Beirut International Airport, for seventy-two hours so that Russian forces could conduct exercises. This gradual ratcheting up of military power is a clear strategic message indicating Vladimir Putin's desire to influence regional affairs.
Having the Truman conduct several days' worth of strikes from the Eastern Mediterranean would be an appropriate response. The carrier strike group (which includes four other surface vessels) would be operating in the same waters as a Russian flotilla of four warships that launched cruise missiles at Syrian targets last week. The routes to ISIS targets from the Mediterranean would go through Turkish airspace just north of regime-controlled parts of Syria, and therefore within range of state-of-the-art Russian air-defense systems and fighter aircraft, so Truman's ship handlers and naval aviators would need to be exceedingly careful while deconflicting with their Russian peers, in accordance with the agreement worked out in late September. Yet there should be no coordination with the Russians beyond deconfliction, and certainly no joint operations. The message to Putin must not be escalatory or polarizing, but merely that U.S. forces operate where they want, when they want, in pursuit of U.S. interests.
While Putin will readily grasp this use of military power, others may not. For example, Sunnis in Syria and elsewhere in the region might conclude that U.S. forces are now working with Russia and Assad in their apparent anti-Sunni crusade. To mitigate this risk, the Truman's stay in the Mediterranean must be brief, and followed immediately by a direct transit to the Gulf. A prompt return to the Gulf is also important to reassure traditional partners there about Washington's commitment to the region, and to remind Iran that significant forces are once again close at hand to counter any threats to freedom of navigation or broader U.S. interests. To magnify this point, Washington should answer any negative reaction from the Russians about U.S. proximity to their forces with a clear statement regarding the carrier's purpose in being there: to assert American leadership as part of a long-held desire for peace and stability in the region
Striking ISIS from the Mediterranean while operating right next to Russian forces would help Washington regain strategic initiative -- and send Putin a message in a language he understands. In a crisis with few satisfactory options, Truman's arrival provides an opportunity to take action.
CDR Ryan Tewell (U.S. Navy) is a visiting military fellow at The Washington Institute. The views expressed herein are those of the author and do not reflect the official policy or position of the U.S. Navy, U.S. Department of Defense, or U.S. government.