Interviews & Presentations
Tunisia Timeline: Key Developments and U.S. Responses Since July 2022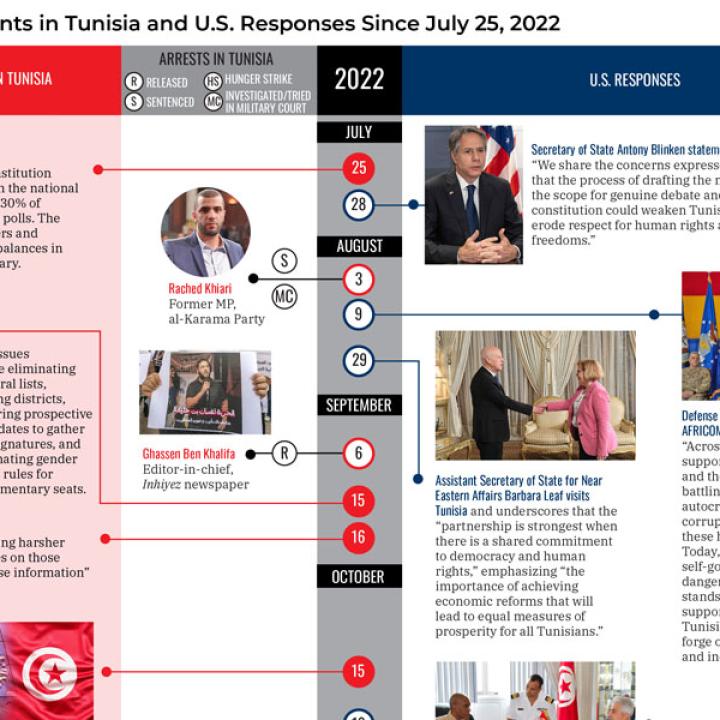 Download this chronological graphic showing how President Saied has continued his crackdown and consolidation of power despite Washington's efforts to steer the country back onto the democratic track.
One year after Tunisian president Kais Saied's new constitution was approved in a referendum that garnered just 30 percent voter participation, his consolidation of power and repression of opponents has only picked up steam. Compounded by unstable economic conditions, the crackdown has created a paradoxical atmosphere of anxiety and indifference among the people.
This timeline picks up where The Washington Institute's previous timeline left off, tracking Saied's buildup of power and the U.S. response. Of course, no timeline can capture the full scope of what has become a full-scale intimidation campaign against opponents, activists, journalists, and migrants, including politically motivated arrests, investigations, and travel bans. Pro-Saied figures have also infiltrated key judiciary and electoral institutions, all the while echoing the president's conspiracy theories about domestic "traitors" and "terrorists" who are supposedly driving the economic downturn in league with mysterious "outside forces."
In Washington, the Biden administration has lately focused on advancing a $1.9 billion IMF loan, while lawmakers have proposed cutting bilateral assistance to incentivize change. So far, Saied has resisted the IMF's required economic reforms, calling them "diktats." Instead, he signed a memorandum with the European Union that could net as much as 1 billion euros for various projects, partly in exchange for controlling migration across the Mediterranean. Days later, Saudi Arabia committed $100 million in direct budgetary support and $400 million in loans. How the White House's approach will be affected by these developments remains to be seen.
To view the full timeline, expand the image below or download a printable PDF version at the top of the page.