Tunisia Designates Ansar al-Sharia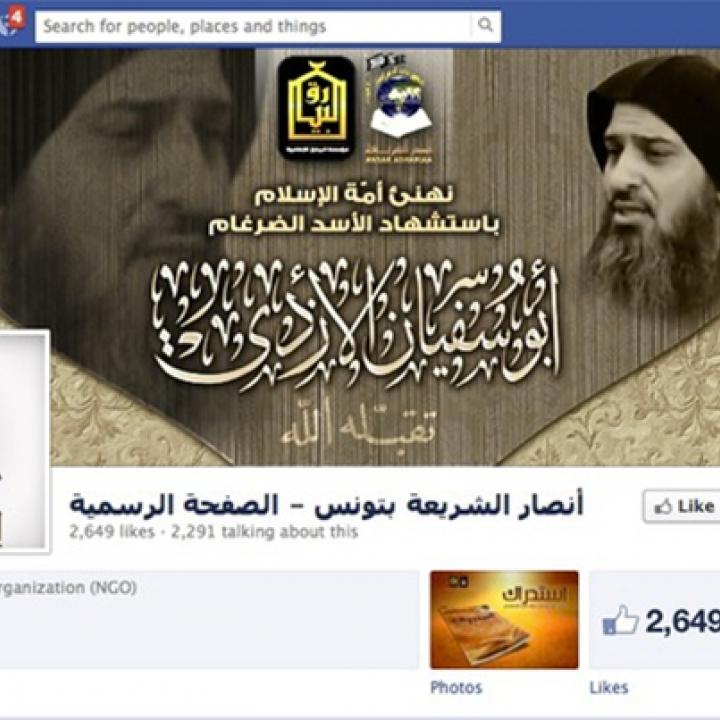 Despite its longstanding reputation as a pro-extremist faction, Tunisia's governing an-Nahda party may finally be breaking with the radical fringe.
Since the September 2012 assault on the U.S. embassy in Tunisia, a collision course has been set between the government and the Salafi-jihadist organization Ansar al-Sharia in Tunisia (AST). As tensions grew, the ruling Islamist party, an-Nahda, repeatedly failed to understand AST as a movement, believing it could co-opt the group's members by bringing them into the political system. This strategy was fraught with false assumptions, especially since AST stated that it opposed the democratic process because it contravened Islam and placed men on the same level as God. On August 27, however, the government shifted its policy by designating AST as a terrorist organization, indicating that an-Nahda is willing to sacrifice some of its ideology to avert a full-blown political crisis.
AST'S PUBLIC PERSONA
AST was founded by Tunisians imprisoned during the Ben Ali era, when Salafists and other Islamists were outlawed and often pursued by security forces. Created upon its founder's release in April 2011, the group sprung from the revolution. As such, an-Nahda showed a great deal of leniency toward the movement as part of its strategy to bring extremist groups out of the margins and into the political fold, much to the dismay of Tunisian secularists.
Since then, AST has depicted itself as an organization solely interested in conducting dawa (missionary activities). Its leader, Saif Allah bin Hussein (a.k.a. Abu Ayyad al-Tunisi), has continually asserted that Tunisia is "not a land of jihad, but a land of dawa," emphasizing that AST does not carry weapons and that the media has distorted the movement's views. While it is true that the majority of AST's activities have been related to dawa -- passing out religious literature, providing food and medical services to the needy, and putting on lectures, among other things -- the group has also displayed its nefarious side from the beginning.
TIES TO THE GLOBAL JIHAD
During the 1990s, Abu Ayyad was involved in the jihadist counterculture of "Londonistan," where he studied under leading al-Qaeda cleric Abu Qatada al-Filistini. He also traveled to Afghanistan during this period, arranging housing for Tunisian fighters and cofounding the Tunisian Combat Group with Tarek Maroufi, another AST figure. Among other activities, the two men planned the assassination of Northern Alliance leader Ahmad Shah Massoud two days before the September 11 attacks. In addition, AST figures Sami bin Khamis bin Salih Essid and Mehdi Kammoun helped Maroufi run al-Qaeda recruitment and facilitation networks in Brussels and Milan in the 1990s.
More recently, Abu Ayyad hinted last year that he had urged some of his cohorts to fight abroad; various reports and evidence indicate that AST members are in fact operating in northern Mali and Syria. Further, AST's official Facebook page promotes news and propaganda on and from "mujahedin" in Afghanistan, Yemen, Iraq, Syria, Libya, and elsewhere, along with typical rants against the West and Arab "tyrant" governments. AST even invited London-based jihadist Hani al-Sibai -- a former leading figure in the U.S.-designated terrorist group Egyptian Islamic Jihad -- to participate in their annual conference in May 2012.
VIGILANTISM
Although AST has not called for jihad in Tunisia, some of its members have been involved in vigilante-type activities since 2011:
June 2011: After AST and other Islamist groups condemned the Tunisian film No God, No Master, rioters attacked a theater in Tunis for advertising the movie.
October 2011: In the run-up to the Constituent Assembly election, Nessma TV aired Persepolis, an animated film set in Iran that includes a scene depicting God in human form -- a blasphemous act for many Muslims. In response, Abu Ayyad incited his followers to engage in acts of violence and loot the home of Nessma's owner.
November 2011-March 2012: Following the election, a small group of Salafist students led by AST member Mohamed Bakhti began a sit-in at the University of Manouba to demand stricter rules regarding women (e.g., allowing female students to wear veils in class, increasing gender separation on campus, barring female professors from teaching male students). This led to a violent confrontation with the dean, who was recently acquitted of any wrongdoing during the standoff.
March 2012: On a day when AST had called for a peaceful rally to honor the Quran, most Tunisians will remember the young protesters who climbed a clock tower on the capital's main intersection to raise al-Qaeda's black flag. Demonstrators also attacked a troupe performing in front of the city's municipal theater.
June 2012: After an art exhibit in a Tunis suburb showed allegedly blasphemous images, AST and other Salafist groups incited several nights of rioting and confrontations with the police.
September 2012: AST members and other Islamists attacked the U.S. embassy in response to the anti-Islamic video Innocence of Muslims. Several Tunisians were killed and many others wounded in the violence.
February 2013: Following the assassination of leftist political leader Chokri Belaid, AST activated "Neighborhood Committees" to conduct nighttime patrols in various cities and villages. In many cases, members of these patrols waved al-Qaeda's black flag and served vigilante justice against anyone they felt was misbehaving.
These incidents are likely just the tip of the iceberg; other instances of vigilantism have probably gone unreported, especially in the country's interior. In addition, the Tunisian government believes that AST members have been involved in the ongoing armed revolt in Jebel Chaambi, on the border with Algeria. Tunis also blames AST for Belaid's assassination, as well as the July murder of leftist leader Mohamed Brahmi (though neither accusation has yet to be verified).
AN-NAHDA'S INCENTIVES
For months, an-Nahda continued to excuse AST despite mounting evidence of its violent inclinations. Yet with public confidence in the government evaporating and Tunisia inching toward a political crisis, the ruling party's calculus has now changed.
It is probably no coincidence that on August 22 -- only a few days before AST's designation -- an-Nahda leader Rachid Ghannouchi announced that the party was willing to make the concessions needed to end the political impasse. The announcement followed a meeting with Houcine Abbasi, leader of the opposition coalition and head of the Union Generale Tunisienne du Travail (UGTT) -- a powerful trade union whose members number in the hundreds of thousands and whose secular inclination has long been a target for AST. Previously, the coalition had called for an-Nahda leaders to resign.
The remarginalization of AST was probably not a central point of Abbasi and Ghannouchi's negotiations -- the opposition's central focus is forming a nonpartisan, technocratic government and holding early elections. Yet an-Nahda's failure to secure the country against the swelling jihadist movement or thoroughly investigate Brahmi and Belaid's assassinations is definitely among the coalition's grievances.
WHAT NEXT?
Long regarded as being too lenient on extremists, an-Nahda now appears to be retreating from the notion that all such fringe groups can be included in the political process. The AST terrorist designation -- which the prime minister is expected to officially announce today -- should squelch rumors of collusion with radicals while addressing some of the secular opposition's demands. To be sure, many an-Nahda members are unhappy with the decision, and one should be wary of assuming that the party has fully broken with the radical margins. Nevertheless, the leadership's move signals a modicum of flexibility.
Going forward, the government's approach to AST's dawa activities will indicate whether Tunis plans a full crackdown on the group or a more judicious strategy that targets members with proven connections to terrorism. Extremist groups often use dawa to ingratiate themselves with local populations, making counterterrorism efforts more difficult -- a familiar problem for the United States and other countries that have confronted groups such as Hezbollah and Hamas. This will be a risky balancing act for Tunis, since a failed approach could spark a full-blown insurgency. The government's security forces are not trained to handle such a development and are stretched thin as it is.
Accordingly, Washington should partner with France and Algeria to provide counterinsurgency training to Tunisia's military. U.S. officials should also support an-Nahda's efforts to contain extremism, even if they seem like nothing more than a temporary political expedient. At the same time, Washington should make contingency plans regarding U.S. diplomats and assets in Tunisia in case the situation degrades. More broadly, the United States may need to rethink how it will balance its security architecture in the Maghreb, since the region's overall trajectory is downward.
Aaron Y. Zelin is the Richard Borow Fellow at The Washington Institute. Vish Sakthivel is a Next Generation Fellow at the Institute.