Trump's Afghanistan Policy and the Gulf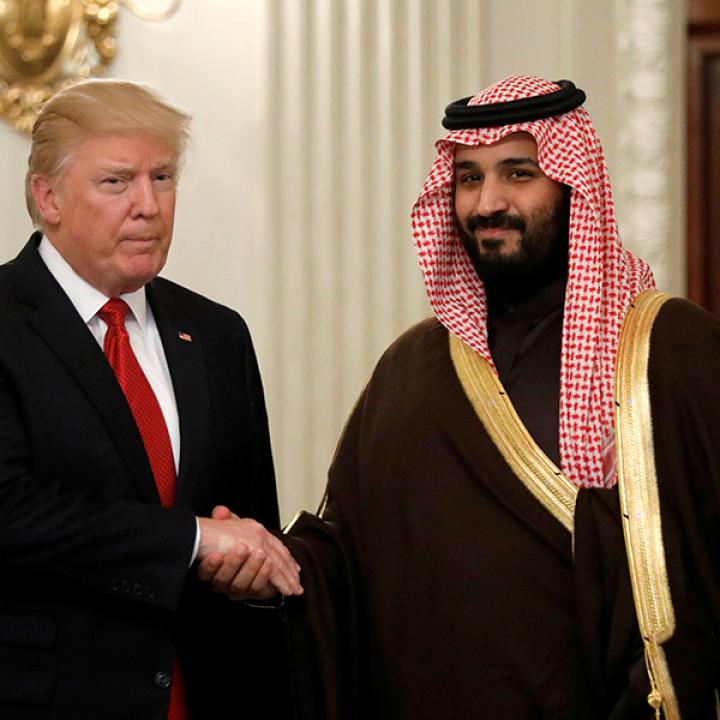 The new U.S. strategy, predicated on a changed approach to Pakistan, will need the support of Gulf states such as Saudi Arabia and the UAE to succeed.
The Middle East was not mentioned in President Donald Trump's major policy speech on August 20 -- not even Iran, which has a common border with Afghanistan. The omission was curious given that the New York Times reported earlier this month that Iran's Islamic Revolutionary Guard Corps was allying, perversely, given the Shia-Sunni divide, with Taliban fighters to keep the central government in Kabul destabilized. Instead, the focus of the new strategy, as laid out in the speech and the official talking points, was "South Asia," with Pakistan, described as an "important partner," being warned to change its behavior, while India is characterized as a "valued partner." But though unmentioned, Gulf countries such as Saudi Arabia and the United Arab Emirates, longtime allies of Pakistan, are likely to have to choose where they stand. And Iran's predilection for mischief will have to be thwarted.
History
Although many date the U.S. involvement in Afghanistan to 2001, when Special Forces moved against Osama bin Laden after the 9/11 terrorist attacks, in the 1980s Washington supplied weapons to guerrillas fighting the then Soviet-backed Kabul regime. Soviet troops left in 1989 and their puppet government collapsed in 1992. The Taliban, who originally constituted some of the anti-Soviet guerrillas, took over in 1996, imposing a hardline Islamic government that banned women from working and introduced punishments such as chopping off hands and death by stoning. The only countries to recognize the Taliban government were Pakistan, Saudi Arabia, and the UAE, but even these states broke off relations after 9/11. Since then, Riyadh has financed reconstruction projects for the subsequent elected governments, while the UAE has supplied a small contingent of military personnel, working alongside the United States and its allies. Pakistan notionally recognizes the current government in Kabul but, despite denials, also backs groups of fighters responsible for terrorist attacks that undermine it. On this point, President Trump said: "We can no longer be silent about Pakistan's safe havens for terrorist organizations, the Taliban, other groups…"
The motives for Pakistan's meddling in Afghanistan are regarded as its regional rivalry with neighboring India, with which it has fought two wars (1965 and 1971) since both countries were founded amid bloodshed in 1947, as well as several serious border skirmishes. Tensions over the last several years are concentrated in the Kashmir region, where Islamabad accuses New Delhi of repressing the local Muslim-majority population and, in turn, is blamed for training and supplying anti-Indian terrorists. India no doubt would have regarded President Trump's comments emphasizing the development of the U.S.-India strategic partnership as confirmation of its status as the natural hegemon in South Asia. It was no doubt delighted by the acknowledgment of its "important contributions toward Afghanistan's democracy, stability, prosperity, and security." From Pakistan's point of view, these phrases could not have been more unwelcome.
Pakistan's Likely Response
For Pakistan, President Trump's new strategy probably had the feel of a last warning. There was little to misunderstand in the language: "change of approach," "a break with the status quo," "[Pakistan] must take decisive action," "no partnership can survive a country's tolerance of militants and terrorists," "[the] strategy will require Pakistan to demonstrate that it is willing to assist the U.S…." The need to reduce nuclear dangers -- both India and Pakistan have nuclear weapons -- appeared more evenhanded, although the reference to the serious threat that such weapons could be obtained by terrorists was obviously aimed at Pakistan, where doubts persist about the military's ability to secure its arsenal. The proliferation until 2003 of uranium enrichment technology and nuclear weapon designs to Libya, Iran, and North Korea, blamed on now retired Pakistani scientist A. Q. Khan, was an unstated but obvious reference point.
Beyond immediate expressions protesting the injustice of the remarks, Pakistan's practical response to President Trump's challenge remains to be seen. A political vacuum has recently emerged in Islamabad, following the forced resignation in July of Prime Minister Nawaz Sharif after he was accused of lying about his assets. His replacement, Shahid Khaqan Abbasi, is a mere placeholder, likely to be supplanted by Sharif's brother Shehbaz, who is reportedly trying to win a seat in the National Assembly, a requirement for the job. More than usual, the role of the Pakistani military, under the leadership of Gen. Qamar Javed Bajwa, could be crucial. Its traditional antipathy toward India is greater than that of Sharif, a businessman by background who wanted to expand trade links. The army's Inter-Services Intelligence has long been seen as the hidden hand that provides support for terrorists operating in Afghanistan and against India. Indeed, during previous tensions between Washington and Islamabad, Pakistan has restricted the movement of trucks carrying supplies to U.S. forces in landlocked Afghanistan. Despite the many billions of dollars in U.S. military and civil aid provided since 2001, the average Pakistani has become more anti-American and will likely be exasperated by the new strategy.
Gulf Perspectives
Traditionally, Gulf countries have tried to avoid taking sides between India and Pakistan. India, because of its much greater population (1.3 billion vs. nearly 200 million) and increasing prosperity, is an extremely important trading partner. For Pakistan, the Gulf area provides employment opportunities, with a consequent flow in valuable remittances back home. Additionally, Gulf security forces, notably that of Bahrain, recruit former members of the Pakistan military. In the case of Saudi Arabia, military contacts include the recruitment of a past Pakistani army chief, Gen. Raheel Sharif (Ret.) (no relation to Nawaz Sharif), as commander of the Saudi-led anti-Islamic State coalition, although Pakistan is not contributing any troops. Also, persistent reports suggest Saudi interest in gaining access to Pakistan's nuclear weapons. Crown Prince Muhammad bin Salman, who is also the kingdom's minister of defense, visited Pakistan twice in 2016, and the two countries speak of an unspecific strategic relationship. An earlier Saudi defense minister, Prince Sultan, visited Pakistan's uranium enrichment plant in 1999 and was shown a mock-up of its nuclear weapon. When Prime Minister Sharif was overthrown in a military coup during a previous term in 1999, he went to live in exile in Saudi Arabia until 2007.
The UAE also has a historically close relationship with Pakistan. Apart from commercial ties, its current foreign minister, Sheikh Abdullah bin Zayed al-Nahyan, visited Pakistan's enrichment plant when he was information minister, a few weeks after the late Prince Sultan's visit. For more than twenty years, with the knowledge of UAE authorities, Dubai was a transit point for nuclear-related technology and materials being purchased for Pakistan's weapons program as well as the nascent programs of Libya and Iran. Former Pakistani president Pervez Musharraf, who, as military leader, was the 1999 overthrower of Sharif, now lives in exile in the Gulf city. Saudi Arabia and the UAE will additionally want to blunt Iran's influence in Afghanistan, although Tehran has usually been focused mainly on stopping chaos that affects its border area.
Riyadh and Abu Dhabi, as well as other Gulf capitals, will try in the coming weeks to assess President Trump's determination and endurance for the task of making sure that "terrorists can never again use Afghanistan as a haven to attack the United States." The underlying theme of the speech was that the United States regards India as the future and Pakistan as almost beyond saving. Pakistan has now been given one final chance to reform. For countries such as Saudi Arabia and the UAE, whose leaderships regard themselves as the future of the Gulf and the wider Middle East, this message should have struck a chord. Their links to Pakistan could make them an important lever in advancing the new U.S. strategy, a role that should be tested as soon as possible. How these countries respond to President Trump's ultimatum will be as interesting as the response of Pakistan.
Simon Henderson is the Baker Fellow and director of the Gulf and Energy Policy Program at The Washington Institute.