Trump Placing Heavy Focus on Yemen in the Campaign to Counter Iran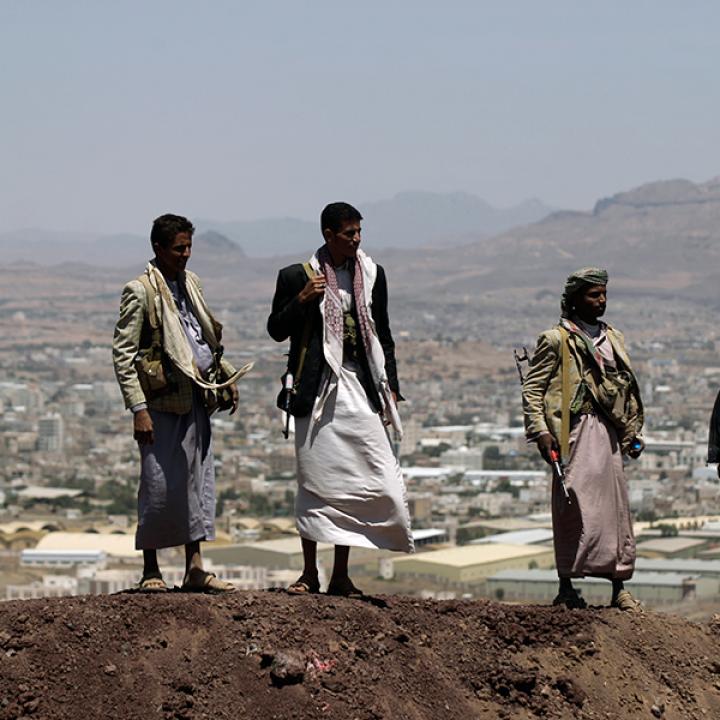 Given the maritime and missile threats posed by Iranian-backed Houthi rebels, senior U.S. officials have indicated that the White House will continue expanding its assistance to the Saudi-led coalition.
The Trump administration is eyeing Yemen as a critical theater in its stepped-up campaign to roll back Iranian influence in the Arab world. Washington is particularly concerned about Tehran gaining the ability to choke off shipping lanes in the Red Sea that are vital to the global energy trade.
According to administration officials, ramping up efforts to end the Yemen conflict presents both opportunities and risks for the White House, especially as the war of words with Iran escalates. The heavy deployment of allied forces in Yemen, largely from Saudi Arabia and the United Arab Emirates, could underpin a successful campaign against Iranian-backed militias with only minimal American involvement. So far, the administration has increased U.S. intelligence and logistical support to this coalition and launched missile strikes on al-Qaeda fighters in Yemen. It may continue expanding both efforts, based on its belief that Iran is supplying weapons and advisors to the Houthi insurgents fighting the internationally recognized government of President Abdu Rabu Mansour Hadi.
Still, the United States runs a real risk of getting bogged down in a Yemen conflict that seems less central than other issues to the wider battle in the Middle East. Iran and its allies have made large gains elsewhere in recent months, most recently claiming the city of Kirkuk in Iraqi Kurdistan. And in Syria, the Assad regime appears entrenched in Damascus with massive Iranian support, while Hezbollah and Iranian troops pose a growing threat to Israel's borders.
SO WHY FOCUS ON THE HOUTHIS?
As outlined last week, President Trump's new U.S. strategy toward Iran focuses heavily on Tehran's ability to expand its regional influence by arming Shia militias and deploying military advisors abroad. Senior U.S. officials say Iran's elite military force, the Islamic Revolutionary Guard Corps (IRGC), has also transferred increasingly sophisticated weapons systems to its regional proxies, including advanced missile systems to the Houthis. In the administration's view, there is a particularly urgent need to constrain such assistance given the Houthis' repeated use of antiship missiles to target American and allied military vessels plying the waters off Yemen. More than three million barrels of oil pass daily through the Bab al-Mandab Strait, which links the Gulf of Aden to the Red Sea. Coupled with Iran's proximity to the Strait of Hormuz in the Persian Gulf, the Houthi missile transfers have raised concerns that Tehran may be positioning itself to control two crucial energy chokepoints in the region.
This is why Yemen is now "front and center" in the administration's new Iran strategy, according to a senior advisor who helped draft it. "The level of these arms transfers is unacceptable," the official added, noting that the Houthis have also shot missiles into Saudi Arabia from positions in northern Yemen. Washington is concerned about Tehran potentially building the Houthis into a political and military force akin to Hezbollah, which is by far the most powerful actor in Lebanon today.
Senior Iranian officials deny supplying the Houthis with weapons, but the United States and allied countries say they have interdicted Iranians arms shipments bound for Yemen in recent years, often smuggled on small dhows without Iranian flags. And on October 12, senior Houthi military commander Muhammad Ali al-Houthi was quoted in Iranian state media  claiming that his forces were developing the capacity to manufacture ballistic missiles. Although he did not say who provided the technology to do so, U.S. officials believe it was Iran.
For their part, senior Iranian political and IRGC leaders have praised the Houthis' military prowess and cited their successes as a constraint on U.S. and allied influence in the region. "The Islamic Republic's spiritual influence has arrived at the Bab al-Mandab Strait," said IRGC spokesman Hojatoleslam Ali Saidi in June. He separately claimed that the borders of Iran's Islamic Revolution now stretch from the Mediterranean Sea to the waters off Yemen.
NEXT STEPS IN THE WAR
The Houthis, who practice a form of Shia Islam and hold many other affinities with Iran, gained control of Yemen's capital in September 2014 and have been locked in a brutal two-year civil war with Hadi's government and his Gulf allies ever since. Saudi Arabia and the United Arab Emirates entered the conflict in March 2015, using airpower and ground troops in an effort to push back the Houthis and forces loyal to former president Ali Abdullah Saleh. The UN estimates that more than 15,000 Yemeni civilians have died in the war, which has been increasingly marked by cholera outbreaks and famine.
As mentioned above, the Trump administration has steadily expanded U.S. assistance to the Saudi-led coalition in Yemen since taking office. American and Arab officials say the Pentagon's intelligence and logistical support for Riyadh and Abu Dhabi have grown significantly in recent months. "The Saudis aren't always the perfect partners, but we can now share intelligence with them," said one senior U.S. official. "Let's hold them to the same standard we hold for ourselves." The White House has also lifted a ban on the sale of precision-guided weapons to Saudi Arabia for use in Yemen (the Obama administration had placed a hold on such sales due to concerns about the rising civilian death toll).
Senior administration officials have concluded that greater U.S. support for the coalition should minimize civilian deaths and increase pressure on the Houthis to return to negotiations aimed at finding a political settlement. Diplomacy has largely stalled since the Obama administration left office. Former secretary of state John Kerry had sought to broker a ceasefire during his final months on the job, meeting directly with Houthi leaders in Oman last November. According to current and former U.S. officials, that effort broke down once the combatants sensed that the Trump White House would be taking a new policy direction.
As for the maritime threat, U.S. officials say the Pentagon will strengthen its efforts to guard the strategic waterways off Yemen's coast, a process that picked up toward the end of the previous administration. Last October, President Obama authorized cruise missile strikes against three coastal radar sites based in Houthi-controlled areas after a failed attack on a U.S. destroyer in the Red Sea. The Houthis have attacked Saudi and Emirati naval vessels as well, accusing them of involvement in a blockade against ports under their control. The U.S. Navy has also warned about mines that Houthis have placed in local waters with help from Iranian advisors.
Current and former officials acknowledge that confronting the Iranian and Houthi presence at sea is a formidable challenge that could lead to military escalation. In February, Defense Secretary James Mattis considered ordering the interdiction of an Iranian naval vessel believed to be ferrying weapons to the Houthis through the Arabian Sea, according to the New York Times. But he ruled against the move at the last minute, in part because of uncertainties over international law and the risk of escalation.
Indeed, senior U.S. officials say they understand that Iran and the IRGC could "double down" on their support for foreign proxies in light of the much tougher line set by President Trump last week. In the administration's view, however, this trend has already been occurring across the region in recent years, with Iran funding its allies in Syria, Kuwait, Bahrain, and the Shia areas of eastern Saudi Arabia. As one official put it, such activity "has escalated" since the nuclear deal was reached in 2015, so it is highly unlikely to slow down of its own accord.
Stepping up support for the Saudi coalition is also tricky. U.S. and Arab officials acknowledge that only a political solution can end the war. Although greater American involvement could pressure the Houthis to embrace diplomacy, it might also lessen Riyadh's desire for a halt to military operations, particularly if it begins seeing major advances.
Jay Solomon is the Segal Distinguished Visiting Fellow at The Washington Institute and author of The Iran Wars: Spy Games, Bank Battles, and the Secret Deals That Reshaped the Middle East.