Terrorism in Sinai: Tests for President Morsi and the Egyptian Military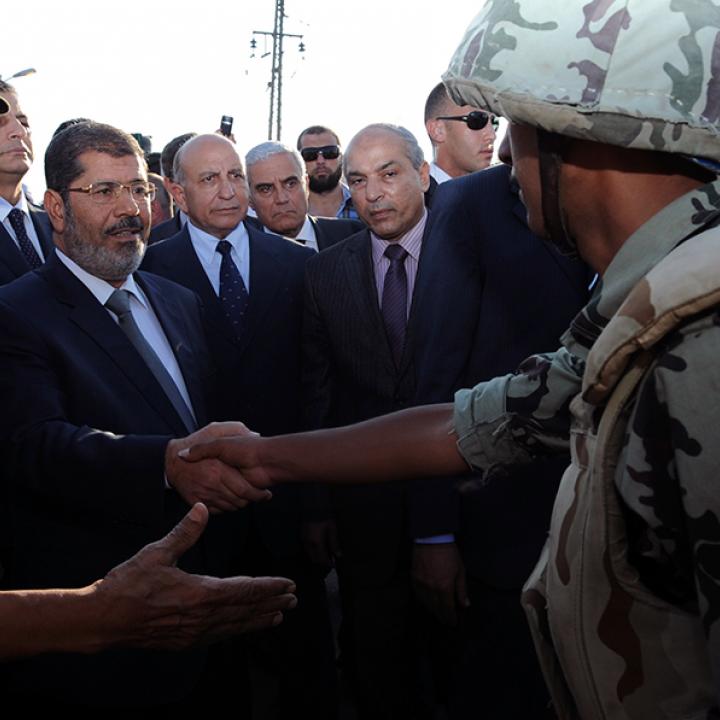 Yesterday's deadly attack in the Sinai Peninsula, in which militants killed sixteen Egyptian soldiers while wounding seven others, was as predictable as it was devastating. Since last year's revolution, terrorists have worked continuously to manufacture tensions between Egypt and Israel, attacking the gas pipeline to Israel and Jordan fifteen times and launching a deadly cross-border raid on Israel last August that catalyzed a near-crisis in bilateral relations. Given the severe threat that Sinai's instability poses to regional peace, Washington should emphasize two points to Egypt's military and Islamist rulers.
First, it should inform President Muhammad Morsi that his response to this crisis will provide the first real evidence of his oft-stated commitment to foreign diplomats that he will respect Egypt's international agreements, that is, maintain the peace treaty with Israel. Unlike last week's flap over whether or not Morsi had responded to a letter from Israeli president Shimon Peres, yesterday's Sinai attack carries severe security ramifications for regional peace.
So far, Morsi has sought to cover his bets. On the one hand, he issued a strong declaration condemning the attack, vowed to catch and punish the culprits, and traveled to al-Arish with Field Marshal Muhammad Hussein Tantawi to assess the situation himself. On the other hand, he also permitted his Muslim Brotherhood colleagues to issue a venomous statement blaming Israel's intelligence agency, Mossad, for the attack and warning Egyptians to beware of those trying to sabotage the revolution.
This is the moment for private but firm communication to Morsi that a responsible leader, one who wants international support to bolster his flagging economy, cannot play childish games that pander to the worst instincts of Egyptian public opinion. Indeed, any serious effort to prevent terrorist infiltration in Sinai requires coordination with Israel, which -- even if kept in the shadows -- cannot proceed in an environment of public vilification.
Second, U.S. policymakers should reaffirm to the Egyptian military that Washington views securing Sinai as an essential aspect of Egyptian-Israeli peace, and that continued provision of substantial military aid is contingent on good-faith efforts to invest adequate personnel and resources to do the job. Last year, under an annex to the treaty with Israel, Egypt was permitted to move an additional seven battalions into the Sinai. Yet these forces are reportedly underequipped and have avoided patrolling terrorist hotspots, particularly al-Arish and Rafah, where yesterday's attack occurred. Moreover, according to reports, Egypt's security presence along the border with Israel is dangerously deficient -- so much so that Israeli patrols are occasionally obliged to provide food and other essentials to their Egyptian counterparts.
With sixteen Egyptians killed yesterday, Cairo has ample reasons of its own to enhance both the quality and quantity of its military presence in Sinai. Nevertheless, Tantawi and his colleagues should know that there could be broader implications to how Egypt meets this challenge. Indeed, failure to direct the right people and resources to the peninsula could trigger an overall reassessment of the U.S. military assistance package, with an eye to updating this 1980s-era relationship for the current environment.
Robert Satloff is executive director of The Washington Institute. Eric Trager is the Institute's Next Generation fellow.