Terror and Turbulence in Israel and the West Bank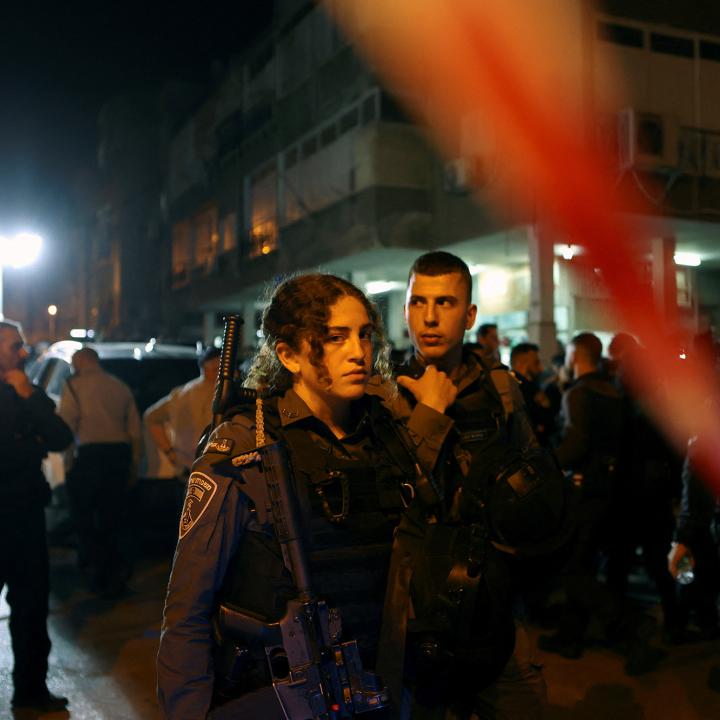 Three experts discuss the risks of escalating violence on the ground, the Israeli and PA response so far, and U.S. policy options.
On April 5, The Washington Institute held a virtual Policy Forum with Anna Ahronheim, Matthew Levitt, and Ghaith al-Omari. Ahronheim is a military and defense correspondent for the Jerusalem Post. Levitt is the Institute's Fromer-Wexler Fellow and director of its Reinhard Program on Counterterrorism and Intelligence. Al-Omari is a senior fellow at the Institute and former advisor to the Palestinian negotiating team in 1999-2001. The following is a rapporteur's summary of their remarks.
Anna Ahronheim
Despite the heightened tensions and increased security presence in Israel and the West Bank over the past few weeks, Hamas has not threatened to fire rockets into Israel, nor has Palestinian Islamic Jihad threatened vengeance after some of its operatives were killed. For its part, Israel has refrained from instituting restrictions on Palestinians visiting the Temple Mount/al-Haram al-Sharif. It is clear that neither side wants a repeat of the May 2021 military conflict. Although the next month will be very tense, the pressure will probably taper off toward the end of Ramadan. Attacks during Passover are unlikely, as is a third intifada—most Palestinians do not want it or the Israeli crackdown that would follow.
The March 27 Islamic State (IS) attack in Hadera was a wake-up call for Israeli security officials. Previously, they had been focused on the criminal side of violence given the large number of guns and increased crime in Arab neighborhoods, so the IS threat had slipped down their list of priorities. Shin Bet and the police dropped the ball—they did not sufficiently acknowledge the danger of IS ideology combined with large quantities of illegal weapons in areas that have been essentially given up on. The police are now starting to understand the seriousness of the situation and are cracking down on weapons smuggling from Jordan, Lebanon, and the Sinai. Even so, there is still much work to do. Residents in some Arab towns have tried to stop police when they crack down on such smuggling; indeed, a whole generation of Arab Israelis have grown up with what they see as free rein because police would not enter their towns.
Politically, Israel is not presenting a united front on these issues. Some opposition parliamentarians are blaming the violence on the perceived weakness of Prime Minister Naftali Bennett's government. Defense Minister Benny Gantz also wants more influence than he currently has, which is causing tension with Bennett.
Regarding external threats, some speculate that Iran is behind some of the recent attacks. Hamas could be trying to get close to Iran and its cells in the West Bank, or perhaps Tehran is pushing them to carry out more attacks during the holidays. There are also lone attackers unattached to any group or country. Hezbollah is a concern as always, but it is unlikely to attack Israel in the near term.
On the positive side, leaders can help ease tensions with more steps like today's phone conversation between Gantz and Palestinian Authority president Mahmoud Abbas, which took place after Abbas publicly condemned the attack in Bnei Brak. Israeli coordination with PA security forces is also a major advantage, since they have stopped numerous attacks against Israelis.
Matthew Levitt
Many were surprised that new attacks are being conducted by IS-affiliated operatives instead of Hamas. Yet this does not seem like the beginning of a heightened IS threat in Israel. Rather, a combination of factors led to the current violence.
First, while Hamas has sought to avoid the type of large-scale military conflict that swept over its Gaza stronghold last May, it never stopped preparing for violence in Israel and the West Bank. It has steadily increased its incitement on WhatsApp, Telegram, and other platforms, with many users of these apps claiming that Hamas is the only group stepping up to defend Palestinians.
Second, other militant groups (e.g., al-Aqsa Martyrs Brigades) were able to reestablish their presence during last year's election season. In preparation for those elections, the PA eased up on its security activities, especially in the northern West Bank. Although PA forces resumed their normal pace of operations after voting was postponed by the May conflict, militants took advantage of the security lull to rebuild and prepare for future attacks.
Third, Israeli officials indicate that Iran is actively driving the current tensions through Hamas, with the goal of increasing violence during the confluence of Ramadan, Passover, and Easter in the lead-up to the anniversary of last year's Gaza conflict. Terrorists usually conduct more attacks during the month of Ramadan, and an increased tourist presence may provide more targets of opportunity.
One factor that authorities should keep in mind is that the Hamas leadership is not unified. Chairman Ismail Haniyeh, Gaza leader Yahya al-Sinwar, and deputy chairman Saleh al-Arouri are all very close to Iran and often work with the Islamic Revolutionary Guard Corps-Qods Force and Hezbollah. Yet Khaled Mashal, the head of the group's external branch, wants Hamas to stick closer to its Sunni Muslim roots than to Shia-led Iran. He welcomes Iranian support but sees the group's future as tied to Sunni-ruled states.
This internal split affects Hamas decisionmaking on acts of violence in particular, since each of these leaders is capable of supporting terrorist cells. Sinwar is closest to the Izz al-Din al-Qassam Brigades, but operatives affiliated with Mashal could trigger attacks of their own from the West Bank or Lebanon. Haniyeh, Sinwar, and Arouri all agree with Iran on the need for more operations, but they prefer to keep the violence confined to the West Bank and Israel, partly in the hope of keeping Qatari money flowing into Gaza and enabling their constituents to retain their jobs inside Israel. Therefore, renewed rocket fire from Gaza is unlikely at the moment. Yet some experts are concerned that if the violence widens, Hamas could launch rockets from Lebanon, where elements close to Mashal have been more active in Palestinian refugee camps and may be eager to open another front and demonstrate his influence.
Inside Israel, authorities have focused on removing flashpoints that could trigger a wider conflict. They understand that Hamas is focused on Jerusalem and is looking for any excuse to claim that Israel is preventing access to al-Aqsa Mosque. They are also trying to avoid deaths, since the resultant West Bank funerals could become flashpoints. Similarly, PA security officials aim to deny Hamas the ability to set off a conflict. All of these efforts dampen the chances for a significant increase in widespread violence, though it would not take much to set off such escalation.
As for the IS factor, while the latest attacks thrust the group back up Israel's list of security priorities, the fact remains that lone attackers and small cells are difficult to stop, even in cases when individuals are already on the country's radar. The number of IS supporters in Israel is relatively small, so it is unclear whether that threat will increase in the near future.
Ghaith al-Omari
The West Bank is caught between conflicting dynamics. On one hand, Palestinian, Israeli, and American officials are well aware of the potential for violence throughout April and have done all they can to prepare in terms of security coordination. PA forces have been dismantling Hamas infrastructure in the West Bank, while Jordan has been meeting with Israeli and Palestinian security officials. On the other hand, the situation is still volatile, and a new conflict may readily be triggered by Israeli actions such as increased security measures or settler violence. Persistent internal divisions within Hamas and Fatah have created additional uncertainty.
More broadly, the Palestinian public is frustrated and hopeless; many lack faith in diplomacy, and support for violence is on the rise. Because most Palestinians believe their government is corrupt and want Abbas to resign, the PA does not have the legitimacy it needs to exercise restraint on the public.
The United States has made some progress in trying to reduce tensions. The Biden administration reengaged the Palestinians, resumed support to their economy, and reestablished security assistance. Via the U.S. Security Coordinator, Washington can once again play an important role between the two sides in times of crisis (e.g., it successfully pressured Abbas to condemn the Bnei Brak attack). U.S. officials should also engage partners such as Qatar to refrain from negative actions and play a more positive role in de-escalation.
Although Palestinian security forces have been improving in terms of professionalization and effectiveness, political splits and legitimacy crises have left the PA unable to govern some parts of the West Bank. Its forces can no longer operate in the Jenin refugee camp or Hebron; in fact, some camps are now better armed than the government. To make matters worse, PA forces are routinely denied their full salaries. All of these factors threaten to create security problems for Israel.
Regarding Jordan, relations with Israel have improved since the Netanyahu administration, and the kingdom now feels more comfortable about publicly welcoming Israeli officials to Amman. Crisis-management and de-escalation measures are now in place in the event of widespread violence. In contrast, Turkey is undermining the Jordanian position by strengthening its ties to Hamas and the Islamic Movement in Israel.
As for Iran, it has continued working with Hamas and Palestinian Islamic Jihad to coordinate attacks in the coming month. Yet Iran is not very popular among Palestinians and has limited ability to affect their narratives. Traditional Sunni organizations such as the Muslim Brotherhood have more pull with them.
Although there is little Palestinian support for a full-fledged intifada, the situation remains fragile. The poor economy in the West Bank and Gaza, the PA's legitimacy crisis, and general hopelessness could all trigger a wider conflict.
This summary was prepared by Alex Shanahan. The Policy Forum series is made possible through the generosity of the Florence and Robert Kaufman Family.